December 2, 2021, Thursday
Dolphins claim former Pro Bowl running back Phillip Lindsay off waivers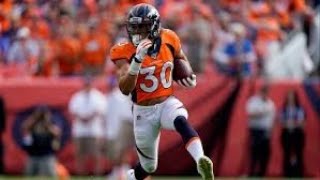 According to ESPN on Wednesday, the Miami Dolphins have claimed running back Phillip Lindsay of Denver, Colorado off waivers. The claim comes one day after the Houston Texans released Lindsay, who had -3 rushing yards on only one carry in a game against the Tennessee Titans on Sunday.
Lindsay will be joining his third National Football League franchise. In addition to spending the 2021 NFL season with the Houston Texans, he played three seasons with the Denver Broncos.
In 2021, Lindsay had 50 rushes for 130 yards and one touchdown, along with three catches for 37 yards and another touchdown. The rushing touchdown was for five yards and came in the Texans's first game of the season, a 37-21 Houston win over the Jacksonville Jaguars. After the Texans beat the Jaguars on September 12, they went on to lose eight games in a row before shocking the Titans on November 21 by a score of 22-13.
---
---
Lindsay was selected to the Pro Bowl in 2018 with the Broncos. In his first season in the NFL, he had 192 rushes for 1037 yards and nine touchdowns, along with 35 catches for 241 yards, and one touchdown. However, after having 2485 yards from scrimmage in his first two NFL seasons, Lindsay only has had 697 yards from scrimmage in his last two NFL seasons.
With the Dolphins, it will be interesting to see where Lindsay fits into the mix. At this time it looks like he will be the backup running back behind Myles Gaskin of Lynnwood, Washington. Gaskin had a season-high 89 rushing yards this past Sunday in a 24-17 Dolphins win over the New York Jets. The Dolphins have won their last three games after starting the year at one win and seven losses.
---
Fill In The Form Below To Receive Our NFL News Straight To Your Email For FREE!