November 27, 2022, Sunday
Miami Heat advance to Eastern Conference Finals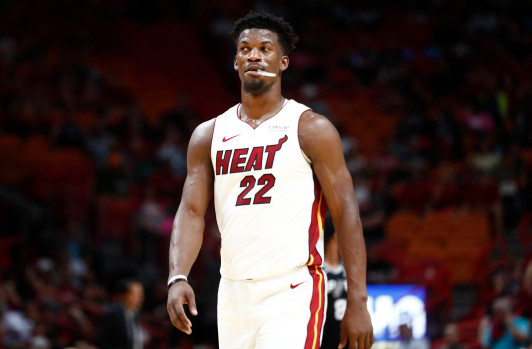 The Miami Heat are now in the Eastern Conference Finals. On Thursday, Jimmy Butler of Houston, Texas scored 32 points as the Heat defeated the Philadelphia 76ers 99-90 in game six of the Eastern Conference Semifinals from the Wells Fargo Center in Philadelphia, Pennsylvania.
Butler was one of five 76ers players to reach double digits in points. Max Strus had 20 points. P.J. Tucker had 12 points, while Tyler Herro and Bam Adebayo had 10 points each.
A major turning point in the game came in the first quarter when two 76ers (Joel Embiid and Danny Green) collided with one another. Green left with a knee injury.
Strus had a double-double for the second straight game as he added 11 rebounds. What was fascinating is that Strus did not have a double-double in 109 regular season games or his first 11 postseason games over the last three years with the Chicago Bulls and Miami Heat. In game five of the series on Tuesday, Strus had 19 points and 10 rebounds in a 120-85 Heat win over the Philadelphia 76ers.
---
---
Herro, meanwhile once again provided the Heat with offensive production off the bench. Earlier this month he was named the NBA Sixth Man of the Year.
Herro had an impact as a rookie in the NBA playoffs. Two years ago in the Orlando bubble, he scored 37 points in a 112-109 Miami win over the Boston Celtics in game four of the Eastern Conference Final. It was the second most points scored by a NBA player in a postseason game at 20 years or younger.
The Heat will now play either the Milwaukee Bucks or Boston Celtics in the next round. The Bucks went up three games to two on the Celtics following a 110-107 win on Tuesday. 
---
Fill In The Form Below To Receive Our NBA News Straight To Your Email For FREE!