Bucks pull off remarkable comeback to take 3-2 series lead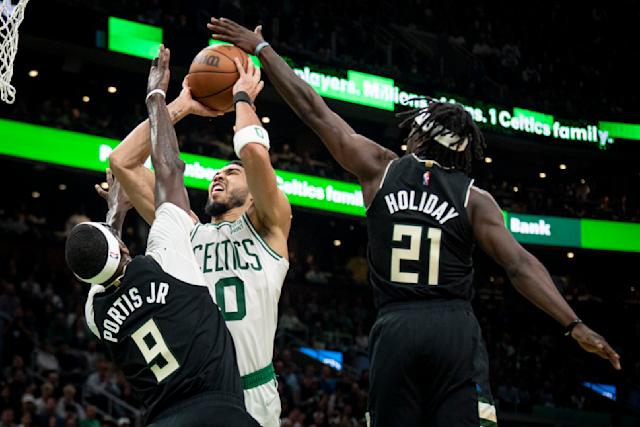 The defending champion Milwaukee Bucks managed to pull off one of the most unlikely fourth-quarter comebacks of this postseason to edge Boston 110-107 and take a 3-2 series lead in the best-of-seven series.
---
Milwaukee trailed by as many as 14 in the fourth-quarter and looked to be dead and buried before sparking an inspiring fightback and wrestling the lead back in the final minute of the game. Boston looked well on their way to a decisive victory behind Jaylen Brown's explosive third-quarter in which he scored or assisted on 25 of their 32 points. The Bucks would go on to outscore the Celtics 33-21 in the final frame in what could only be described as a meltdown which now has Boston facing the prospect of a do-or-die Game 6 in Milwaukee.
Milwaukee cut the lead to just one with 14.2 seconds remaining on the game-clock thanks to a Giannis Antetokounmpo free-throw. Antetokounmpo would, however, go on to miss his second attempt but a clean-up attempt courtesy of Bobby Portis proved successful, as the fiery 27-year-old pulled down his seventh offensive board of the night and put the ball through the bucket to give the Bucks their first lead of the second-half. Bucks' defensive ace Jrue Holiday came up with a massive block on Marcus Smart down the other end and saved the ball – which led to a pair of Pat Connaughton free-throw makes – before thwarting a last-ditch effort from Boston to tie the game by stripping Smart again moments before the final-buzzer sounded.
---
---
Antetokounmpo was phenomenal, finishing with a game-high 40 points and 11 rebounds on 16-of-27 from the field, whilst Holiday added 24 points, 8 rebounds, 8 assists and a pair of enormous blocks. Portis had 14 points and a game-high 15 rebounds off the bench, whilst Connaughton added 13 points on 3-of-5 from three in his 31 minutes. Wes Matthews hit a trio of threes and came up with a steal, whilst Grayson Allen added 8 points and 5 assists.
For Boston, Jayson Tatum had a team-high 34 points on 12-of-29 from the field, to go along with 6 rebounds and 4 assists, whilst Jaylen Brown had 26 points, 8 rebounds, and 6 assists on 9-of-19 from the field. Smart added 15 points on 6-of-11 from the field and 3-of-5 from three, whilst Al Horford was unable to replicate his monster Game 4, finishing with 8 points, 8 rebounds, 6 assists and 3 steals. Derrick White added 9 points, 5 rebounds, and 6 assists off the bench, whilst Daniel Theis had 11 points in his 11 minutes. Grant Williams, who has done a commendable job guarding Antetokounmpo this series, had his toughest night thus far, failing to scratch in his 31 minutes and finishing a team-worst -11.
Game 6 of the series will move back to Milwaukee on Saturday morning, where the Bucks will have an opportunity to close out the series and advance to their second-consecutive Eastern Conference Finals. The Bucks will still be without All-Star Khris Middleton, who is recovering from a knee injury, whilst Robert Williams III is expected to be a game-time decision after missing Game 5 with knee soreness.
---
Fill In The Form Below To Receive Our NBA News & Tips Via Email!