November 29, 2023, Wednesday
Jets sign linebacker Kwon Alexander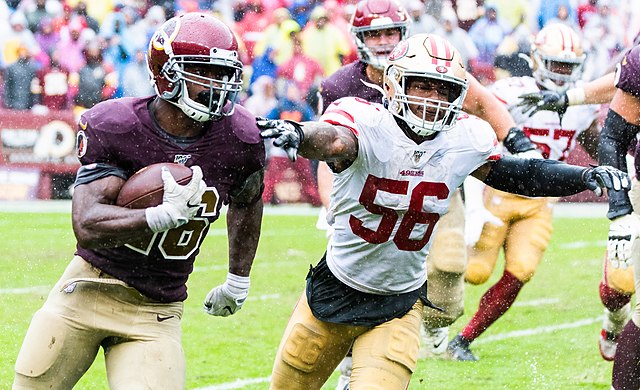 The New York Jets attempted to improve their defense on Thursday with the signing of Kwon Alexander of Oxford, Alabama to a one-year contract according to Josh Alper of Pro Football Talk. The Jets become the fourth team Alexander has played for following the Tampa Bay Buccaneers, San Francisco 49ers and New Orleans Saints.
This past season in New Orleans, Alexander played in 12 games for the Saints and had 50 combined tackles (39 solo tackles and 11 assisted tackles), seven tackles for a loss, seven quarterback hits, one interception, two pass deflections, one forced fumble, one fumble recovery for eight yards and three and a half sacks.
The forced fumble and fumble recovery came in the Saints' final game of the 2021 National Football League regular season. On January 9, 2022, the Saints defeated the Atlanta Falcons 30-20.
---
Error, group does not exist! Check your syntax! (ID: 9)
---
For Alexander's career he has played 78 games. He has 521 combined tackles (371 solo tackles and 150 assisted tackles), 43 tackles for a loss, 27 quarterback hits, eight interceptions for 123 yards and a touchdown, 32 pass deflections, 10 forced fumbles, five fumble recoveries for 52 yards and 12 sacks. In 2016 with the Buccaneers, Alexander led the NFL in solo tackles with 108. A year later in 2017, Alexander was selected to the Pro Bowl.
The signing of Alexander comes at a time when the Jets are drastically trying to improve their defense. Last season the Jets led the NFL with 504 points against. In addition to Alexander, the Jets have come to terms with D.J. Reed, who played last season with the Seattle Seahawks, and safety Jordan Whitehead, who played last season with the Tampa Bay Buccaneers.
---
Fill In The Form Below To Receive Our NFL News Straight To Your Email For FREE!