September 27, 2023, Wednesday
Australia's Minjee Lee wins 2022 United States Women's Open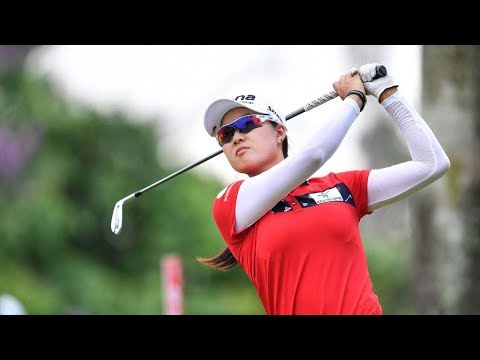 It was a glorious day in Australian golf on Sunday as Minjee Lee of Perth won the 2022 United States Women's Open. Lee was not spectacular on Sunday as she shot a score of even-par 71, however she did not need to be. Heading into the fourth round, Lee had a three stroke lead on American Mina Harigae, a lead she was able to extend on Sunday, as Harigae was +1 on her round, and finished four strokes back in second place.
Lee's overall score of 200 after the first three rounds was a record at the United States Women's Open. On Sunday, Lee had four birdies and four bogeys to remain at -13. She birdied the first, second, 12th and 15th holes, and bogeyed the fifth, seventh, 16th and 18th holes.
This was Lee's second major title of her career. She previously won the 2021 Evian Masters last year in France.
Lee now becomes the third Australian women's golfer ever to win multiple majors. She joins Karrie Webb of Ayr and Jan Stephenson of Sydney.
---
Error, group does not exist! Check your syntax! (ID: 9)
---
Webb is a seven-time major champion. Her seven major wins are the seventh most all-time. She won the 1999 du Maurier Classic (Canadian Open), the 2000 and 2001 United States Women's Open, the 2000 and 2006 ANA Inspiration, the 2001 Women's PGA Championship, and the 2002 Women's British Open. Stephenson won the 1981 du Maurier Classic, the 1982 Women's PGA Championship, and the 1983 United States Women's Open. Only one other Australian women's golfer is a major champion, and that is Hannah Green of Perth, who won the 2019 Women's PGA Championship.
On the PGA Tour this past week, Billy Horschel of the United States was victorious over Aaron Wise at the Memorial in Columbus. Ironically, Horschel won with the same 72-hole score as Lee on Sunday (both shot -13), and just like Harigae, Wise was all alone in second at -9. This was Horschel's seventh career win on the PGA Tour and his second in two years as he also won the 2021 World Golf Match Play Championship. 
---
Fill In The Form Below To Receive Our Golf News Straight To Your Email For FREE!