"We have to do it": James Tamou backs Tigers to beat odds in NRL finals race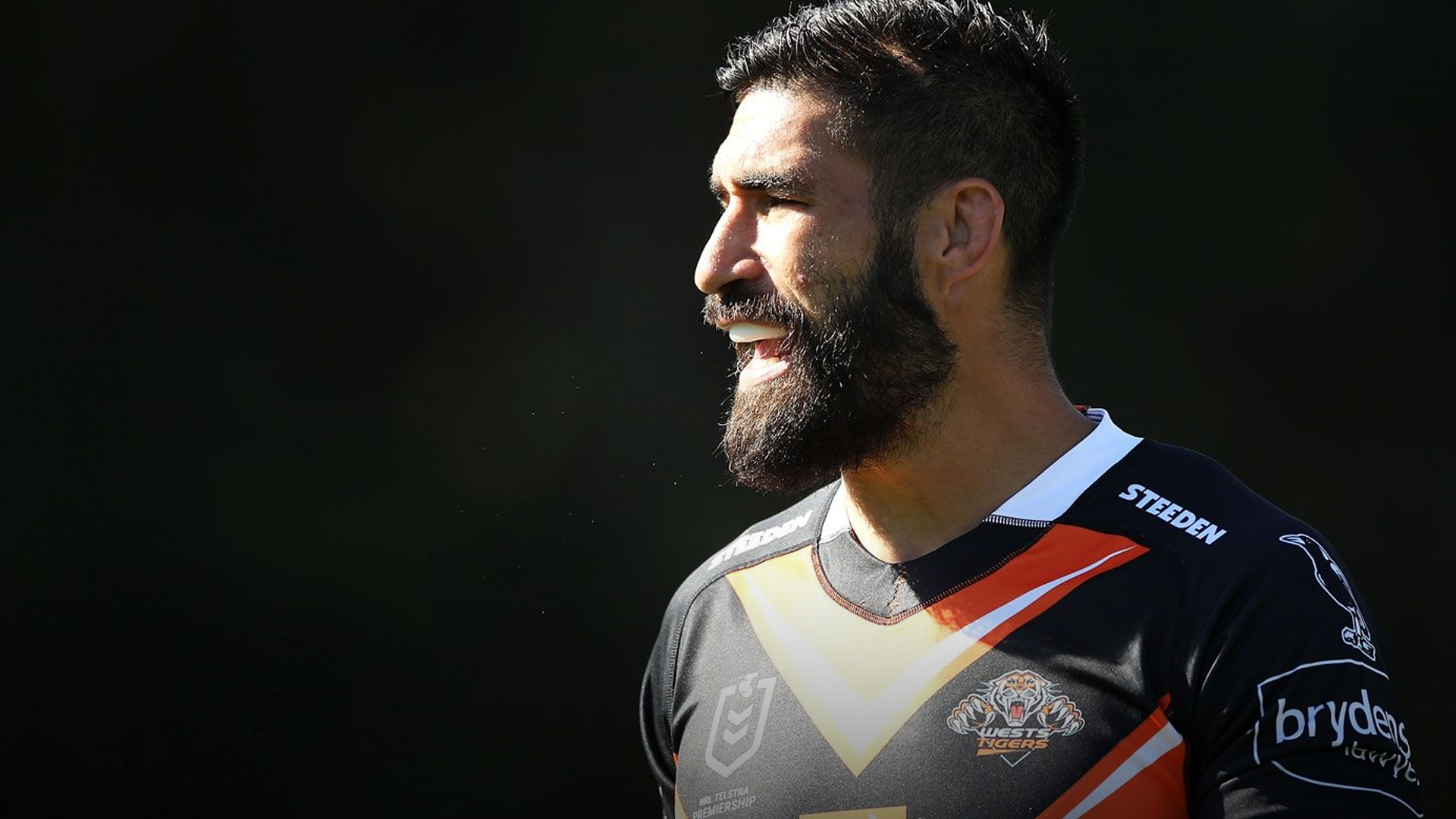 James Tamou has made a bold prediction after the Tigers finally got their second win on the board last weekend; the Wests captain is "very confident" his team will play finals, this season, despite the odds being stacked against them.
---
The hulking Tigers skipper will be the first to admit his side's 16–8 victory over the Dragons "wasn't pretty."
It was important though, he told NRL media, especially considering it snapped a nasty month-long losing streak. In fact, it's just the second win Tamou has even managed with his new orange-and-black teammates, after joining the Leichardt outfit from Penrith in the offseason.
The win also — surprisingly enough — put Wests in striking distance of playoffs.
Apart from a runaway top five led by Tamou's former Panthers, the NRL 2021 standings have become quite clumped around the top 8 battle. Between the Titans in eighth, and the Broncos in fifteenth, there's just a two-point split.
It gives the Tigers an opportunity no one thought would be possible for the western club at the start of the year; if they get on a roll, Wests could actually manage to snap an odious finals drought that runs back to 2011.
The Tigers' veteran forward says he's "very confident" in that possibility.
---
---
Tamou continued: "I'm confident in this team, confident in our coaching staff, confident in the talent that we have.
"We just haven't been able to connect to get the job done. The tries that have been scored against us are just unusual tries that [came when] we were clocking off in certain areas.
"We did a review of the Manly game [in round seven] – you can tell people were running for each other, it was like we were doing too much for each other.
"We were over-chasing and things like that and people were just slipping through. You can tell the effort's there and no one's given up. Technically, we were just missing our assignment there."
"Wins don't come easy. I think we've got a really good team here but it's about us putting all that on the same page and working together."
Tamou doesn't just want to wins for himself, or his electric young Tigers teammates, or even to snap the club's nine-year playoff drought.
Interestingly enough, Wests have found themselves playing for the life of their coach, Michael Maguire.
Last week, after the Tigers slipped to a 1-6 record, the media rumblings began. There were questions asked of Madge's dressing room leadership. Some even began suggesting he'd lost the team completely. That threat on their helmsman's head — that Tamou doesn't even see as "justified" — has got the team playing to prove that he belongs in one of the NRL hot seats.
Not so, says James Tamou, who claims he "loves" everything Madge does.
"Madge, he's very passionate and he puts so much emotion into this team," he said.
"It's obviously a bit different mentally [than at the Panthers last year], but as you can tell from my reaction on the weekend, I was just so pumped for everyone who was involved in the game.
"To hear that [he's lost the dressing room] frustrates me and we knew leading up to the Dragons game that there's no other way: we have to scrap the win … we have to do it for each other and for our coach.
"So much emotion is invested for Madge, you can just tell the way he talks. You can tell by the look on his face. This bloke, he'd do anything for you."
---
Fill In The Form To Get Our NRL News Straight To Your Email For FREE!