'One win is all we need': Cherry-Evans backs Manly to overcome horror 0-3 start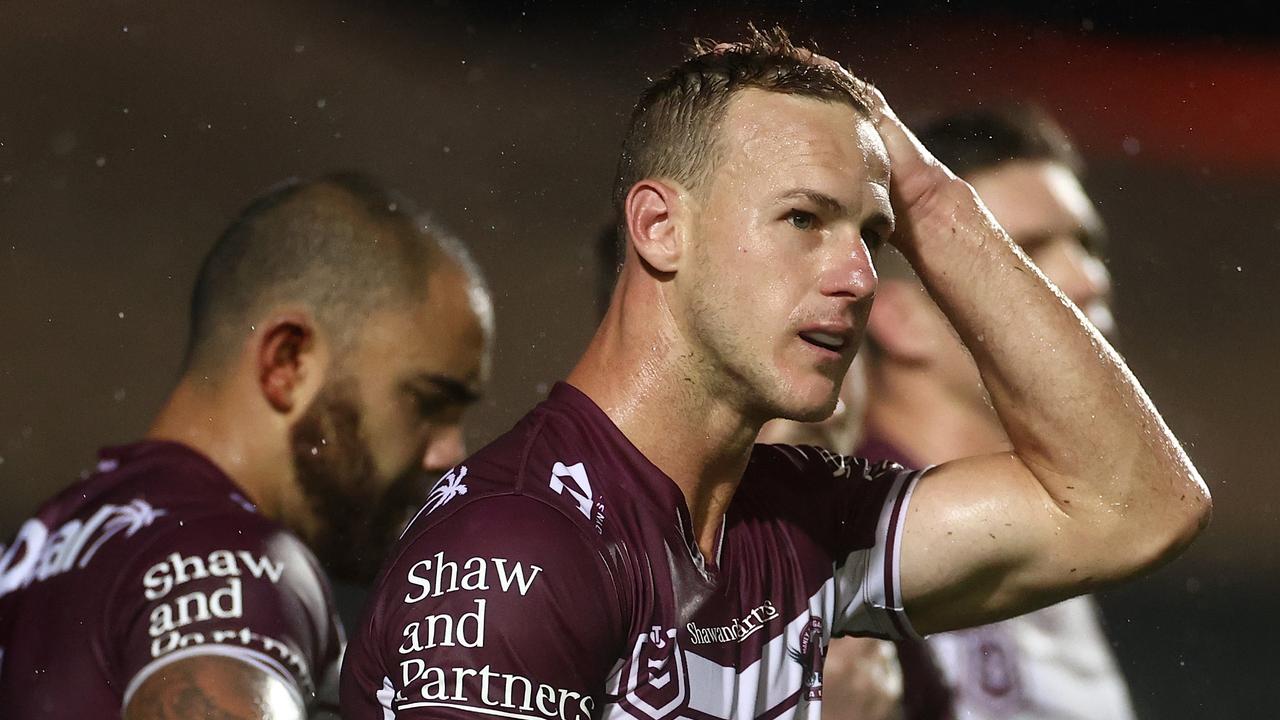 Daly Cherry-Evans has backed his beleaguered Sea Eagles to "absolutely" flip the script after a horror 0–3 start to their NRL 2021 campaign has dropped them right into the battle at the bottom of the standings.
---
This year has been a rough one for Manly fans right out the gates.
Before a ball had even been kicked, talismanic Manly fullback Tom Trbojevic was cruelled by a freak bathroom accident — or was it thanks to a race against the mysterious "Harry" — and ruled out of the first few rounds of the season.
Things didn't get much better once the Sea Eagles got out on the park either.
The Roosters gave them a hiding in week one, ripping them apart 46-4 at the SCG, before the Bunnies piled on the hurt with a 26-12 defeat just seven days later. Then, last Friday, the Sea Eagles succumbed to a Dragons outfit many were tipping to bundle up the wooden spoon before July had even rolled around. It left the maroon faithful starring at an 0-3 record to start the year.
And, worryingly, they play undefeated Penrith this round.
If they lose, it will equal the club's worst-ever start to a premiership campaign. The last time they opened their accounts with a winless 0-4 month was all the way back in 2009.
It's not all doom and gloom in the Manly camp though — according to skipper Daly Cherry-Evans, the Sea Eagles can turn the sinking ship around; they just need "that one win" to spark a revival.
"We just have to fight for that next week," he said.
"Once we get our first win all sorts of momentum can get created. So we are one win away from getting out of this. It's that simple.
"We're still finding the balance of our attack so while it definitely looks frantic I really like the fact that we're trying things.
"We just have to play a style of footy that works for us and after three rounds, and three losses, we probably haven't found that just yet so we do have plenty of work ahead of us in getting the attack to click and matching that up with some real steely defence."
Cherry-Evans admits not everyone at the club is feeling as optimistic, but it "makes sense"; he's been in the doldrums before, and climbed back too. They finished fifth in 2009, after that 0-4 start, after all.
---
---
"There's been some real rough trots over my career. Everything just seems more amplified because it's the present, it's the current moment. It's not ideal, but if I've got to compare, it's not the worst one," the Manly captain said.
"I guess that's probably why I might be a bit more optimistic about turning this around.
"If you're young and don't know any better, three in a row can be quite daunting but I know our next win can come as quickly as next week, and then our season changes.
"I'll make sure to try and get that message really clearly across before this next game. You have to really believe in yourself, your teammates, and the processes you're following."
Manly's fixture list clears up a little after Penrith next week.
In round 5, the Sea Eagles face the Warriors (9th) on the Central Coast, before travelling to Mudgee to play the Titans (4th). They round out a four-week stint on the road with games against the Tigers (13th), and a second meeting with the Panthers, this time in Bathurst.
Tom Trbojevic is also due back around mid-April.
The NRL Physio reported the 24-year-old has started "high-end" sprinting at training, and continues to ramp up his rebab. That pens in his return for around the Tigers game in round 7.
---
Fill In The Form Below To Receive Our NRL News Straight To Your Email For FREE!