We'll never see an NRL star like Cameron Smith again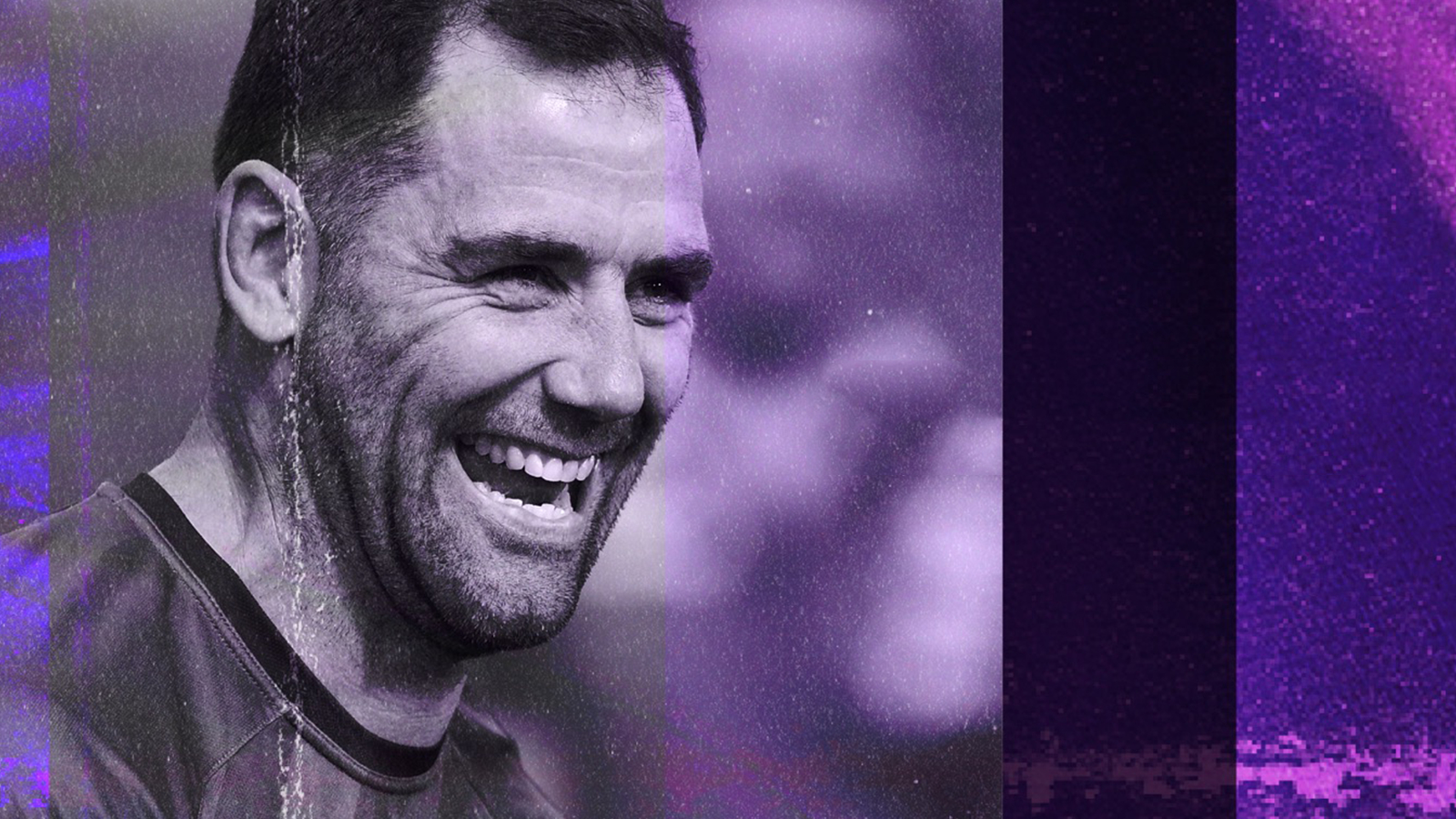 On Wednesday, rugby league finally said goodbye to the greatest player to ever pull on an NRL jersey — Cameron Smith officially called time on his historic 430-game career, ending months of speculation around his playing future.
---
There will never be a footy star like Cameron Smith again.
We've seen plenty of genuine, honest-to-god superstars pass through the rugby league world. Ever-lasting Immortals like Joey Johns, Arty Beetson, Reg Gasnier, and Wally Lewis. Premiership commanders like Darren Lockyer, Freddy Fitler, Peter Sterling, and plenty more.
The now-retired Storm captain, Kangaroos veteran, and Queensland hero outshines them all.
It's not even just about silverware either, though there was a lot.
In his 18-year career, Smith lifted the NRL trophy three times, in 2012, 2017, and 2020. He also guided the Storm to grand final victories in 2007 and 2009, though these were later stripped thanks to Melbourne's high-profile salary cap rort.
Smith ruled the State of Origin arena too. After losing his first three series between '02 and '04, the Queensland mastermind guided his Maroons to 11 victories in 12 years, including a historic eight in a row.
As an individual, he was near unrivalled.
He was twice crowned Dally M player of the Year (2006 and 2017) and was named the best hooker in the national league nine times between 2006 and 2020. The 38-year-old is also the only player in the NRL to ever play over 400 games, and leads the all-time points table with a monster 2,786 haul.
And all that — as incredible as it all is — is only his on-paper stats.
The Logan-born Immortal-in-waiting consistently touched every game he was in with an invisible hand. He lifted teams around him, dragging every ounce of quality out of his supporting cast.
---
---
The special "Smith effect" reigned throughout his career.
You only have to pick out any big game the Storm no.9 was in to see what that means. As the clock ticked down, players around him began jittering. Whether Melbourne was leading or trailing, however, Smith just never seemed phased. Cool as a cucumber, every time.
It was a stability that bled out to the rest of his team. As the pressure boiled and bubbled, Smith stretched his face into a smile, watched the play, and broke the game open. He rattled opponent's plans, set up Storm comebacks, and generally just controlled the game, whether the ball was in his hand or he was starring down an oncoming onslaught.
Watching any game with him at the heart of a team, you could see his plan forming. Two, three sets out, 18 tackles early, he began to pull the strings. Picking the defence apart. Preparing for the points.
By the time his opponents knew what was about to happen, Smith's plan was already sprung.
Here's an example.
Wind the clock back 11 years. Cameron Smith is 27 years old. He's captaining Australia in the Four Nations in 2010, and facing off against arch-rivals England at his home field, AAMI Park. One of the biggest stages in the world.
The Kangaroos are at a deadlock, 0-0.
Smith pulls Luke Lewis — then playing second row — aside. It's tackle zero, with the set about to start. Smith tells Lewis to be ready: "I'll be back here tackle four. Hit the hole."
Only, there's no hole in front of Lewis. Joel Tomkins and Ryan Atkins are blocking any possible gap that the Aussie forward could hit.
But, Lewis gets ready. It's Smith, after all, and he must have a plan.
---
---
Four tackles later, it's come together.
Smith had played left three times, guiding the play away from Lewis and his non-existent hole. As the English defensive line shuffled over, the gap began to grow. Tomkins and Atkins were splitting, ever so slowly, and a half-chance was appearing for the Aussies.
The captain's fourth play the ball went straight to Lewis. He hadn't even moved his head.
The non-existent hole?
Non-existent no more; it stood wide open now, beckoning for Lewis to run straight through.
Lewis' try opened a 6-0 lead. 74 minutes later, the Kangaroos walked off the field happy victors of a 34–14 battle. Smith had kicked five goals, and played a heavy role in five of the team's seven tries.
That was the magic of Cameron Smith. A true mastery of the game we'll never see again.
Luckily, the NRL will live on despite its greatest-ever star calling time on his glittering career.
There's already plenty of young stars lining up to cut their teeth in the greatest game, or proven names looking to lift to that next level, as footy marches ever forward.
For Melbourne and Queensland fans too, there's already proof that Cameron Smith wasn't the only thing keeping their teams together, though his absence will be missed. The Maroons defied the odds to beat a stacked Blues outfit just last year, and the Storm kick-started their 2021 season with a mighty 26–18 win over Wayne Bennett's title-ready Bunnies in this year's opener.
And who knows? We've seen footy greats return to the field for one last spin. Maybe Smith's historic rugby league career will have one more closing chapter. Only the GOAT can really know.
---
Fill In The Form Below To Receive Our NRL News Straight To Your Email For FREE!