Saints sign wide receiver Jarvis Landry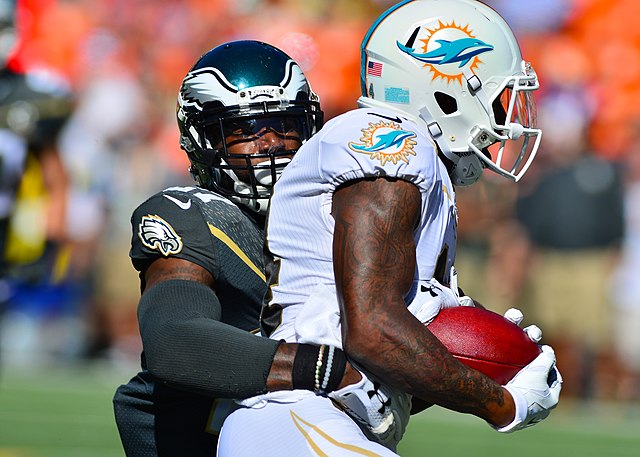 The New Orleans Saints improved their receiving corps with the signing of wide receiver Jarvis Landry of Metairie, Louisiana according to Nick Shook of nfl.com on Monday. The Saints become Landry's third NFL team following four seasons each with the Miami Dolphins (2014-2017) and the Cleveland Browns (2018-2021).
The terms of the deal are for one year, and $6 million according to Tom Pelissero of the NFL Network. Last season with the Browns, Landry had 52 catches for 570 yards and two touchdowns. In eight NFL seasons, he has 688 catches for 7598 yards and 37 touchdowns. A five-time Pro Bowler (2015, 2016, and 2017 with Miami and 2018, 2019 in Cleveland), Landry led the NFL with 112 receptions in 2017.
Landry was one of four notable players to change teams over the last week. He was joined by defensive end Melvin Ingram of Hamlet, North Carolina, and wide receivers Geronimo Allison of Tampa, Florida, and Bryan Edwards of Conway, South Carolina.
Ingram signed a one-year deal worth $5 million on Sunday. He will be joining his fourth NFL franchise following nine seasons with the Chargers, and sharing his time last year with the Kansas City Chiefs and Pittsburgh Steelers.
In 15 games last season, Ingram had 25 combined tackles (13 assisted tackles and 12 solo tackles), 11 quarterback hits, four tackles for a loss, two sacks, one pass deflection and one forced fumble. He reached the Pro Bowl in three straight years with the Los Angeles Chargers from 2017 to 2019. In 128 games, Ingram has 385 combined tackles (277 solo tackles, 108 assisted tackles), 119 quarterback hits, 74 tackles for a loss, 51 sacks, three interceptions for 17 yards, 29 pass deflections, 15 forced fumbles, one forced fumble, seven fumble recoveries for 45 yards and one touchdown.
---
---
Allison signed with the Atlanta Falcons on Monday. He is joining his third NFL team following four years with the Green Bay Packers and one year in Detroit. Allison has 89 career catches for 1045 yards and six touchdowns.
Finally, Edwards was traded by the Las Vegas Raiders to the Falcons with a seventh round draft pick in the 2023 NFL Draft for a fifth round draft pick in the 2023 NFL Draft on Friday. Last year with the Raiders, he caught 34 passes for 571 yards and three touchdowns. In two seasons, Edwards has 45 catches for 764 yards and four touchdowns.
---
Fill In The Form Below To Receive Our NFL News Straight To Your Email For FREE!