September 27, 2023, Wednesday
Nets tie their biggest comeback in franchise history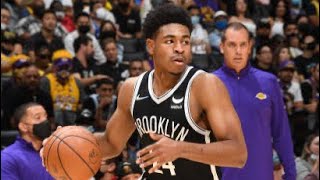 The Brooklyn Nets seemed down and out in their game against the New York Knicks at Madison Square Garden on Wednesday. They were trailing 54-26 to the  Knicks halfway through the second quarter before they battled all the way back and delivered with a 111-106 win.
It was tied for the biggest comeback in Nets franchise history. The Nets also came back from a 28-point deficit to beat the Sacramento Kings on March 20, 2019 in an impressive 123-121 Brooklyn win.
The largest comeback this season was 35 points in a 116-115 Los Angeles Clippers win over the Washington Wizards on January 25. This comeback was the second largest in NBA history. 
---
---
However what made the Nets win noteworthy on Wednesday was the fact they were victorious without two of their star players in Kevin Durant and Kyrie Irving. Durant is out with a sprained medial collateral ligament, while we all know about the situation regarding Irving by now as he is only playing road games due to his very controversial decision not to get vaccinated.
In Brooklyn's win, Cameron Thomas led the Nets with 21 points. Meanwhile, the two newest Nets had an impact as Seth Curry had 20 points and Andre Drummond had 11 points and 19 rebounds. Curry and Drummond arrived in Brooklyn in the James Harden/Ben Simmons blockbuster deal from a week ago.
The Knicks meanwhile have been terrible at protecting leads in February. This was the third time this month they have had a 20-point lead and somehow and someway found a way to lose. The recent struggles by the Knicks have definitely put their head coach, Tom Thibodeau, on the hot seat.
---
Fill In The Form Below To Receive Our NBA News Straight To Your Email For FREE!