March 27, 2019, Wednesday
Real Madrid Look Set For More Disappointment After £95m Mistake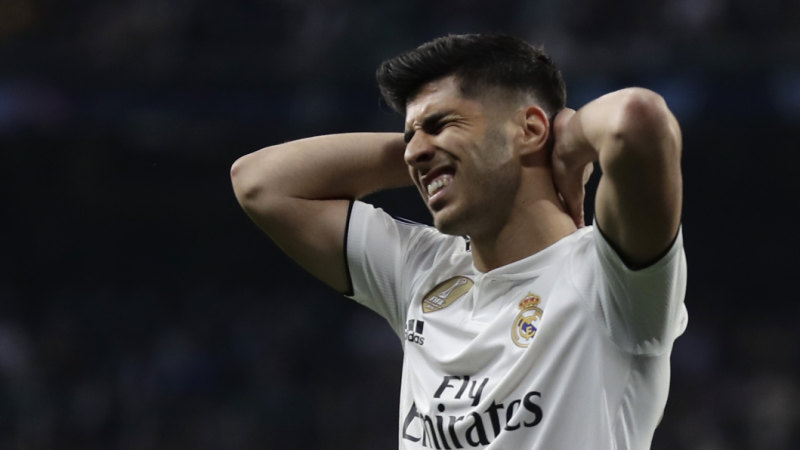 ---
After an embarrassing 4-1 loss to Ajax in the Champions League, Real Madrid will be looking for answers and they may find their mistakes hard to rectify.
---
Real had 1012 days on top but their European football dynasty has hit rock bottom after their 4-1 defeat to Ajax who had not made the quarter-finals since 2003.
Under Zinedine Zidane, and headlined by the heroics of Cristiano Ronaldo, Real were unstoppable for three seasons but this season started with disappointment which led to their coach being sacked and a reshuffle amongst the squad.
In the space of a week, they've been humiliated by Barcelona twice and now watched as their Champions League stranglehold was terminated.
---
"At this level it is a different story," Ajax director of football Marc Overmars told AS before the game.
"My player budget is 28 million euros, for the first, second and youth. That is just as much as Gareth Bale earns on his own. Real works with 630 million. We can never match that. What Real pays for one player, we pay for the entire selection."
---
---
This result is the culmination of a horror season for the defending champions, with Julen Lopetegui and now Santiago Solari unable to replicate the levels of success Zidane produced consistently.
They're 12 points off the pace in La Liga, they're out of the Spanish Cup and now their season is effectively over – with no new silverware to jam into their already packed trophy cabinet.
According to Euro football legend Ruud Gullit, Real's demise came as "no surprise".
"Seeing Madrid lately, seeing the first match they played at home and they didn't deserve to lose, I saw opportunities especially in Madrid," Gullit said on beIN Sport.
"Then you see the game Barcelona at Madrid played them off the park as well. You see the midfield and you think to yourself 'oh my god, that is exactly the team they wanted to face.'
Ajax's combination of youth and experience forged a stunning performance that left Real with no answers. European golden boy Matthijs De Ligt and Barcelona-bound young gun Frenkie De Jong were complemented by the steady heads of Lasse Schone, Daley Blind and Dusan Tadic as they dismantled the three-time reigning champions.
Unlike in previous years, there was no Ronaldo to be their savior – after he was sold to Juventus for an incredible €112m. Sergio Ramos was forced to watch from the stands after what seemed an intentional yellow that ruled him out of this game. While star defender Marcelo sat aghast as the reign he played such a key role in creating burnt.
A sharp Ajax outfit struck early to expose a vulnerable defence missing their leader, injuries struck teen prodigy Vinicius Junior and Lucas Vazquez, while a contentious VAR call and a string of jaw-dropping moments all contributed to their demise.
---
---
But where did it all begin? How did football's best team take such a rapid fall?
It seems like a simple conclusion, but the sale of Ronaldo – and the exit of Zidane – appear to have been the catalyst that began their doom.
"Who is to blame?" Gullit said.
"I still think it was an unbelievable hitchhike of Juventus to get Ronaldo. Maybe you think 'ok he's 34 lets get at least a little bit of money off him. Why would you? Why?
"50 goals. Come on. You throw that away. And he always got you out of jail."
---
---
Meanwhile, Ronaldo has a Champions League task of his own over in Turin, with Juventus needing to overturn a two-goal deficit against Atletico Madrid or face an exit of their own. However, his absence has been telling this season, as Ballon d'Or winner Luka Modric pointed out before the loss.
"Our problem this season is lack of continuity and a lack of goals," Modric said.
"He [Ronaldo] is a player any team would miss and finding a replacement for Cristiano is almost impossible."
"Cristiano scored 50 goals and you cannot find someone today who will score so many." "[We had hoped] two or three players would score 15, 20 or 10 goals and that has not happened and I think it's our biggest problem this year."
---
---
There's no doubt the club and fans feel Solari's time at the helm will come to an imminent end. The last time the club went trophyless was the 2009-10 season, and it cost Manuel Pellegrini his job. Incredibly, the rumor mill indicates that Jose Mourinho will be set to take over the reigns after he recently ousted by Manchester United after an awful start to the Premier League campaign.
"You need a strong character to reorganise," Gullit said.
"You have to have somebody with experience, who everybody looks up to. That's important and he needs to reorganise everything in the team. And also they have to take into account that maybe it will take a couple of years to get back on that high level."
Mourinho appears to fit the bill, but regardless of who gets the gig, it appears they'll have their work cut out for them in the Spanish capital.