November 29, 2023, Wednesday
Top five rookies from Week 10 of the 2023 NFL season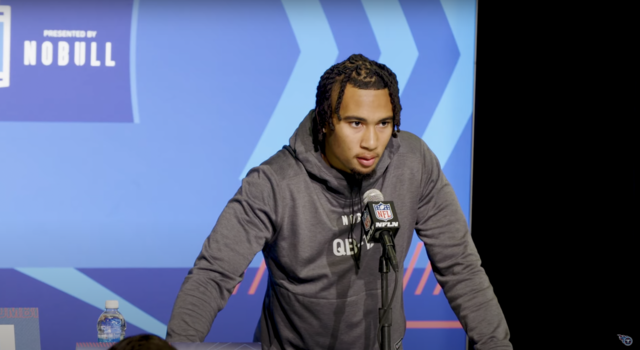 Week 10 of the 2023 National Football League regular season is now complete. Here are the top five performances by rookies on winning teams.
---
5) Tyson Bagent
The Chicago Bears rookie quarterback from Martinsburg, West Virginia completed 20 of 33 passes for 162 passing yards in a 16-13 Bears win over the Carolina Panthers on Thursday in primetime. He also had six rushes for 12 yards.
---
4) Michael Mayer
The Las Vegas Raiders tight end had three catches for 19 receiving yards and one touchdown as the Raiders defeated the New York Jets 16-12. The native of Independence, Kentucky registered his first ever touchdown catch. It came from another rookie in Raiders quarterback Aidan O'Connell of Long Grove, Illinois 50 seconds into the fourth quarter to give Las Vegas a 16-9 lead.
---
3) Jake Ferguson
The Dallas Cowboys rookie tight end from Rapid City, South Dakota had four catches for 26 receiving yards and one touchdown as the Dallas Cowboys clobbered the New York Giants 49-17. Ferguson has now had a touchdown catch in three straight games. On Sunday, he notched a major score with three minutes and 48 seconds left in the first half on a 10-yard catch from Dak Prescott to give Dallas a 21-0 lead at the time.
---
2) Tank Dell
The Houston Texans rookie wide receiver from Daytona Beach, Florida had six catches for 56 receiving yards and one touchdown along with one rush for 13 yards as the Texans beat the Cincinnati Bengals 30-27. Dell's touchdown was six yards from C.J. Stroud and tied the game at seven early in the second quarter. With the win, the Texans improved to a record of five wins and four losses.
---
1) C.J. Stroud
The Texans rookie quarterback completed 23 of 39 passes for 356 passing yards and one touchdown along with two rushes for eight yards and another major score. This was the second straight week that Stroud was number one in the rookie rankings. 
---
Fill In The Form Below To Receive Our NFL News Straight To Your Email For FREE!