Novak Djokovic reaches 2022 Wimbledon Final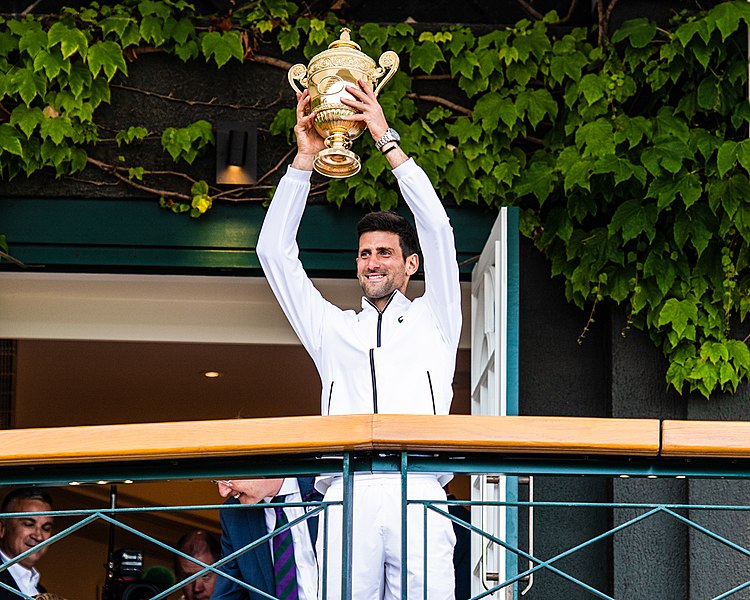 We now know who Nick Kyrgios of Canberra, Australia will play in the 2022 Wimbledon Final on Sunday. Kyrgios will face the tournament's number one seed, Novak Djokovic of Belgrade, Serbia.
Djokovic defeated Cameron Norrie of London, England, the ninth seed, 2-6, 6-3, 6-2, 6-4. A major reason for Djokovic's win came down to the serve. Djokovic had 13 aces compared to one double fault, and Norrie had six aces compared to three double faults.
Djokovic, who is 35 years of age, is in his eighth Wimbledon final. He has a record of six wins and one loss in seven Wimbledon finals. Djokovic previously won in 2011, 2014, 2015, 2018, 2019, and 2021. The only time Djokovic lost a Wimbledon final was 2013, when he was beaten by Great Britain's Andy Murray, 6-4, 7-5, 6-4.
---
---
The winning streak for Djokovic at Wimbledon is very impressive. It is currently at 27 matches. The last time Djokovic lost at Wimbledon was in the quarterfinals of 2017. In that grand slam five years ago, Djokovic was beaten by Tomas Berdych of the Czech Republic, 7-6, 2-0, as he had to withdraw because of an elbow injury. Interestingly the 2017 Wimbledon was the last Wimbledon won by Roger Federer of Switzerland, the eight-time Wimbledon champion.
Djokovic will now try to accomplish something he has never done before on Sunday. That is to beat Kyrgios. All-time, Kyrgios has won both meetings with both victories coming in 2017. Kyrgios first beat Djokovic 6-4, 7-5 in the quarterfinals of Acapulco. The second match was a 6-4, 7-6 win in the fourth round of Indian Wells. It is interesting that both of these wins came in a span of 13 days in March five years ago.
---
Fill In The Form Below To Receive Our Tennis News Straight To Your Email For FREE!