November 29, 2023, Wednesday
Ravens tight end Mark Andrews out for the year with an ankle injury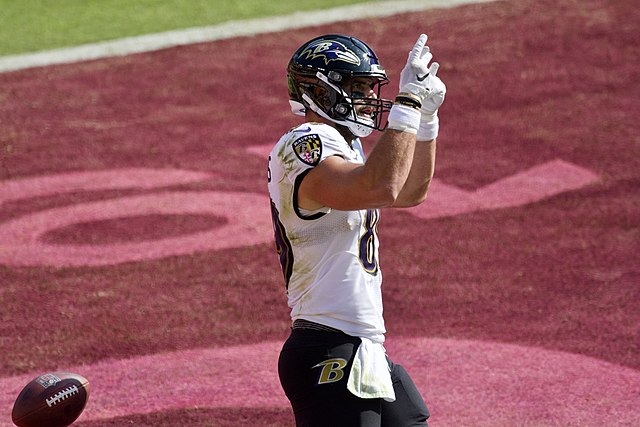 According to Andrew Cooper of Fantasy Alarm, Baltimore Ravens tight end Mark Andrews of Scottsdale, Arizona is out for the remainder of the season with an ankle injury. Andrews suffered the ailment on Thursday in a 34-20 Ravens win over the Cincinnati Bengals. At first glance I thought Andrews's injury was a concussion problem as he hit his head hard against the turf, however the injury was to his ankle which will force him to miss the remainder of the season. Andrews's ankle twisted when tackled by Bengals's linebacker Logan Wilson of Casper, Wyoming.
This is a gigantic loss for the Ravens going forward. Andrews is fourth among tight ends in receiving yards with 544. He is only behind Minnesota Vikings tight end TJ Hockenson of Charlton, Iowa (681), Kansas City Chiefs tight end Travis Kelce of Westlake, Ohio (597), and San Francisco 49ers tight end George Kittle of Madison, Wisconsin (559). Andrews also leads the NFL in touchdowns among tight ends with six, and is also fifth in the entire NFL in touchdown catches. He is behind wide receivers Tyreek Hill of Douglas, Georgia (eight with the Miami Dolphins), rookie Jordan Addison of Frederick, Maryland (seven with the Minnesota Vikings), Courtland Sutton of Brenham, Texas (seven with the Denver Broncos), and Stefon Diggs of Gaithersburg, Maryland (seven with the Buffalo Bills).
With the loss of Andrews, the Ravens looked for Odell Beckham Jr. of New Orleans, Louisiana frequently on Thursday. As a result, the 31-year-old wide receiver had his best game in four years as he had four catches for 116 yards. With the win, the Ravens lead the AFC North at eight wins and three losses.
In other news from Thursday night, Bengals quarterback Joe Burrow did not finish the game because of a wrist injury. The National Football League front office is investigating the injury because it appears that Burrow was seen wearing a cast on his wrist while getting off the plane in Baltimore. The Bengals could be in trouble because they did not mention Burrow on their injury report leading up to Thursday's contest.
---
Fill In The Form Below To Receive Our NFL News Straight To Your Email For FREE!