September 27, 2023, Wednesday
Patriots Trade Michael Bennett To The Cowboys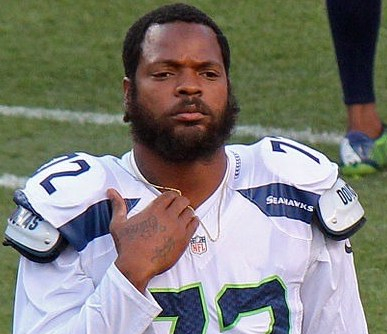 In an interesting trade on Thursday between the National Football League's most two high profile teams, the New England Patriots traded defensive end Michael Bennett of Independence, Louisiana to the Dallas Cowboys for the seventh-round draft pick in the 2021 National Football League Draft. That could improve to a sixth-round draft pick if certain undisclosed conditions are met according to Adam Schefter of ESPN.
---
In six games (one start), Bennett had two and a half sacks, four tackles and three tackles for a loss with the Patriots in 2019. Prior to joining the Patriots in 2019, he played four seasons with the Tampa Bay Buccaneers, five seasons with the Seattle Seahawks and one season with the Philadelphia Eagles.
Bennett won a Super Bowl with the Seahawks in 2013 and represented the Seahawks in three consecutive Pro Bowls from 2015 to 2017. Undrafted, Bennett played his college football career at Texas A & M.
---
---
Bennett has one career touchdown. It came in 34-7 Seahawks win over the New Orleans Saints on December 2, 2013. Bennett scored on a 22-yard fumble return as Saints quarterback Drew Brees fumbled the football. At 33 years of age, it will now be interesting to see how the Cowboys will utilize Bennett and how much playing time he gets. Dallas is currently leading the NFC East with a record of four wins and three losses.
Bennett was one of three defensive players to be traded this week. On Monday, the Oakland Raiders traded cornerback Gareon Conley to the Houston Texans for a third round draft pick, and on Tuesday, the Detroit Lions traded safety Quandre Diggs to the Seahawks with a seventh round draft pick for a fifth round draft pick. Both Conley and Diggs were starting for their respective teams in 2019.
---