One-man band: How Tom Trbojevic is outshining Thurston, Johns with Sea Eagles brilliance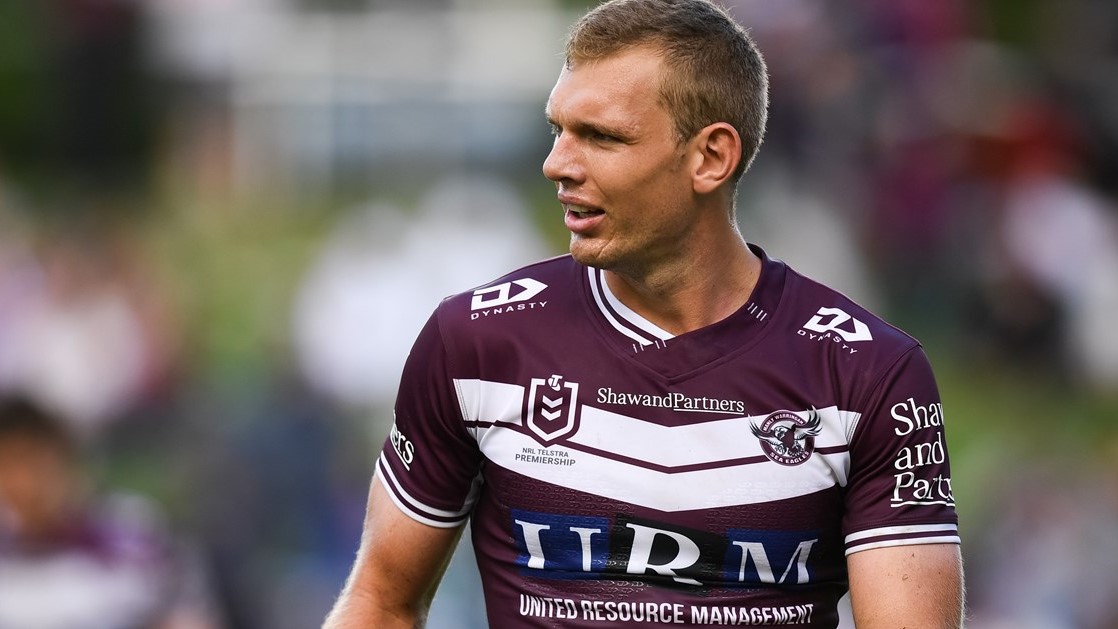 Yep, you read that right — Tom Trbojevic has a bigger impact on his struggling Sea Eagles side than legendary NRL superstars Johnathan Thurston and Andrew Johns had for their up-and-down-and-up again clubs.
---
Two weeks ago, Manly's season was beginning to look like an early write-off.
The struggling Sea Eagles had copped four heavy losses in a row, with their closest winning effort being a 26-12 defeat at home to the Rabbitohs. In fact, their only win in five had been thanks to a late-on Daly-Cherry Evans field-goal against the Warriors.
Many were tipping a wooden spoon battle for the club.
Enter now injury-free Tom Trbojevic.
In just 40 scintillating minutes of footy in Mudgee, Turbo flipped Manly's season on its head; the recently returned fullback easily led his maroon-and-whites to a 36-0 demolition of the red-hot Titans.
A week later, he had his hands on everything again as the Sea Eagles belted the Tigers in a lopsided 40-6 affair. Across the two victories, Turbo ran in two tries, and lay on another four.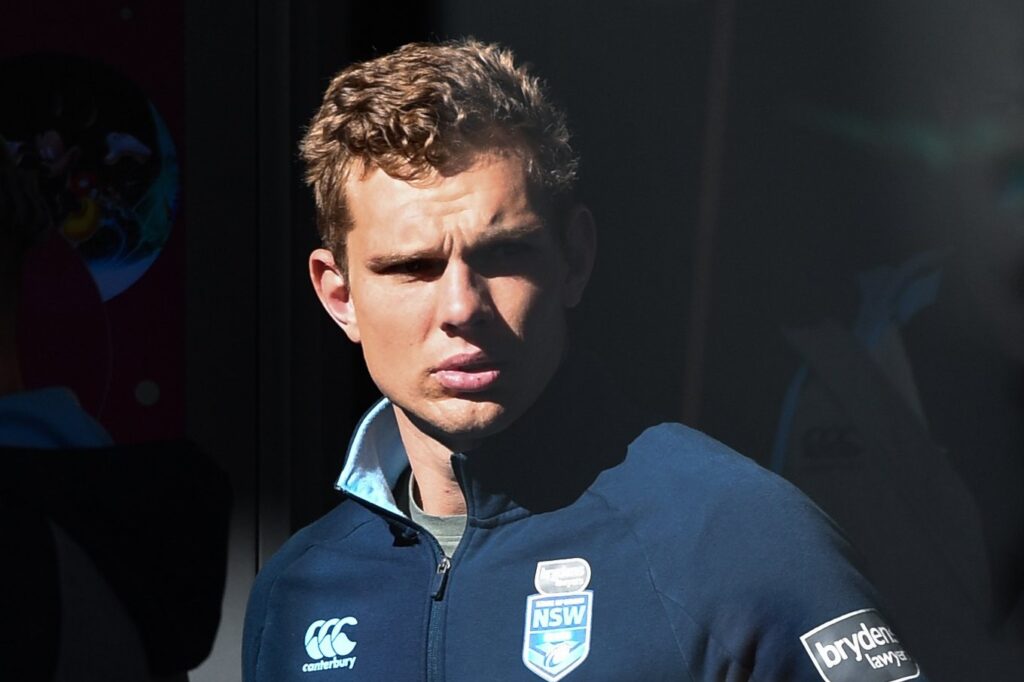 A host of NRL pundits suggested not every "Tommy T." could save the Sea Eagles.
As it turned out, they were very, very wrong.
This last fortnight has even proven one incredible stat: the 24-year-old is actually more important for the northern club he'd sell his soul for, than legendary playmakers Andrew Johns and Johnathon Thurston were for their own much-loved outfits, the Newcastle Knights and North Queensland Cowboys respectively, over their glittering careers.
Since Des Hasler returned to Brookvale to retake the Manly reigns at the start of 2019, his side has clocked up a monster 75% win rate with Trbojevic leading the team in the no.1 jumper.
Take him out, however, and that same win rate plummets all the way to a cellar-worthy 28%. It's a huge swing, and even bigger than Joey's impact on his two-time Newcastle winners (a 17.63% difference).
JT's was quite similar; the Cowboy veteran lifted his team by 17.38%.
Don't believe us? Take a look at the stats yourself:
Manly w/ Turbo (since 2019)
Win rate 75%
Av. points scored: 22
Av. points conceded: 16
Manly w/o Turbo (since 2019)
Win rate 28%
Av. points scored: 17
Av. points conceded: 27
Knights w/ Joey (1994-2007)
Win rate 62%
Av. points scored: 26
Av. points conceded: 21
Knights w/o Joey (1994-2007)
Win rate 44%
Av. points scored: 20
Av. points conceded: 26
Cowboys w/ Thurston (2005-2018)
Win rate 54%
Av. points scored: 23
Av. points conceded: 20
Cowboys w/o Thurston (2005-2018)
Win rate 36%
Av. points scored: 17
Av. points conceded: 24
Really takes the definition of "one-star club" to another level, doesn't it?
---
---
His teammates certainly agree too
"You could certainly say (he's as important as Johns and Thurston)," Marty Taupau admitted.
"It's the influence with the relationships and combinations he has with certain players. You've got to get insurance on those hamstrings alone … It's a huge asset. I said to him when he came off (against Titans), you're playing fullback, halfback, hooker, and front row at the same time.
There's so many things that he brings along. Confidence as well knowing he can bring a quick play-the-ball a try or a try assist."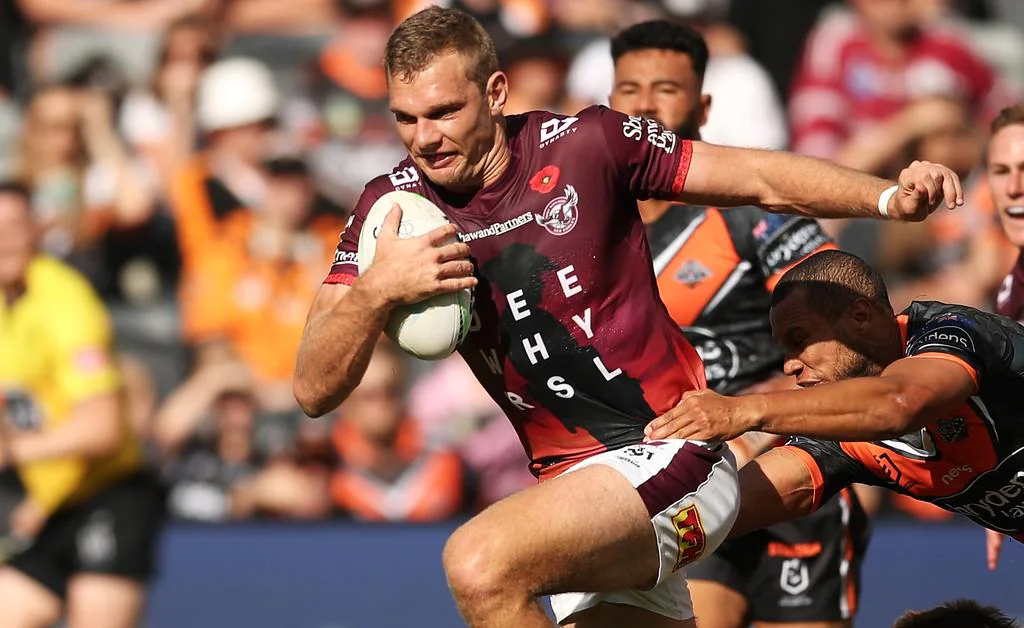 The only question now is, can Manly keep Tommy fit long enough to stage a 2021 finals run?
Well, according to Trbojevic, at the moment "the body is good."
"We've got a really good team here and they've been working really hard over the past eight weeks," he said. "It's just good to be back playing footy, I've missed it a lot so you enjoy these moments."
He also added he doesn't want to have to watch the Sea Eagles struggle from the sideline again, after watching helplessly in the opening five rounds.
"When we're not going well you put it a bit on yourself because you can't be out there helping. It's hard, like you take any fullback out of any side – they're not going to be as good as they were before."
---
Fill In The Form To Get Our NRL News Straight To Your Email For FREE!