Redskins wide receiver Antonio Gandy-Golden admits having coronavirus prior to the NFL Draft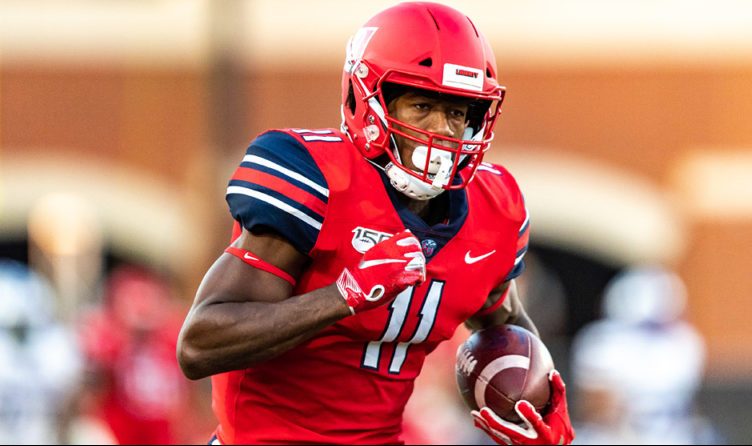 According to the Associated Press on Wednesday, Washington Redskins wide receiver Antonio Gandy-Golden had coronavirus during the month of March and before he was drafted by the Redskins on April 25. He reportedly tested positive for coronavirus on March 24 during National Football League Draft training. Gandy-Golden had mild symptoms while recovering from the disease and was cleared on April 7.
It is not known if Gandy-Golden was out and about in public prior to March 24 or how he caught the disease. He does admit he self-quarantined for two weeks after the diagnosis and feels fine and healthy now.
Gandy-Golden was drafted in the fourth round, 142nd overall by the Redskins in the 2020 NFL Draft. A native of Chicago, Illinois, he attended Liberty College. Last season he had 70 catches for 1304 yards and 10 touchdowns.
During his college career, Gandy-Golden became the first player ever from Liberty College to have three consecutive 1000 yard seasons. He also had 1066 yards in 2017 and 1037 yards in 2018. In 2017, Gandy-Golden led the Big South in receptions in a season (69) and receiving yards.
In 2019, Gandy-Golden finished fourth in the entire National Collegiate Athletic Association in receiving yards. He only trailed Louisiana State University Tigers' wide receiver Ja'Marr Chase of Harvey, Louisiana (1780 yards), Arkansas State University Red Wolves wide receiver Omar Bayless of Laurel, Mississippi (1653 yards) and Lousiana State University Tigers' wide receiver Justin Jefferson of Saint Rose, Louisiana (1540 yards). Chase was not eligible for the NFL Draft. Bayless was undrafted and signed by the Carolina Panthers on April 29 and Jefferson was drafted in the first round, 22nd overall by the Vikings in the 2020 NFL Draft.
In addition to having a fine 2019 season in college football, Gandy-Golden also set a Liberty College record. In a 52-43 Liberty win over the University of New Mexico on September 29, 2018, Gandy-Golden set the Liberty College record for most receiving yards in one game (245 yards).