Ravens sign defensive end Derek Wolfe from the Broncos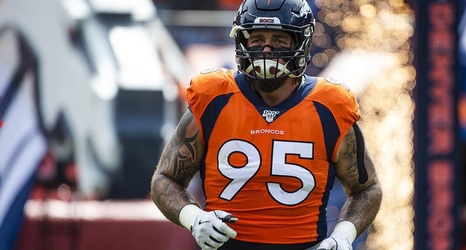 The Baltimore Ravens defense just got stronger on Saturday. According to ESPN, the Ravens signed defensive end Derek Wolfe to a one year contract worth $6 million.
Wolfe is a 30 year old native of Lisbon, Ohio. He has spent the last eight seasons with the Broncos since being drafted in the second round, 36th overall, by Denver in the 2012 National Football League draft.
In 12 games for the Broncos in 2019, Wolfe had one pass deflection, one forced fumble, seven sacks, 34 combined tackles (23 solo tackles and 11 assisted tackles), eight tackles for a loss and 12 quarterback hits. Wolfe's pass deflection came in the Broncos's 24-19 win over the Cleveland Browns on November 3. Wolfe also had two multi-sack games in Broncos wins in 2019. The first came in a 16-0 Denver win over the Tennessee Titans on October 13 and the second came in a 23-20 win over the Los Angeles Chargers on December 1. The seven sacks Wolfe had in 2019 were a career high.
Unfortunately the game against the Chargers was Wolfe's last game for the Broncos. That is because he dislocated his elbow and was out for the rest of the season.
In 108 career games for the Broncos, Wolfe had one interception, 15 pass deflections, one forced fumble, two fumble recoveries, 33 sacks, 299 combined tackles (206 solo tackles and 93 assisted tackles), 46 tackles for a loss and 77 quarterback hits.
While with the Broncos in 2017, Wolfe expressed his opinion toward NFL players who were kneeling during the American National Anthem. According to Josh Alper of NBC Sports,Wolfe argued it was disrespectful to those who sacrifice their lives for the United States and stated he was "proud to be an American."