NFL Player Profile: Cooper Kupp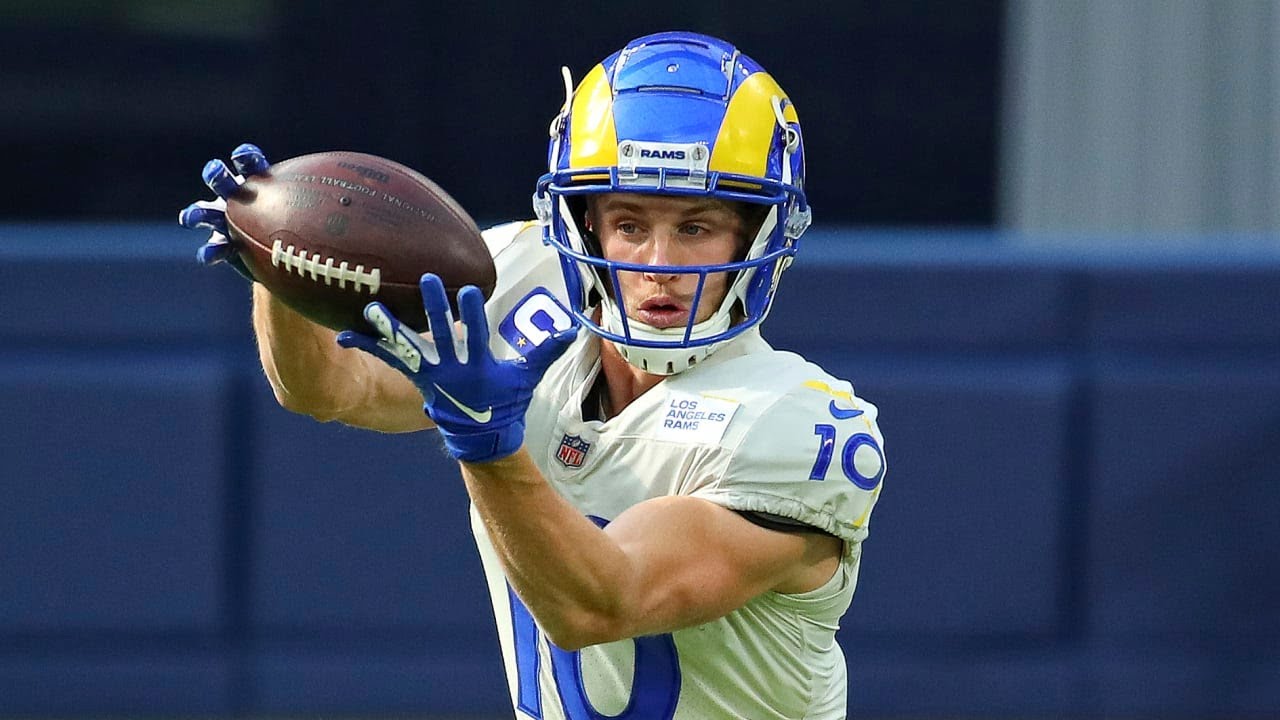 NFL Player Profile: Cooper Kupp–Los Angeles Rams
For years there was no football in Los Angeles, and now Los Angeles football fans are spoiled with not one, but two teams that could compete in the Super Bowl. Last week we profiled Chargers running back Austin Ekeler. This week it is time to profile Los Angeles Rams wide receiver Cooper Kupp.
2021 Breakout Season
Last season, Kupp had a year for the ages. He led the National Football League in receptions (145), receiving yards (1947), touchdown catches (16), and yards per game (114.5). Kupp became only the fourth player ever to lead the NFL in receptions, receiving yards, and touchdown catches in the same season. He followed Jerry Rice, Steve Smith Sr. and Sterling Sharpe.
Despite having 134 catches for 1161 yards and 10 touchdowns in 2019, Kupp was only selected to the Pro Bowl for the first time in 2021. He won the Associated Press Offensive Player of the Year this past year too, and was the most valuable player in the Super Bowl. In a game that the Rams beat the Cincinnati Bengals 23-20, Kupp had eight catches for 92 yards and two touchdowns.
Leading up to the NFL
The native of Yakima, Washington, was the third round pick, 69th overall, in the 2017 NFL Draft. Kupp played his college career at Eastern Washington, which is known throughout College Football for its bright red football field. You could make the argument that Kupp is the best wide receiver ever in the Football Championship Subdivision (one level below the NCAA). He is the subdivision's all-time leader in receptions (428), receiving yards (6464) and touchdown catches (73).
---
---
NFL Career
In five NFL seasons, Kupp now has 433 catches for 5517 yards and 40 touchdowns. In 2017, he was part of the All-Rookie Team, as he had 62 catches for 869 yards and five touchdowns. In 2018, Kupp only played half the year due to a torn ACL. There is no doubt that Kupp benefited by the fact the Rams acquired Matt Stafford in a trade with the Detroit Lions leading up to the 2021 NFL season.
2022 Los Angeles Rams
Being the reigning Super Bowl champions, the Rams will have a target on their back for the 2022 NFL season. Kupp will enter the season financially secure. He signed a three-year contract extension worth $80 million on June 8, and is to make $110 million over the next five years according to Jeff Kerr of CBS Sports.
Rams fans are waiting to see if the team will come to terms with wideout Odell Beckham Jr. to complement Kupp. Beckham Jr. is currently a free agent. In the meantime, Los Angeles signed Allen Robinson from the Chicago Bears to a three-year deal worth $46.5 million. 
---
Fill In The Form Below To Receive Our NFL News Straight To Your Email For FREE!