December 2, 2021, Thursday
VRC Oaks Preview: Our Thoughts & Insights
The $1 Million Victorian Oaks is a highlight of the Melbourne Cup carnival and has produced some outstanding horses in the races long history.
This year's race has a particularly long tail but there are still many chances to take out the feature.
1 Amphitrite
Trainer: D Weir
Jockey: C Williams
Barrier: 5
Odds: $3.40     BET NOW
Thousand Guineas winner who was luckless last Saturday in the Empire Rose Stakes (1600m). Can't entertain a 1600m lead up into a 2500m staying test. A classy horse but happy to risk here at the distance.
2 Aristia
Trainer: M Ellerton & S Zahra
Jockey: D Lane
Barrier: 4
Odds: $4.5     BET NOW
Was a strong winner last start where she broke her maiden in the Wakeful Stakes (2000m). Hit the lien well there fighting off the challenges. Has miles in the legs with two 2000m lead-ups. Right in this.
3 Qafila
Trainer: D & B Hayes & T Dabernig
Jockey: J Crowley
Barrier: 10
Odds: $8     BET NOW
Just beaten by Aristia last start in the Wakeful where she was held up for a run at a crucial time in the straight. Picked herself back up after that and sprinted well. Think she can turn the tables on Aristia. Chance.
4 Verry Elleegant
Trainer: D Weir
Jockey: J Allen
Barrier: 13
Odds: $4.70     BET NOW
Was caught wide last start in the Wakeful and over-raced badly before battling away to finish 5th behind some chances in this race. Nose roll goes on here which should help her settle but think it to tough an ask her as she is only a lightly framed filly deep into her first racing prep. Against here.
5 Greysful Glamour
Trainer: M Newnham
Jockey: T Clark
Barrier: 1
Odds: $15     BET NOW
Was an impressive winner of the Oaks trial (1800m) two starts ago before falling victim to a fast tempo last start where she faltered late. Drawn perfectly to be able to hold her spot on the fence and would like to see her lead. Not the roughest hope here.
6 Sizzleme
Trainer: C Alderson
Jockey: L Currie
Barrier 14
Odds: $21     BET NOW
Another on-pacer who fought on well last start in the Wakeful to finish just behind the winner. Before that put in a huge run behind Very Elleegant in the Ethereal Stakes (2000m). Will press forward from the wide gate and will give a sight. Outside chance.
7 Dark Confident
Trainer: D & B Hayes & T Dabernig 
Jockey: R Bayliss
Barrier: 15
Odds: $34     BET NOW
Wasn't impressive last start in the Ethereal when only battling away for 6th. Only average in the starts before that. Maps awkwardly and needs to improve big time. Not up to these.
8 Miss Moana (NZL)
Trainer: J Sargent
Jockey: M Zahra
Barrier: 9
Odds: $26     BET NOW
Was a strong winner against a mediocre field last start over 2340m at Newcastle. Has miles in the legs after a run at that distance and the 2500m shouldn't be an issue but looks a class below the top few this time around.
9 Maracaibo
Trainer: T Busuttin & N Young
Jockey: S Baster
Barrier: 8
Odds: $34     BET NOW
Won her last two at Canberra and Benalla in much lower grade than this. Will be up on speed but looks outclassed here.
10 Scamper
Trainer: L & T Cortsens
Jockey: K McEvoy
Barrier: 12
Odds: $34     BET NOW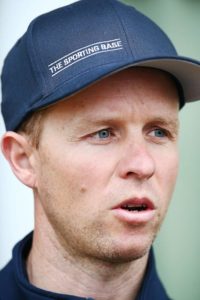 Put in a tough performance last start to win at Yarra Valley after making a long sustained run. Should come on well from that run but needs to go to another level here.
11 Zapurler
Trainer: D Weir
Jockey: H Bowman
Barrier: 3
Odds: $12     BET NOW
Put them away at her last start win at Echuca, simply outstaying her rivals. Huge jump in class here but has miles in the legs with her past 3 runs all at 2000m or further. Outside chance.
12 Collectable
Trainer: R D Griffiths
Jockey: J McDonald 
Barrier: 11
Odds: $17     BET NOW
Ran on well off a fast tempo last start in the Ethereal to finish 4th beaten 3 lengths with a further 3 lengths to the 5th horse. Should settle midfield and will need everything go on her favour to be winning this. Place chance.
13 Exclusively Ours
Trainer: M Brown
Jockey: B Thompson
Barrier: 6
Odds: $151     BET NOW
Offered nothing in the Wakeful last start where she got back and stayed there. Will be doing her best not to run last.
14. Miner's Miss
Trainer: P Payne
Jockey: M Payne
Barrier: 2
Odds: $51     BET NOW
Won well last start at Avoca over 1860m, easily accounting for her rivals. But her one attempt at 2400m failed. Looks tested here.
15 Lesedi
Trainer: R Laing
Jockey: N Callow
Barrier: 7
Odds: $151     BET NOW
Hasn't troubled the scorers running around in country grade so looks to be another in the battle not to finish last.
Click Here to read our exclusive interview with Kerrin McEvoy as he gives us insights into his Melbourne Cup day routine and explains his mid-race thoughts.