Kerrin McEvoy: My Melbourne Cup Day Routine & Race Insights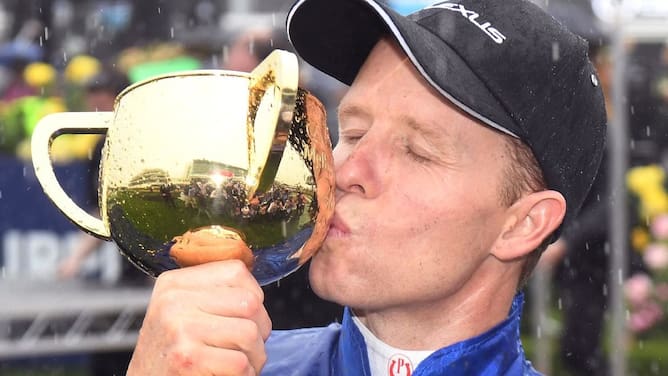 The Melbourne Cup is upon us once again and jockeys play a major part in the race that stops the nation so we asked triple Melbourne Cup-winning jockey Kerrin McEvoy to tell us what routines he has on cup day and what goes through the mind of a jockey when riding in the Melbourne Cup.
---
The Morning Of The Cup
I start by getting up to read the paper with a coffee and then check the scratchings. Once I've done that I'll check my weight and go for a swim.
---
Arriving On Course
I'm in the first race so I'll be arriving at the races at about 9:30am to make sure I can take it easy once at the course.
There's usually a big crowd there already being cup day so the atmosphere is building already
---
Routine Once On Course
I'll head straight to the jockeys room and try not to get held up talking to too many people. I'll jump straight out of the suit and into my jockeys gear and then head to the scales to see how my weight is with my boots and vest on. I'll let my valet know what my weight is so he can prepare my gear. I then have a set routine that I run through to warm up to make sure my body is loosened up and ready to go as I don't want to get out there and use race one as a warm-up.
---
The Jockeys Room Minutes Before The Cup
It's pretty quiet on cup day but there will still be a little bit of banter. It starts to get a bit tense with not much chit chat as everyone is in their routine preparing for the race.
---
Once Legged Up In The Mounting Yard
I'm up and ready to go and full of energy. I've been on a good diet all week so I know by this stage I'm feeling good. The atmosphere is still building.
---
---
Cantering To The Barriers
The first thing you think about is keeping your horse relaxed and staying in tune with how it's reacting to the situation. You don't want to go to the barriers too fast because you want to get your horse in a nice rhythm and I'm hoping my horse is reacting the way I want it to. It's all about getting your horse off on the right foot as a lot of the time you haven't ridden the horse too often so you have to start the association well.
---
In The Gates
I've taken notice which of the other horses have sweated up or haven't taken the occasion well as that could change the race with some horses pulling hard and over-racing. I've also looked for jockeys that are trotting their horses around and keeping them moving as that could be an indicator to them going forward in the race.
I'm hoping I've got my horse settled and one of my last boxes to check is to make sure I've got my core switched on. I take a few big breaths before we jump as I want to be relaxed and switched on once the gates open. I make sure my horse is standing well and I'm concentrating on the race ahead.
---
Past The Post The First Time
The main thing is I want my horse in a nice rhythm and I need to make sure I haven't spent too much energy to get into my position. It's important not to get too far back. If my horse is nice and relaxed I sometimes hear the crowd but more often than not I'm tuned in to what is happening around me. This is the part of the race where the tempo usually slackens and it's important to be on the ball for any dramatic changes of pace.
---
---
At The 800m
Usually, this is where things start to happen. The race is developing around me and I know which horses I have around me. I've ticked the ones I want to follow and crossed the ones I don't as this is where the race can be won and lost and I don't want to follow the wrong horse.
---
Into The Straight And Going Full Throttle
It's all about timing your run because it's a hard 3200m and you don't want to go early and get run down. If I'm on the bridle it's a bonus because it means my horse has a little bit left and it gives me time to reassess who my main dangers are. It also means I know I'm going to be in the finish and it's a great feeling to have.
---
Hitting The Winning Post In Front
It's an amazing feeling, I suppose it's pure elation and joy after such a busy race and the race has such following now. It's a feeling I'll never forget. It's amazing to be able to achieve it three times. My first two were 16 years apart which displays how hard it is to win the cup.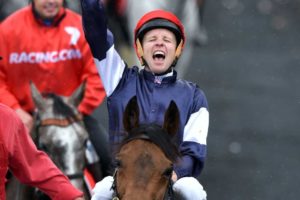 ---
Coming Back To The Yard
It's an amazing feeling. The first year my wife Cathy was there and I've been lucky that both times my mum and dad plus some family have been there. It's a great feeling to come back and have family and friends there. The owners and trainers are there and it's an unbelievable feeling to walk down the walkway and under the Flemington sign and back into the winners stall. It doesn't get any better than that.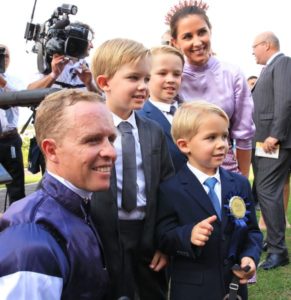 ---
Kerrin rides Finche for Chris Waller in the cup and currently sits at an $11 chance. The Sporting Base team would like to wish him luck and will be hoping he collects a record-equalling fourth Melbourne Cup.
---