January 29, 2022, Saturday
The hype is real in Tszyucastle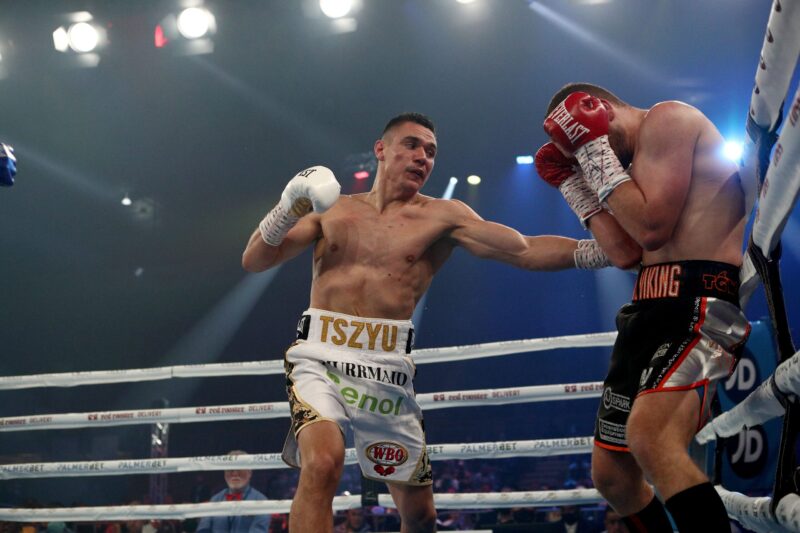 It was another clinical display by Australian champion Tim Tszyu as he defeated Steve Spark after a body shot in the third round.
Despite the result, Spark has become a relatable figure in the Australian boxing scene and after taking the fight on seven days' notice, he ultimately saved the night.
It all started with Miles Zalewski who knocked out Lee Fook in the fifth round to open up. A tough battle followed as the judges were unable to find a winner with Linn Sandstrom and Natalie Gonzales Hills earning a split draw.
For Sam Ah-See the long-awaited return after six years out of the ring was clinical and it was as if he had not left. The Orange based fighter was precise and composed from the very start, catching his opponent at will before Amonsot dropped for the first time. After surviving the count, Ah-See was relentless and the referee was forced to call the fight in the first round.
"It's been six years in the making," Ah-See said.
"I was confident about getting the win and there wasn't too much ring rust."
While Ah-See's boxing did all the talking he made sure he left with another bang.
"For everyone in Australia, the King's back," he said.
Next up was the rematch between Wade Ryan and local fighter Troy O'Meley with the previous bout ending in a split decision to Ryan. It was another fight of the year contender as the 31-year-old fighting out of Gunnedah, was assertive from the very beginning. Using combos to the body, Ryan was looking to set up his straight left and was finding his range with ease.
Similar to the first fight, O'Meley was cut in the exact same spot and after taking damage for six rounds, the doctor called the fight, handing Ryan the victory. After defending his IBO International belt, he now sets his sights on IBO boxing glory.
"We've got a dream and a goal and we're looking for the next IBO belt, the Intercontintal," Ryan said.
He also made sure to squash any chances at a further rematch with O'Meley.
"Thank you for the fight Troy, we can't keep having tough fights with each other," Ryan said.
"I hope everything is settled now."
---
---
As the night grew older, the co-main event lived up to the plate and Liam Wilson may have bit off more than he could chew with a fifth round TKO loss to Joe Noynay from the Phillipines. Ranked seventh in the world, Noynay dropped Wilson four times and the Aussie fighter copped a beating.
It was Wilson's first knockdown's of his career and he also suffered his first loss. Despite the odds being stacked in his favour, a matchup with the WBO Asia Pacific super featherweight champion will be a good lesson for the future as he begins to revitalise his stardom.
Now to the main-event, and for the top super-welterweight fighters across the globe, the hype around Tim Tszyu is cotinuining to mount. Although facing a replacement in Steve Spark, the man who appears to have been adopted by the Newcastle faithful, made quick work of his new opponent.
While Spark showed early signs of his boxing prowess, he was stepping up two weight divisions from what he is familiar with. This does not diminish Tszyu's brilliance, as he was able to find his range and use his power and skill to dominate.
A flurry of body shots in the third round earned two knockdowns for the Sydney based fighter and with the third State of Origin match rescheduled for Newcastle this is surely an omen for Sunday's game. Spark hails out of Toowoomba in Queensland and with the two states already matching up last night, New South Wales is on the right path.
A final body shot, saw Spark wince and the referee immediately waved the fight off.
SOUL TAKER or BODY SNATCHER? @Tim_Tszyu #TszyuSpark #Boxing @MainEventTV @FOXSportsAUS @NoLimit_Boxing pic.twitter.com/8RGEY1bz8Q

— Jai Marcus McAllister™️ (@JaiMcAllisterx) July 8, 2021
"I had fun in there, that's the main thing," Tszyu said.
When asked about what the fight meant for him, Tszyu added that it was "just business" and nothing more.
He went on to explain that he is aiming for the world title bout and will do whatever it takes.
"I've got one objective and that's to take everyone out," Tszyu said.
"I'm here to stay."
While super-welterweight champion Jermell Charlo is lined up for a unification bout with Brian Costano, Tszyu understands that the American may not accept a future fight.
"If you're listening boys, I'm coming for you," he said.
"If it's not Charlo then it's Liam Smith, Magomed Kurbanov and Danny Garcia."
With screams of "Tszyucastle" by the fans in attendance, Tszyu made sure to recognise the support.
"That's it right there," he said.
"That's what I'm here for."
For avid boxing fans in Australia, Tszyu is expecting to fight in September against an international opponent and manager Glen Jennings is looking towards the stadium in Newcastle as a prospective venue for the huge affair.
We will keep you updated on what's to come.
---
Fill In The Form Below To Receive Our UFC Previews, Tips & News Straight To Your Email!