Paul Gallen's classy gesture after beating Darcy Lussick by TKO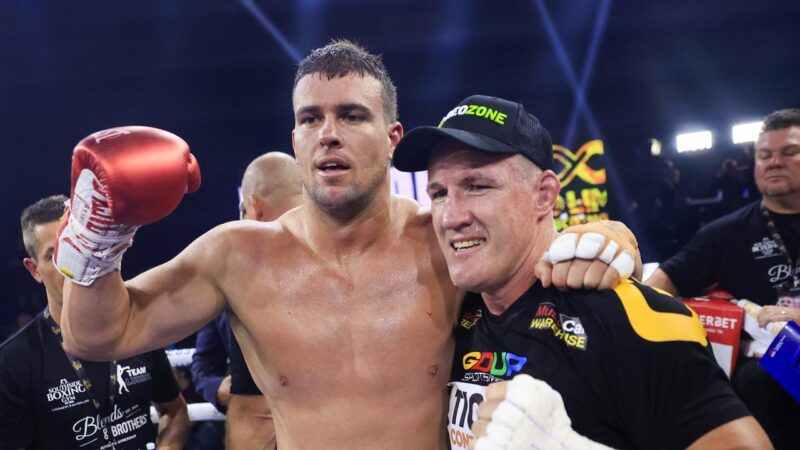 Former Cronulla Sharks captain Paul Gallen picked up a technical knockout victory over ex-rugby league forward Darcy Lussick last night at the Star Casino in Sydney.
Heading into the bout, Gallen questioned the timing of each round with three, two-minute rounds scheduled. With Lussick taking the fight on short notice, it favoured the former Manly player, and it looked as if he had the better of Gallen in the opening round.
Lussick was a step ahead of Gallen, the dominant of the pair. However, his style came into question as Australian boxing legend Jeff Fenech criticised the 32-year-old for an illegal hold of Gallen's neck while throwing punches.
"It's illegal, he held him around the head and hit him," Fenech said.
Coming into the second round, the tempo changed and Gallen was the aggressor, finding his groove. The pair went back and forth until Gallen landed some heavy blows including uppercuts as Lussick quickly tired.
Towards the final stages of the second round, Gallen finally landed the first knockdown of the fight and while Lussick survived to the end of the round, many questioned whether his team should have sent him back out.
Clearly exhausted, Lussick arose from his stool and continued to walk into punches as the referee called the bout early in the third.
---
---
It won Gallen the $20k on offer from No Limit Boxing's George Rose, who put up a bonus for knockout of the night.
In response, Gallen offered to split the money between Sam Goodman (10-0) and professional debutant and Olympic bronze medalist, Harry Garside who both picked up stoppage wins.
Goodman defeated Richie Mepranum by TKO to claim the WBO Oriental Bantamweight title before Garside picked up a controversial first-round TKO victory over Sachin Mudaliar.
Garside's victory was impressive nonetheless, and although the referee stepped in prematurely, it was a matter of time before Garside landed a heavy blow that would force an end to the bout.
The win will undoubtedly give Garside plenty of confidence, especially after the Tokyo bronze medalist admitted he was fighting with one hand following complications in the lead up to the fight.
Garside's dominant left hand was injured during a sparring session, and he said he was unwilling to cancel his debut professional bout.
Fight card results:
Paul Gallen beat Darcy Lussick via TKO (Round 3)
Harry Garside beat Sachin Mudaliar via TKO (Round 1)
Joey Leilua beat Chris Heighington via unanimous decision (39-38, 39-37 x 2)
Taylan May beat Freddy Lussick via unanimous decision (38-36, 38-35, 39-35)
Sam Goodman beat Richie Mepranum via TKO to claim WBA Oriental super bantamweight title (Round 6)
Justin Hodges beat Nathan Ross via majority decision (38-38, 39-38, 39-37)
Tavita Vaoga beat Alex Simon via disqualification
Ella Boot beat Enja Prest via unanimous decision (40-36 x 3)
Natalie Hills beat Linn Sandstrom via unanimous decision (58-57, 59-55, 58-56)
Kate McLaren vs Malakay Moukayber — majority draw (38-38 x 2, 39-36)
---
Fill In The Form Below To Receive Our UFC Previews, Tips & News Straight To Your Email!