Jiri Vesely stuns Djokovic in Dubai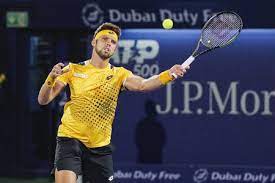 Jiri Vesely of Pribram, Czech Republic recorded a significant upset on Thursday. In the quarterfinals of the 2022 Dubai Tennis Championship, Vesely, who was unseeded, defeated world number one Novak Djokovic 6-4, 7-6. This was Djokovic's first tournament of 2022, after not being allowed to compete at the Australian Open because he was unvaccinated.
The difference in the upset was the fact that Vesely was able to break Djokovic three times on eight break point opportunities. Djokovic meanwhile was able to only break Vesely twice on five break point opportunities. It was stunning that Vesely had more break point opportunities than Djokovic, when it is the return game of Djokovic which is his number one strength.
---
---
In a remarkable statistic, Vesely becomes the third player ever to have beaten Djokovic on multiple occasions and at that the same time is undefeated against Djokovic. The other two are Nick Kyrgios of Australia and Marat Safin of Russia. Kyrgios previously beat Djokovic 7-6, 7-5 in the quarterfinals of the 2017 Mexican Open in Acapulco, and Djokovic 6-4, 7-6 in the fourth round of Indian Wells in 2017. Safin previously beat Djokovic in the first round of the 2005 Australian Open, 6-0, 6-2, 6-1, and then Djokovic again in the second round of Wimbledon in 2008, 6-4, 7-6, 6-2.
Vesely's other upset win over Djokovic in his career came in the second round of Monte Carlo in 2016, as Vesely was victorious 6-4, 2-6, 6-4. However, it should be noted that Djokovic did advance to the third round of the 2016 United States Open via a walkover when Vesely was unable to play his second round match due to a forearm injury. Vesely will now play Denis Shapovalov of Canada in the semifinals of the Dubai Tennis Championship on Friday.
---
Fill In The Form Below To Receive Our Tennis News Straight To Your Email For FREE!