December 1, 2021, Wednesday
USA clobbering Europe 11-5 at 2020 Ryder Cup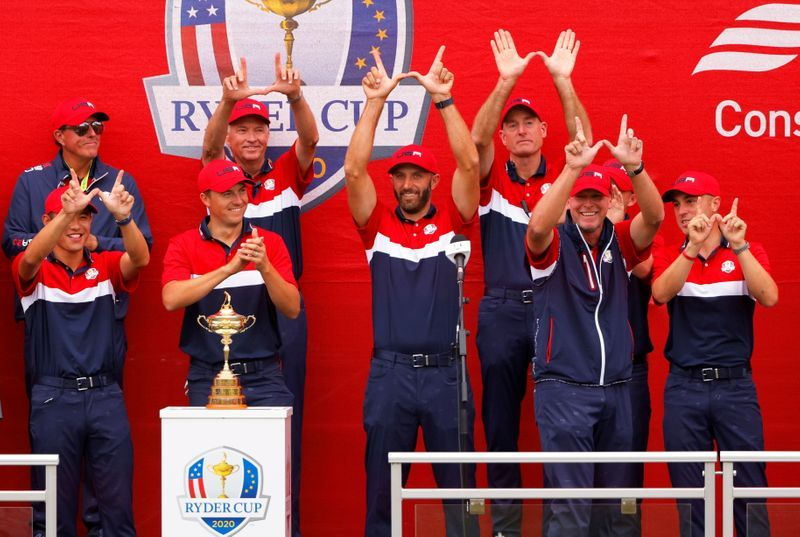 The 2020 Ryder Cup is two full days in and what we are seeing at this time is the most lopsided Ryder Cup in 46 years. On Saturday, the United States extended their lead to 11-5 over Europe, as they won three of four morning foursomes and split the four afternoon four-ball events.
---
It has simply been a perfect weekend to date for 2016 United States Open champion and 2020 Masters champion Dustin Johnson of Columbia, South Carolina. The world number two is a perfect 4-0. After winning with Collin Morikawa and Xander Schauffele on Friday, Johnson had two more wins on Saturday with Morikawa. In Saturday's foursome action, Johnson and Morikawa beat the English duo of Paul Casey and Tyrrell Hatton 2 & 1, and then beat England's Ian Poulter and Northern Ireland's Rory McIlroy 4 & 3 in four-ball.
---
---
The 4 & 3 win by Johnson and Morikawa over Poulter and McIlroy was the most lopsided match on Saturday. It has been a disastrous Ryder Cup for McIlroy overall. On Friday, he teamed up with Poulter in the foursomes, and got their butts kicked 5 & 3 to Schauffele and Patrick Cantlay. Then in the Friday four-ball, McIlroy teamed up with Shane Lowry of Ireland, and lost 4&3 to Harris English and Tony Finau.
On Sunday, Johnson will be playing Casey in an attempt to go a perfect 5-0 on the weekend. Meanwhile, McIlroy will be playing Schauffele in singles, in an attempt to prevent going 0-4.
For Europe to retain the Ryder Cup, they will need to win 9 of the 12 matches. In 1975, the United States had a 12 1/2 to 3 1/2 lead over Great Britain and Ireland. The Ryder Cup included all European golfers by 1979.
---
---
 Fill In The Form Below To Receive Our Golf News Straight To Your Email For FREE!