Frank Gore Moves Into Third Place All-Time On NFL Rushing Yards List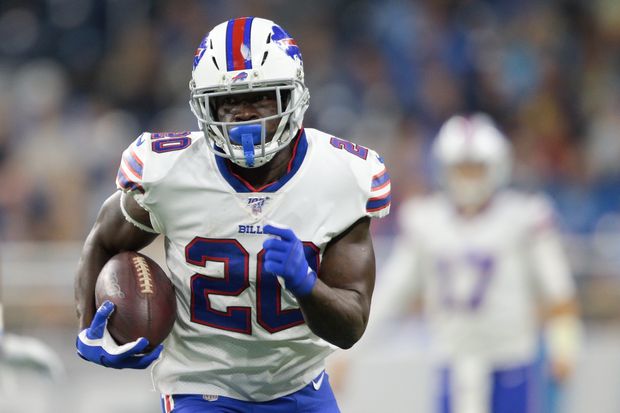 It was a memorable Sunday for Buffalo Bills running back Frank Gore of Miami, Florida. On Sunday, Gore moved into third place all-time on the National Football League's rushing yards list in a 20-3 Bills win over the Denver Broncos at the New Era Field in Orchard Park, New York. In the game, Gore had 15 carries for 65 yards in the 17 point Buffalo win.
Gore now has 15289 career rushing yards over 15 seasons with the San Francisco 49ers, Indianapolis Colts, Miami Dolphins and Bills. He has 11073 yards with the 49ers, 2953 yards with the Colts, 541 yards with the Bills and 722 yards with the Dolphins.
---
---
Gore passed Barry Sanders of the Detroit Lions for third place all-time. Sanders had 15269 yards with the Lions from 1989 to 1998. Sanders, who led the NFL in single-season rushing yards four times in his NFL career, (including a career-high 2053 yards in 1997), could be considered one of the best running backs who ever played as he averaged 99.8 yards per game, including an amazing 128.3 yards per game in the 1997 season alone.
It should be noted that Sanders had 15269 in only 3062 attempts. Meanwhile, Gore has 15289 yards in 3519 attempts. Gore has had 457 more rushing attempts than Sanders, and only averaged 69.2 yards per game.
Number one on the list in rushing yards all-time is Emmitt Smith, who had 18355 rushing yards with the Dallas Cowboys and Arizona Cardinals from 1990 to 2004. Smith achieved the mark in 4409 attempts.
Number two on the list in rushing yards all-time is Walter Payton, who had 16726 yards with the Chicago Bears from 1975 to 1987. Payton achieved the mark in 3838 attempts.
The Bills look to be playoff bound in 2019. They currently have a record of eight wins and three losses, and hold down the first playoff spot by two full games in the AFC over the Pittsburgh Steelers, Indianapolis Colts, Tennessee Titans and Oakland Raiders.
---