World Cup Final Review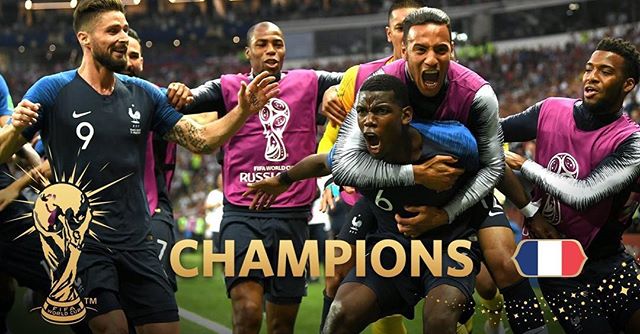 Football fans from around the world were hoping this would be one of the most entertaining World Cup finals in history and it certainly rated highly.
Croatia were the underdogs going into the game but came out firing and looked to have France on the back foot early but the first goal of the game came from an own goal (Mandzukic) in the 18th minute but Croatia were quick to hit back after a cracking strike from Perisic in the 28th minute. A controversial penalty was given in the 39th minute after a handball was given on review via the VAR and Griezmann never looked like missing to give France a 2-1 going into half time. Croatia would've been disappointed with that after a 56% possession rate and also had 7 shots to France's 1. Pogba couldn't believe his luck when he was given two quick attempts on goal and buried the second one into the back of the net in the 59th minute. Mbappe then put the game beyond doubt with a solid strike from outside the box and became the second teenager to score a goal in a World Cup final and the Pele being the only other he's in elite company. A Lloris mistake that gifted Mandzukic a goal in the 69th minute gave Croatia a glimmer of hope but it wasn't enough to stop France being crowned champions of the world.
Anoine Griezmann was named man of the match and the golden boot was awarded to Englands Harry Kane.
Tell us if you thought the game lived up to expectations and if you thought the VAR was right to award the penalty for handball. You can also tell us who you would pick for man of the match. #worldcup2018 #worldcup #france #croatia
l.lawrence06VAR penalty call was wrong and that one wrong decision changes the game in favor of France… Though, Croatia showed character and don't forget fatigue sets in after series of "extra time" played by Croats… Round of applause for CROATIA⚽ ????? and CONGRATULATIONS FRANCE ⚽?
juan_ylario_Triste pero real Croacia fue mejor equipo que Francia
trickymicky19First goal from a free kick following Griezmann dive, then poor decision for penalty. The better team trailled at HT. Cracking game thx to Croatia playing with so much intent.
style_kids2018تشكيلة قمصان جديدة صيفية ولا اروع سارع بطلب زور صفحتي واختار رابط واشتري حالا مع تصميم إلي تحبو ??
fellafoufoufifi???
serqaaan36?❣❣