February 23, 2020, Sunday
What Is In Cristiano Ronaldo's Diet That Is Key To Maintaining 'Champion' Status?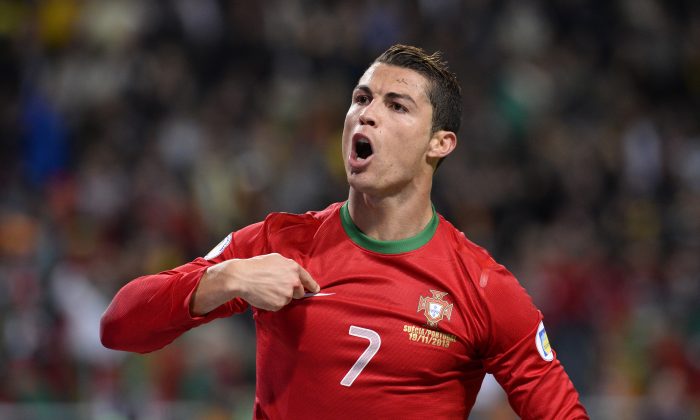 At the age of 35, it has never been more important for Cristiano to eat well and keep fit to ensure he stays at the top of his game.
---
Whether it's the precision of a free kick or sheer skill and speed when beating a defender it's thousands of hours of hard work, training and ensuring he has the right foods to fuel his body.
There is no player in world football that has drawn more plaudits for his physical qualities and dedication to his craft than Cristiano Ronaldo.
The Juventus and Portugal star boasts an extraordinary set of athletic skills, combining rapid pace and agility with elite aerial ability and power.
Ronaldo was not born with those traits, though; the rippling physique we see today is a marked transformation from the skinny teenager that arrived at Manchester United from Sporting back in 2003.
---
How does Ronaldo train?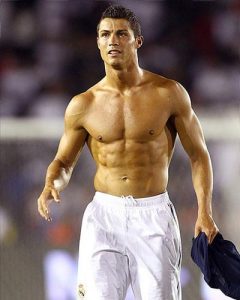 ---
First thing's first: start with a warm-up to decrease the risk of injury. "In training we do a few laps of the pitch, stretching and cardio warm-up exercises," Ronaldo explains.
"Make sure you do something similar in your training, even if it is jogging to the gym or a warm-up on the treadmill or bicycle."
When in the gym, Ronaldo's main workout is split between cardiovascular training – such as running and rowing – and weights. "Mix it up," Ronaldo advises – as well as keeping things interesting, it's important to ensure all areas of the body are targeted and exercises improve both strength and stamina.
On the pitch, the focus is on high-intensity drills that reflect match situations. "We do a lot of sprinting drills in training and they can be incorporated into your workout whether you are in the gym or outdoors," Ronaldo says. "Try and add it to every workout you do."
---
---
Workouts are not restricted to the time Ronaldo spends at the facilities at Real Madrid, though. "Fit in exercise wherever you can," he adds.
"You can do an abs workout in your bedroom when you wake up in the morning or before you go to bed. If you get into a routine then it makes it easier as it will become a habit."
---
How does Ronaldo fuel his body?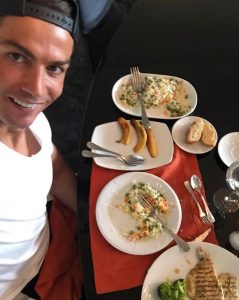 ---
Breakfast: Whole-wheat or whole-grain cereal, egg whites, fruit juice.
Lunch: Whole-wheat pasta, green vegetables, baked potato, chicken with salad.
Snack: Tuna roll with fruit juice/lemon juice.
Dinner: Rice with pulses, chicken or turkey breasts, beans, and fruits.
Some other key points to Cristiano's diet are:
Sugar: Intake of sugar is rare.
Meals: Spread out over 6 sittings roughly 2-4 hours apart.
Supplements: Essential with multi-vitamins, joint supplements & protein shakes all included. 
Vegetables: Plenty of green vegetables.
---
What other key tips does Ronaldo have for us?
"Learn to train your mind as well as your body," Ronaldo says. "Mental strength is just as important as physical strength and will help you achieve your goals.
"Be disciplined. Keeping yourself motivated and sticking to your routine is key. For me, there is no room for easing off so I have to be strict."
You can help yourself by setting goals and working with a training partner, adding competitiveness and company to your routine.
When he is not exercising Ronaldo tries to maintain a relaxed, restful lifestyle despite his massive frame and the attention he commands.
"Training and physical sessions are most important, but living a relaxed lifestyle helps you to be the best you can be, physically and mentally," Ronaldo explains. "I spend my free time with family and friends, which keeps me relaxed and in a positive mindset."
---
---
To that end, there is nothing more important than a good night's sleep.
"Proper sleep is really important for getting the most out of training," Ronaldo says. "I go to bed early and get up early, especially before matches. Sleep helps muscles recover which is really important."
---
Watch some of Ronaldo's best goals below.