February 23, 2020, Sunday
A Frustrated Ronaldo Tells Coach To "Go Away" After Two Substitutions In A Week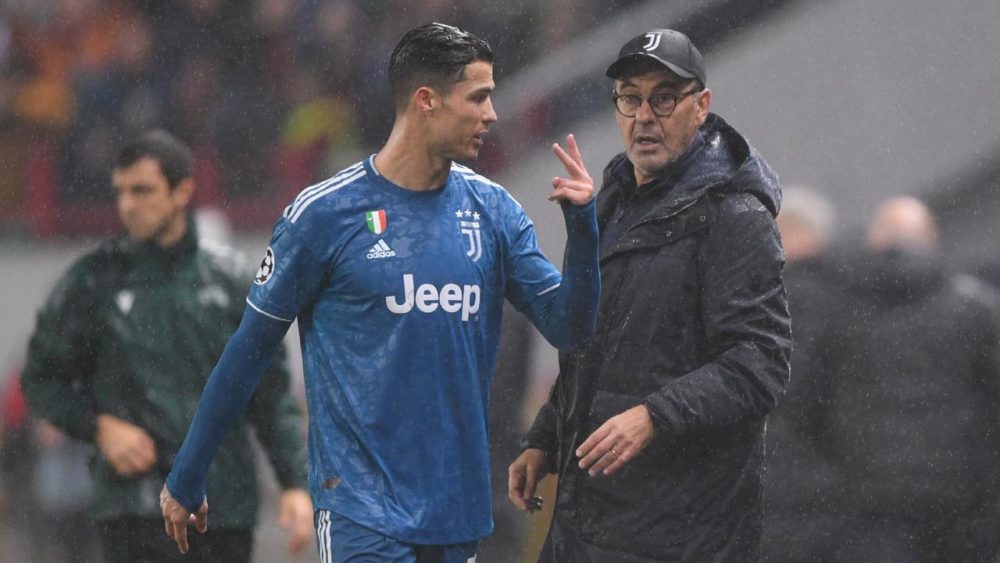 Juventus fans were left questioning Maurizio Sarri's tactics after he substituted star Cristiano Ronaldo for the second time in a week.
---
Replaced by Paulo Dybala in the 55th minute in Sunday's 1-0 win over AC MIlan, Ronaldo didn't look best pleased as he made his way off the pitch.
After high-fiving Dybala — who then scored the winning goal — the 34-year-old Ronaldo appeared to tell his boss to "go away" before heading straight down the tunnel.
 At 55 minutes, it was his earliest substitution since signing for Juve.
Ronaldo had been substituted a few days earlier against Lokomotiv Moscow in a Champions League group stage game — Juventus went on to score a late winner after he left the pitch.
Ronaldo has now been substituted as many times this season as he was throughout the entire 2018/19 campaign.
---
---
According to Sarri, the former Sporting Lisbon, Real Madrid and Manchester United forward — who has scored just six goals in 14 appearances this season — has been struggling with injuries.
"He [Cristiano] should be thanked because he made himself available despite not being in the best condition," Sarri told Sky Sports Italia.
"In the last month he has had discomfort in his knee and this is a little problem for him.
"The important thing is that he made himself available. If he gets angry when he comes out this is part of the game.
"It's only natural a player is going to be irritated about leaving the pitch, especially when he worked so hard to be there.
"All players who are trying to give their best will have at least five minutes of being annoyed when they are substituted, but a coach would in general be much more worried if he didn't seem upset."
Sky Sports Italia reported that Ronaldo left the stadium three minutes before the game finished.
Former Bianconeri boss Fabio Capello was among the critics of Ronaldo's reaction, saying: "It's not nice that he didn't sit on the bench [after coming off] and argued with Sarri.
"One has to be a champion even when he is replaced, not only when things are going well. He must respect his teammates."
With Juve top of the table and unbeaten, such matters are easier to play down.
---