Kambosos arrives in Sydney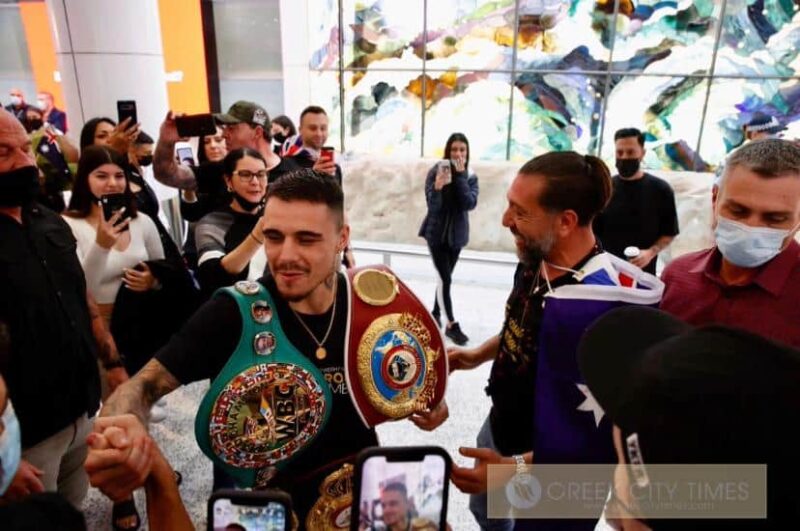 After his blockbuster victory against Teofimo Lopez in New York, George Kambosos Jr touched down at Sydney airport yesterday, draped in his WBC (franchise), WBA and WBO belts. He addressed the media, declaring his intention to fight the world's best.
The lightweight division has been at the forefront of the boxing world of late. Kambosos beat Lopez at the end of November. A week later, Devin Haney and Gervonta Davis defended the WBC and WBA (regular) belts, respectively.
There are plenty of names for Kambosos to choose from. He's the lightweight king. That means he is not interested in giving smaller boxers opportunities, including the Aussies.
"Don't even bring up no Australian fighters. I'm coming for the big names – Haney, Gervonta Davis, Ryan Garcia, Lomachenko. That's the only names I'm talking about," Kambosos said.
"No one has earned it the way I've gone and earned it. No one gets a shot until they go and earn it and deserve it, the way I've done it. They want a shot? Go over to the US and go beat the best of the best and you get a shot.
"We're coming for the big fish."
---
---
Although Kambosos is still based in Australia, he made a move overseas to advance his career in 2018. It finally paid off at Madison Square Garden in New York with a split decision victory over Lopez.
It was a daring move, often spending time away from his young family to chase his dream of becoming a world champion, and now he is unwilling to give shortcuts to his compatriots.
With more than 200 people awaiting Kambosos' arrival in Sydney, both the Greek and Australian flags were on show, a stark difference to when the lightweight king complained about not getting enough love from the domestic boxing fans.
"It feels very good to be home," Kambosos said.
"These belts are not only my belts but the whole of Australia's belts, the whole of Greece's belts.
"My family, my friends, everyone here – these are their belts as well."
The next steps for Kambosos will undoubtedly be to settle down back in Australia and spend time with his new baby and family, but the questions will continue to be asked in the meantime.
He has already declared his desire to sell out a stadium in Australia, and plenty of options are available. Maybe he can stay in Sydney or move down to Melbourne, where a sizeable Greek population would be ready to support their newly crowned champion.
Time will tell to see what happens, but one thing is for sure, there is a new king in town.
---
Fill In The Form Below To Receive Our UFC Previews, Tips & News Straight To Your Email!