December 2, 2021, Thursday
Full Week 1 AFL Finals Preview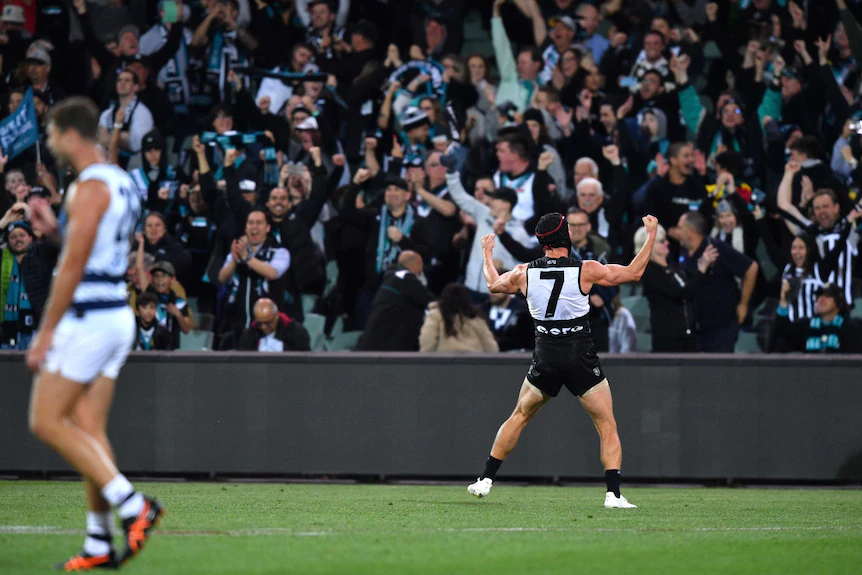 The first week of AFL Finals are finally here and get underway tonight with three more games to be staged over the weekend.
---
2nd Qualifying Final – Port Adelaide vs Geelong
Adelaide Oval – Friday 27th August – 7.50pm AEST
---
To kick off the 2021 AFL Finals Series, Port Adelaide play host to Geelong at Adelaide Oval in a repeat of last year's Qualifying Final. Port Adelaide beat a wasteful Geelong that night but it was Geelong who would go on to prevail further in finals, losing in the Grand Final to reigning premiers Richmond.
Fast forward 10 months both these teams are back in premiership contention with elite new additions to their respective teams. Port Adelaide went and poached Aliir Aliir from Sydney who has been dominant down back in All Australian form whilst Geelong went out and collected three outright stars of the competition in Jeremy Cameron, Shaun Higgins and Isaac Smith. 
For Port Adelaide their year started off a little shaky with big losses to premiership contenders West Coast and Brisbane. The Power then copped some key injuries to young stars in Butters and Duursma but fought their way through and found their groove towards the back half of the season. They have gone undefeated in their last six matches including an epic win last Friday night against the 5th placed Western Bulldogs to secure the home final. 
It was much the same for Geelong starting off their season in similar fashion with a 2-2 record. It could have easily been 0-4 with their win against Brisbane a controversial one before crawling over the line against the Hawks by less than a kick. The oldest team in the competition slowly got going and started to look a dominant force of the competition and strung together 11 wins out of 12 matches between Rounds 8 to 20. However they enter the clash against Port Adelaide with a few concerns dropping two of their past three matches against key finals rivals. 
These two played in a high scoring clash earlier in the year with the Cats getting the better of the home side with the deadly forward trio of Jeremy Cameron, Tom Hawkins and Gary Rohan combining for 12 goals. These three will be looking to cause chaos again when they line up and will be giving Port Adelaide coach Ken Hinkley some headaches coming into the game. However, the Cats also have some defensive concerns with the season ending injury of superstar defender Tom Stewart a fortnight ago testing their back six which has been a key strength to their team over the past two years. 
Final Verdict: The home crowd of 20,000 fans will help the Power but I think Geelong are primed for this finals series and kick it off with a win to upset the locals. Geelong by 10 points.  
TopSport H2H Odds
Port Adelaide $1.69
Geelong $2.22
---
Last Five Meetings
Port Adelaide 14.7.91 def by

Geelong 17.10.112

@ Adelaide Oval on 10th June 2021

Port Adelaide 9.4.58 def Geelong 5.12.42 @ Adelaide Oval on 1st October 2020
Geelong 14.7.91 def Port Adelaide 4.7.31 @ Metricon Stadium on 14th August 2020
Port Adelaide 9.13.67 def Geelong 8.8.56 @ Adelaide Oval on 22nd June 2019
Port Adelaide 7.8.50 def by Geelong 12.12.84 @ Adelaide Oval on 21st April 2018
---
---
2nd Elimination Final – Sydney vs GWS Giants
University of Tasmania Stadium – Saturday 28th August – 3.20pm AEST
---
It's the 22nd edition of the battle of the bridge and whilst Sydney have a 13 to 8 H2H record against the Giants, it's the Giants who hold the bragging rights when it comes to these two fierce rivals facing off in finals with a 2-0 record. It's the first Elimination Final to take place this weekend and it's as big as it gets with the winner to face the loser of the Port Adelaide and Geelong clash whilst the loser is sent home.
Many 'experts' placed Sydney in the bottom half of the ladder at the start of the year with the list in a rebuilding phase with a lot of fresh young talent brought into the mix. However, it has been a short and successful rebuild with the Swans pushing for top 4 in the late stages of the season. Some may say it might be a year too early but who knows, if the Swans can get on a roll in September watch out. 
For the Giants it was another rollercoaster year with a mountain of injuries to key players and finals were looking out of reach when they had to vacate New South Wales due to COVID. The orange tsunami have been getting players back on the park in the past six weeks with the results showing that, winning four of their last five matches with their only loss coming against the 2nd placed Port Adelaide. Don't forget that this is a team that played in a Grand Final just two years ago.  
These two last clashed just over a month ago and you can almost put a line through the form with pre-match COVID carnage, where both teams faced multiple late withdrawals due to their attendance at a Tier 1 hotspot in the week prior. The Swans went on to win the match but fast forward to August 27 and it is a completely different proposition in this do or die final. 
It sets up to be a blockbuster with superstars down both ends in Toby Greene and Lance Franklin who is close to reaching the 1,000 career goal milestone (currently on 992). For the Giants they welcome back their stalwart ruckman Shane Mumford in the side and captain Stephen Coniglio whilst the Sydney Swans lose their star backman Callum Mills.  
---
Final Verdict: Flip of the coin this one with Sydney surprising a few where they have finished whilst the GWS Giants have finished the season in fine form with three dominant wins. GWS Giants by 3 points. 
TopSport H2H Odds
Sydney $1.70
GWS Giants $2.20
---
Last Five Meetings
GWS Giants 11.6.72 def by

Sydney 15.8.98

@ Metricon Stadium on 18th July 2021

Sydney 10.9.69 def by GWS Giants 9.17.71 @ S.C.G on 17th April 2021
Sydney 10.6.66 def GWS Giants 3.7.25 @ Optus Stadium on 13th August 2020
GWS Giants 12.11.83 def Sydney 12.9.81 @ Giants Stadium on 3rd August 2019
Sydney 12.7.79 def by GWS Giants 18.12.120 @ S.C.G on 27th April 2019
---
---
1st Qualifying Final – Melbourne vs Brisbane
Adelaide Oval – Saturday 28th August – 7.30pm AEST
---
The Premiership favourites take centre stage on Saturday night when they host the Brisbane Lions at Adelaide Oval. It is the first time Melbourne will have faced the Brisbane Lions in a final and the first time these sides have faced off at Adelaide Oval. 
Melbourne come into the match full of confidence after going down to Geelong last weekend and upsetting the locals in a thriller. Skipper Max Gawn converted a goal after the siren to make sure the Demons claimed the minor premiership and more importantly banked a 'home' final. It was well deserved after the season they had where they were arguably the most consistent team all year. The real stuff gets underway now and there is nothing stopping this demon outfit from going deep into September. 
In racing terms the Brisbane Lions 'missed the kick' losing three of their first four matches of the season with their only win a one point victory after the siren against the 17th placed Magpies. top 8 was looking in dire straits with the top 4 looking a stretch but they slowly clawed their way up the ladder and after smashing Geelong on their home deck and a win against the Crows they sat pretty in the top 4 with seven rounds to go. It all went south with a season ending injury to Eric Hipwood and just a bad run of form and they slipped out of the top 4. After the Bulldogs lost the final three games of the year the Lions had a chance of sneaking into the 4 where they now have the tough task of facing the premiership favourites on Saturday. 
Melbourne took the four points when these two sides faced off on a Friday Night in the middle of Winter. It was another big scalp for the Dees seven days after destroying the top of the table Western Bulldogs and is when people started to take the Dees as a serious premiership contender. In a funny sort of game the Lions were at a comfortable 20 point lead at halftime before the Demons stormed home to tame the Lions saluting comfortably in the end by 22 points. 
Looking ahead to their battle this weekend the teams look pretty similar on paper with the Demons finding a spot for Ben Brown since their Round 12 clash. Whilst Brisbane have lost their key forward in Eric Hipwood with Joe Daniher to carry to load up front with McStay against a formidable Melbourne defence. 
Final Verdict: It was often referred to as 'Tiger Time' when the Tigers went through their premiership success. I think it's 'Demon Time' now. Melbourne by 28 points.  
TopSport H2H Odds
Melbourne $1.74
Brisbane $2.14
---
Last Five Meetings
Melbourne 14.13.97

def Brisbane 11.9.75 @ Giants Stadium on 4th June 2021

Melbourne 7.7.49 def by Brisbane 7.11.53 @ Metricon Stadium on 26th July 2020
Brisbane 15.17.107 def Melbourne 11.8.74 @ Gabba on 30th June 2019
Brisbane 10.14.74 def by Melbourne 14.16.100 @ Gabba on 31st March 2018
Melbourne 16.8.104 def Brisbane 14.7.91 @ MCG on 20th August 2017
---
---
1st Elimination Final – Western Bulldogs vs Essendon
University of Tasmania Stadium – Sunday 29th August – 3.20pm AEST
---
Another Elimination Final takes place on Sunday in the last final of the first week of finals football when the Western Bulldogs take on Essendon. The Bulldogs come into the match under pressure after losing their last three matches of the season to drop out of the top 4. One of those matches was against the Bombers earlier this month and is a key piece of what shapes up to be a do or die classic on Sunday. 
The Bulldogs started their season with a sizzle, dropping just one game in the first 10 rounds. It looked like they had sealed their spot in the top 4 and even the top 2 at one stage but it all went wrong in the back half of the year. Losing to the Cats, Swans, Bombers, Hawks and Power in the back half of the year losing the crucial double chance leaving them in this dangerous position on Sunday. 
Whilst for Essendon a finals return is a welcome surprise for their fans after many had them right near the bottom four after a chaotic 24 months. Similar to the Sydney Swans they have brought in lots of young talent and it worked for them, sealing a finals position last weekend. However, the one big thing over their head is the finals drought after not winning a final since 2004 which they will hope to change come 3.20 Sunday.
As mentioned earlier, these teams have only just played three weeks ago so it'll be very interesting to see the tactical changes both coaches bring to the table. Personnel wise, the Dogs obviously lose Josh Bruce who ruptured his ACL in the final seconds of that match against Essendon. Whilst Essendon star small forward Anthony McDonald-Tipungwuti has found himself out of the side which the club has labelled 'personal issues'.    
Final Verdict: I think the finals drought continues for the Bombers and the Western Bulldogs get back to their best and flex their muscle. Western Bulldogs by 18 points.  
TopSport H2H Odds
Melbourne $1.57
Brisbane $2.48
---
Last Five Meetings
Western Bulldogs 12.12.84 def by

Essendon 15.7.97

@ Marvel Stadium on 8th August 2021

Essendon 7.9.51 def by Western Bulldogs 14.19.93 @ Metricon Stadium on 17th July 2020
Essendon 4.9.33 def by Western Bulldogs 21.11.137 @ Marvel Stadium on 10th August 2019
Western Bulldogs 14.20.104 def Essendon 12.11.83 @ Marvel Stadium on 8th April 2018
Western Bulldogs 19.13.127 def Essendon 13.19.97 @ Marvel Stadium on 30th July 2017
---
Fill In the Form Below To Receive Our Racing News & Tips Straight To Your Email For FREE!