December 1, 2021, Wednesday
AFL Preview: Our Tips & Staking Plan 9/8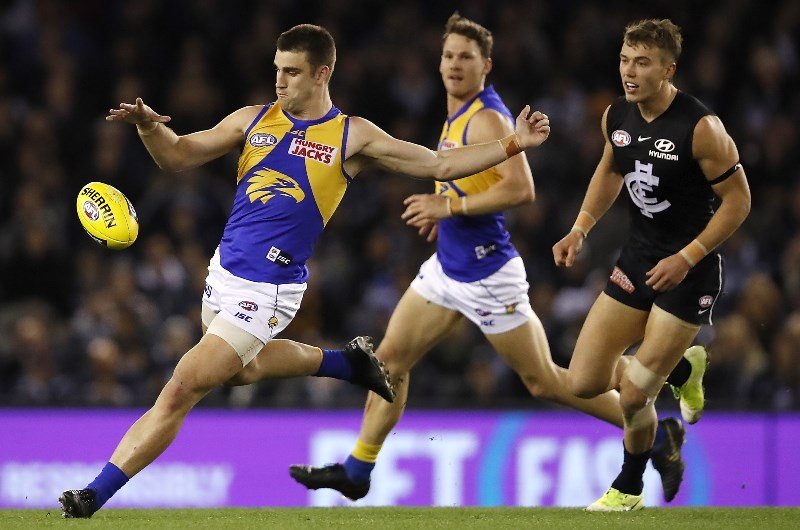 Once again our best bet of the day (Neale) was able to easily cover yesterday. We're looking to move to a profit today and will continue putting in the work until we see some results.
---
West Coast Eagles vs Carlton Blues 3:35pm
Both thunderstorms and heavy rainfall are expected in Perth tonight. This will make it harder for defenders like Simpson and Hurn to rack up a big score, as their games are based around their abilities to mark the ball.
Expect a much more scrappy, contested game – not their cups of tea. On the other hand, players like Gibbons and Martin should thrive from the weather.
Being a Carlton fan, I can tell you that it is their type of game, especially Martin who will hopefully see some time in the middle. This line seems a bit too high for Walsh, especially on the long Optus wing. He is averaging 66.7 points this year and could easily go missing tonight.
Won't be surprised to see him struggling to find the footy. Stay tuned for some more value later today.
Martin o66.5 fantasy @ 1.88 – 1.5u
Walsh u70.5 fantasy @ 1.88 – 1.5u
Gibbons o54.5 fantasy @ 1.88 – 1.25u
Hurn u62.5 fantasy @ 1.88 – 1u
Simpson u58.5 fantasy @ 1.88 – 1u
---
---
Melbourne Demons vs North Melbourne Kangaroos 6:10pm
This game should be interesting, with Melbourne missing some key players. Despite having a career best game a few nights ago, North Melbourne will send a player to tag Clayton Oliver tonight, which will be Jed Anderson. Even if they don't, 98 is a huge score for any player to achieve.
I also like Ed Langdon unders tonight. His game against Adelaide showed how disinterested he was, and he has struggled to get touches in recent weeks. He has gotten below 19 in six out of the last seven weeks, and the one week where he went over, he got 19. Line seems high.
Lastly, after a quiet start last week, Trent Dumont showed just how easily he can rack up the points, and this week he finds himself in an elite matchup against the leaky Demons. He should be all over it tonight.
Oliver u97.5 fantasy @ 1.88 – 1.25u
Langdon u18.5 disposals @ 1.8 – 1.5u
Dumont o80.5 fantasy @1.88 – 1u
---
Fill In The Form Below To Receive Our AFL Tips Via Email For FREE!