November 27, 2021, Saturday
Novak Djokovic wins a memorable 2021 Paris Masters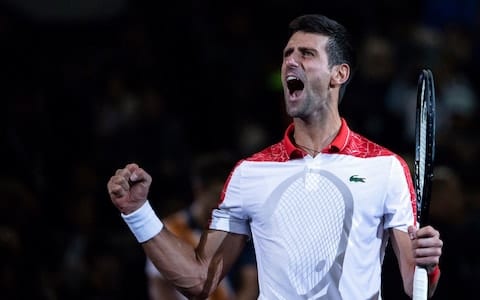 Novak Djokovic of Belgrade, Serbia, won the 2021 Paris Masters on Sunday, and in the process went into the record books. By beating Danill Medvedev of Russia 4-6, 6-3, 6-3 in the final, Djokovic extended his record for the most Paris Masters titles ever with six, broke the record for the most ATP Masters 1000 men's singles titles ever with 37, and broke the record for the most years on the ATP Tour where a player finishes the year first in the world. Djokovic has accomplished that feat seven times according to Andrew Reid of Yahoo! Sports.
Let's start with the Paris 1000 Masters series record. Djokovic has now won the Paris Masters in 2009, 2013, 2014, 2015, 2019 and 2021. In the six finals, Djokovic has only lost two sets. He lost the first set to Medvedev on Sunday, and the second set to Gael Monfils of France in 2009, by a score of 7-5. Boris Becker of Germany and Marat Safin of Russia are second on the list with three Paris Masters titles each.
---
---
When it comes to most ATP Masters 1000 titles ever, Djokovic broke the record he shared with Rafael Nadal of Spain. Djokovic has won six Paris Masters titles, six Miami Open titles, two Cincinnati Masters titles (although one was in New York), four Canadian Opens, four Shanghai Masters, five Italian Opens, three Madrid Opens, five Indian Wells Masters, and two Monte Carlo Masters titles.
Finally, Djokovic broke the record for most times at number one in the world–a record he previously shared with Pete Sampras of the United States. Djokovic has been the world number one to end the year in 2011, 2012, 2014, 2015, 2018, 2020, and 2021. Sampras finished the year at number one in 1993, 1994, 1995, 1996, 1997, and 1998.
---
Fill In The Form Below To Receive Our Tennis News Straight To Your Email For FREE!