January 29, 2022, Saturday
The 10 highest-paid NRL stars heading into season 2022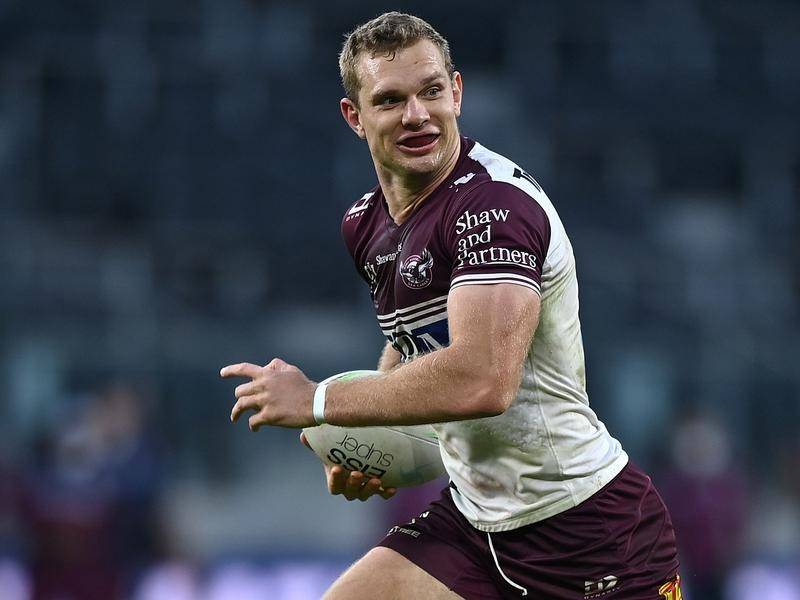 Contract talk tends to rear its head this time of year, with many acquisitions linking up with new clubs and off-contract stars searching for new homes.
---
With help from the experts at Fox Sports and Zero Tackle, we have curated a list of the 10 highest-paid NRL stars heading into next season and determined whether or not clubs are getting value for money.
---
Mitchell Moses
Team: Parramatta Eels
Position: Halfback
Age: 27
Salary: $920k
Contracted through: 2023 (player option for 2024)
Moses has developed into one of the premiership's most productive halves over the past several seasons and was thusly rewarded with an Origin debut in 2021 in what was arguably a career year. The 27-year-old finished the year fifth in try assists (28), third in kick metres (9,164), and tied-third in forced drop-outs (17), all whilst kicking goals at a 75% clip. With Parramatta coming out behind in a number of key contract negotiations, Moses' role at the club in coming seasons becomes a whole lot more important.
Verdict: Standard price for a premier half entering their prime years. Arguably, Parramatta's most important player moving forward.
---
Nathan Cleary
Team: Penrith Panthers
Position: Halfback
Age: 24
Salary: $940k
Contracted through: 2024
Cleary capped off a near-perfect two-season run with a premiership ring and a Clive Churchill Medal in 2021. One of the premiership's most influential players, the 24-year-old already has 120 first-grade games and 10 Origin games under his belt, as well as a pair of top three Dally M Medal finishes. He finished the year with 25 try assists to go along with 10 four-pointers of his own, all whilst leading the premiership in kick metres (10,800) and forced drop-outs (25) and slotting 85% of his goal kicks. Rugby league fans best get used to watching Cleary steer his club, state, and country to victories over the coming years.
Verdict: At this stage, nothing short of a bargain for Penrith. At 24, he is already a pillar of the club.
---
---
Jason Taumalolo
Team: North Queensland Cowboys
Position: Middle
Age: 28
Salary: $950k
Contracted through: 2026
Taumalolo has spent the best part of the past half-decade as a rugby league machine, churning out run metres and tackle busts like few forwards in the game's history. 2021 was a down year for the Tongan international, due to a mixture of injuries, coaching, and rule changes. Despite some hiccups, the 28-year-old still ran for 139 metres per game, which was the fourth-best among all forwards. North Queensland will need their star forward to come out rejuvenated and healthy to start season 2022 if they are to make a climb up the ladder.
Verdict: Unfair to write him off after one disappointing season but it is looking shaky. He needs a big 2022.
---
Kalyn Ponga
Team: Newcastle Knights
Position: Fullback
Age: 23
Salary: $1m
Contracted through: 2022 (player options for 2023, 2024)
One of the most electric attackers in rugby league, Ponga was again Newcastle's go-to guy with ball-in-hand. Despite the prowess of their number-one, the Knights finished only above wooden spooners Canterbury in points scored. The 23-year-old led his side in try assists (15), line break assists (16), and tackle busts (69), whilst finishing second in tries (8) and line breaks (8). Unlocking the side's attack is surely priority one on head coach Adam O'Brien's offseason checklist, as the Knights enter 2022 without playmakers Mitchell Pearce and Connor Watson.
Verdict: Few players carry an attacking load quite like Ponga. A player of his brilliance is worth seven-figures every time.
---
Cameron Munster
Team: Melbourne Storm
Position: Five-eighth
Age: 27
Salary: $1m
Contracted through: 2023
Having cemented himself as one of rugby league's best players, Munster will be eager to put the end of last season behind him and help a new-look Melbourne outfit contend for another title. The 27-year-old has established himself as one of the premiership's more well-rounded playmakers, with a collection of big-game performances as evidence. Munster finished last season with seven tries, 15 try assists, 15 line break assists and 67 tackle busts but was, at times, outshined by different teammates. With several high-profile teammates departing the club, Munster's leadership and playmaking responsibilities will likely increase in 2022.
Verdict: Has proven to Melbourne that he is a million-dollar half. He will be looking for an improved 2022.
---
---
David Fifita
Team: Gold Coast Titans
Position: Second-row
Age: 21
Salary: $1.1m
Contracted through: 2023
Having linked up with the Titans on a mega-deal this past season, Fifita showed off some awe-inspiring highs and some concerning lows. The 21-year-old led the premiership in tackle busts (156) and became the first forward to score 17 tries in a season since Steve Menzies in 1998 but was relegated to the interchange in seven of his final eight appearances. Fifita demonstrated a propensity to drift in and out of games, a habit that the Titans' coaching staff need to focus on nipping in the bud sooner rather than later. There is no reason why a ball-runner as destructive as Fifita should only be carrying the ball 13 times per game for an average of 118 metres.
Verdict: Players with the athleticism and potential of Fifita do not come around often. He needs to improve his involvement rate and dependability considerably if the Titans are to get their money's worth.
---
Tom Trbojevic
Team: Manly-Warringah Sea Eagles
Position: Fullback
Age: 25
Salary: $1.1m
Contracted through: 2026
As the season went on, rugby league pundits well and truly ran out of superlatives to describe Trbojevic. The Sea Eagles went just 3-3 in the games Trbojevic missed and 13-5 in the games he appeared in. The 25-year-old put together one of the greatest individual seasons that rugby league has witnessed, finishing second in tries scored (28), second in try assists (31), second in line break assists (45), third in line breaks (32) and third in tackle busts (131), despite playing just 18 games. The Sea Eagles' premiership credentials in 2022 will live and die by Trbojevic's health; if he is healthy when it matters, they will be a threat to any side.
Verdict: Based on his 2021 form, you could pay him double and there would be no complaints. It is all about health for Trbojevic moving forward.
---
James Tedesco
Team: Sydney Roosters
Position: Fullback
Age: 28
Salary: $1.1m
Contracted through: 2024
Since making the move to Bondi, Tedesco has ascended to heights that few fullbacks have reached in recent memory. A two-time premiership winner, a Dally M Medallist, and a Wally Lewis Medallist, Tedesco took on more of a ball-playing role this past season out of necessity due to the Roosters' season-long injury crisis. He finished tied-fourth in the premiership for try assists (28), third in line break assists (32), and second in tackle breaks (148), whilst finishing second at his club for run metres (3,333) and line breaks (18). Still a consensus top-three player in rugby league, Tedesco and the Roosters should benefit from a more settled spine in 2022 and challenge the premiership heavyweights yet again.
Verdict: There would not be a single staffer at the Roosters questioning Tedesco's salary. He continues to prove he deserves this sort of money.
---
Ben Hunt
Team: St. George Illawarra Dragons
Position: Halfback
Age: 31
Salary: $1.1m
Contracted through: 2023
It has been a mixed bag for Hunt since joining St. George Illawarra in 2018, with the diminutive number-seven proving to be a lightning rod for criticism. This season, however, the 31-year-old managed to silence some of the criticism and put together his best campaign as a Dragon, finishing in the top 10 for Dally M Medal voting and taking home the club's Player of the Year award. Despite missing nine games through injury, Hunt led his side in try assists (16) and was second in line break assists (13), whilst averaging triple-digit run metres for the first time in his career.
Verdict: As encouraging as his 2021 season was, it is difficult to justify Hunt's salary. He is a good halfback but contracts like his should be reserved for the best of the best.
---
---
Daly Cherry-Evans
Team: Manly-Warringah Sea Eagles
Position: Halfback
Age: 32
Salary: $1.2m
Contracted through: 2023
Now an 11-year veteran, Cherry-Evans has transformed into one of rugby league's most-accomplished and consistent leaders. The 32-year-old finished the season tied-second in the premiership for try assists (31), second for kick metres (9,433), fifth for forced drop-outs and tied-seventh for line break assists (26). He has proven to be one of rugby league's best playmakers and kickers and a vital cog for the Sea Eagles for over a decade. The partnership he was able to cultivate this past season with Tom Trbojevic was the primary catalyst for the Sea Eagles' top four finish and will be leaned upon heavily if they are to challenge premiership heavyweights in 2022.
Verdict: Perhaps a little high but given his standing in rugby league and what he brings to his club, Sea Eagles fans should have little issue with his deal.
---
Fill In The Form Below To Receive Our NBA News & Tips Via Email!