Dragons Planned To Boycott Round 10 Game After De Belin Appeal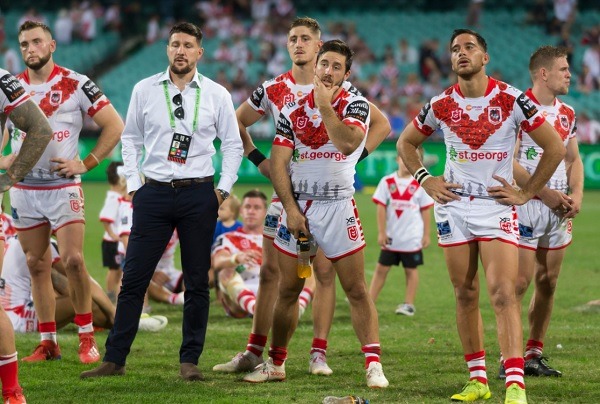 The end of season review is over and to much surprise to Dragons fans it has revealed that players discussed a boycott of the round 10 game against the Newcastle Knights.
---
It was May 17 in Mudgee, where Dragons players were due to play the Newcastle Knights which would inevitably begin their late season slump.
St George Illawarra playershad just learnt of a decision by the Federal Court to uphold an NRL ban on de Belin due to sexual assault charges.
The Dragons' playing group was incensed at the decision and told coach Paul McGregor they intended to boycott a match on May 19 at Glen Willow Oval, Mudgee, against the Knights.
Like most of the players, McGregor was convinced de Belin would have his ban overturned by the court and intended to fly the NSW Origin lock to the central-west town for the match.
De Belin insisted he was innocent of the charges and his attitude carried the group. The perceived injustice of the ban by his ultimate employer, the NRL, ratified by the Federal Court that day, put the St George Illawarra players in a very rebellious mood. "They can't do this," was the prevailing view.
---
---
Dragons chief executive Brian Johnston admitted he was phoned by football manager Ben Haran, who passed on the players' intention to boycott the match, but said it was a brief, emotional reaction. He said the only vote taken was to boycott the media, the usual target when players are upset by officialdom.
However, under the guidance of Craig Young, the club great who is a former detective and assists the club on integrity matters, the team were persuaded to play so as not to punish fans.
It seems that it had a huge mental toll on the playing group as they were thumped 45-12 by the Newcastle Knights.
It was a turning point in the season for the Dragons, and they lost all but four of their remaining 14 games to finish second last.
De Belin is facing five charges of sexual assault, and the club is devising a strategy to deal with a guilty and not guilty verdict when his trial starts in Wollongong on February 3.
---