September 26, 2020, Saturday
Panthers trade Kyle Allen to the Redskins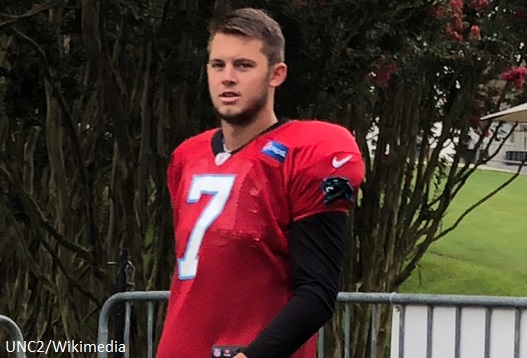 The Carolina Panthers commitment to Teddy Bridgewater just got stronger on Monday. In an intriguing deal, the Panthers traded quarterback Kyle Allen of Scottsdale, Arizona to the Washington Redskins for a fifth round draft pick in the 2020 National Football League Draft. Allen is the second quarterback that the Panthers said goodbye to this week. Earlier on Tuesday, the Panthers released Cam Newton.
It is interesting that at this time the Redskins have gone with Allen over Newton. It is not a surprise however, that Allen or Newton ended up in Washington as both quarterbacks played under current Redskins head coach and former Panthers head coach Ron Rivera.
Allen, a 24 year-old quarterback from Texas A&M, played his second season for the Panthers in 2019. In 13 games, he completed 303 passes in 489 attempts for 3322 yards, 17 touchdowns and 16 interceptions. Allen also had 32 carries for 106 yards and two touchdowns.
One area of Allen's game which is a weakness is the speed in his decision making. In 2019, Allen was sacked 46 times for a NFL high 397 yards. Now by making the move to Washington, it will be interesting to compare the number of times he is sacked this year compared to last year in similar Rivera-like offenses. The 46 sacks might not have all been because of Allen's slower decision making, but because of a Carolina offensive line that simply struggled to protect their quarterback.
Now in Washington the question will be what quarterback does Rivera have the most faith in? Allen will be competing against second year player Dwayne Haskins. In 2019, Haskins played nine games for Washington and completed 119 passes in 203 attempts for 1365 yards, seven touchdowns and seven interceptions. He also had 20 carries for 101 yards.
One quarterback who started eight games for the Redskins in 2019, is not part of the Washington mix in 2020. That is because Case Keenum signed with the Cleveland Browns on Tuesday.