December 2, 2021, Thursday
Could James Cook be even better than his older brother Dalvin Cook?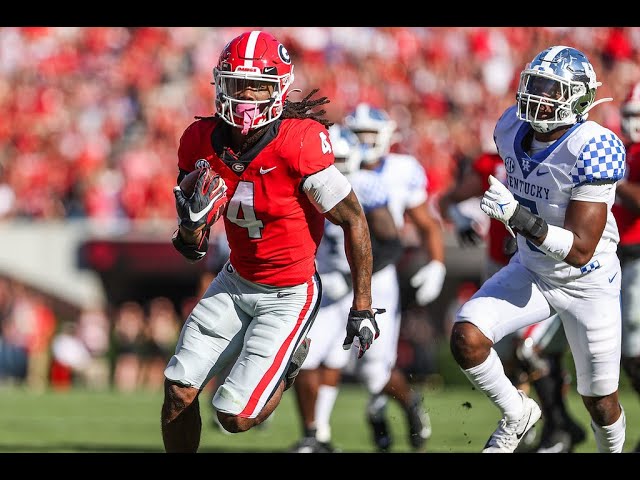 Over the last five National Football League seasons, we know what kind of a dynamic running back Dalvin Cook of the Minnesota Vikings can be. The two-time Pro Bowler and native of Miami, Florida, has 908 rushes for 4309 yards and 36 touchdowns, along with 166 catches for 1384 yards and three more major scores in his career to date. In an era where three-down running backs are becoming less and less rare, Cook seems to relish in the heavy workload, and as a result, has become an elite running back when it comes to fantasy football purposes.
But there could be another Cook on the way. That is because at the National Collegiate Athletic Association level, James Cook has had a solid season with the Georgia Bulldogs, currently the number one college football team in the United States.
So far in 2021, James Cook has 76 rushes for 487 yards and six rushing touchdowns, along with 16 catches for 111 yards and three receiving touchdowns. James Cook's best game this season came in the Bulldogs' game on Saturday, in a convincing 41-17 win over the University of Tennessee Volunteers. He had 10 rushes for 104 yards and three catches for 43 yards. Cook also found the end zone thrice.
---
---
In four seasons with the Bulldogs, James Cook has had 193 rushing attempts for 1262 yards and 13 touchdowns, along with 56 catches for 557 yards and five touchdowns. Statistically, James Cook is a far off from Dalvin Cook, who was miraculous in his three years in college with the Florida State Seminoles from 2014 to 2016. In 38 games and 687 attempts, Dalvin Cook had 4464 yards and 46 touchdowns, along with 79 catches for 935 yards and two touchdowns.
So even though James Cook is in a position to win a college football championship with the Bulldogs this season, something Dalvin was unable to do with the Seminoles in his three seasons in college football, it is safe to say Dalvin Cook is still the much better running back. However as we know if players are placed in the right system, and are able to work with an effective offensive line, then there is the capability for them to make significant improvements statistically. It will be interesting to see what happens in the future for both Cooks.
---
Fill In The Form Below To Receive Our NFL News Straight To Your Email For FREE!