November 27, 2022, Sunday
Bill Russell passes away at age 88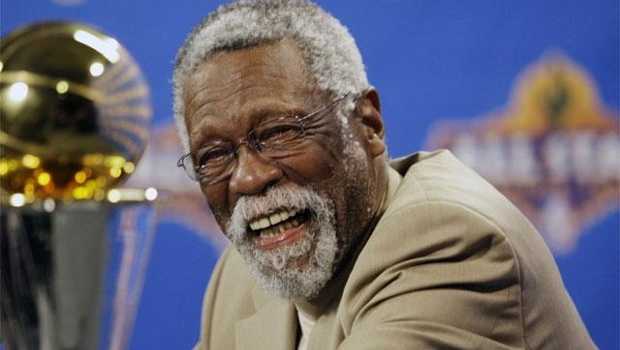 Bill Russell, the basketball icon who is ranked the fifth best player all-time by The Sporting Base, passed away on Sunday at the age of 88 according to Sam Quinn of CBS Sports. Russell of Monroe, Louisiana played 13 seasons in the National Basketball Association from 1956 to 1969 wit the Boston Celtics and has the record for the most NBA titles all-time with 11.
Since 2005, the Bill Russell NBA Finals Most Valuable Player Award has been presented. The player who has won the award the most times over the last 17 years is LeBron James, who had won it four times. James received the honour in 2012 and 2013 with the Miami Heat, in 2016 with the Cleveland Cavaliers, and in 2020 with the Los Angeles Lakers.
Russell averaged 15.1 points per game, an amazing 22.5 rebounds per game, and 4.3 assists per game. He also had a field goal percentage of .440 and free throw percentage of .561. The 12-time All-Star center led the NBA in rebounds per game  five times–19.6 in 1956-57, 22.7 in 1957-58, 23.0 in 1958-59, 24.7 in 1963-64 and 24.1 in 1964-65. Ironically the first year that Russell led the NBA in rebounds per game in 1956-57, was the only time in Russell's career he was not an All-Star.
---
---
Five times Russell was named the NBA MVP. He received the honour in 1958, 1961, 1962, 1963, and 1965. Three times Russell was named to the NBA's First All-Star team (1959, 1963 and 1965).
After his playing career, Russell was the coach of the Celtics from 1966 to 1969, the Seattle Supersonics from 1973 to 1977, and the Sacramento Kings from 1987-88. Russell had his number six retired from the Celtics in 1972, and was inducted into the Naismith Hall of Fame as a player in 1975, and as a coach in 2021. As a coach, Russell had a record of 341-290 and won the 1968 and 1969 NBA Finals.
---
Fill In The Form Below To Receive Our NBA News Straight To Your Email For FREE!