2022 NBA Mock Draft: How the first round may shape up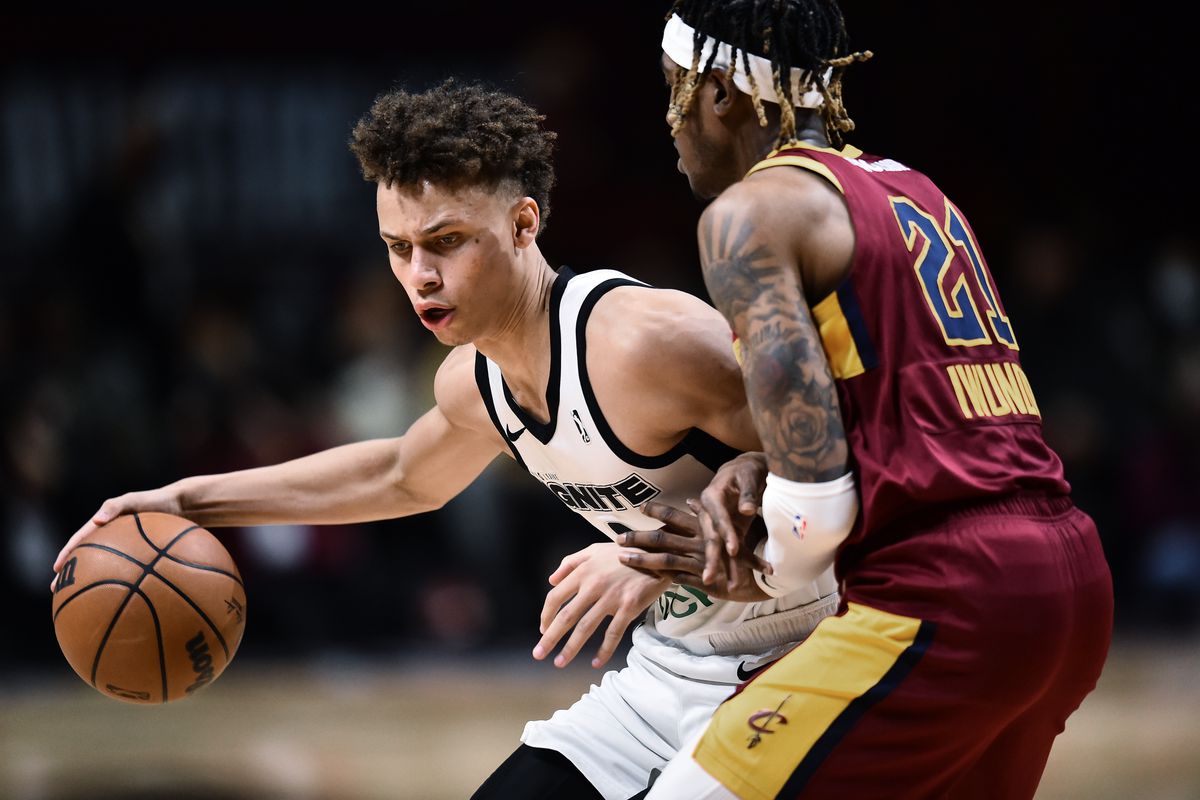 With the NBA Draft scheduled to tip-off tomorrow morning, phones are frantically buzzing, and teams are cultivating the final touches on their scouting reports as prospects wait nervously to hear their name announced in Brooklyn. Multiple trades are expected to be agreed upon throughout proceedings which will throw a number of spanners into the works and make things even more difficult to project. Here is how the first round of the 2022 NBA Draft may shape up:
---
Orlando Magic | Jabari Smith, Jr. (PF, Auburn, Fr.)
Up until this point, most signs have pointed towards Orlando selecting Auburn's Jabari Smith, Jr. with the first pick. At 6-10, he is one of the draft's best shooters and projects to be a strong perimeter defender. His handle, vision, and ability to get to the rim offer areas of improvement for the 19-year-old.
Oklahoma City Thunder | Chet Holmgren (C, Gonzaga, Fr.)
Oklahoma City will be thrilled if Gonzaga's Chet Holmgren is available for them at two. At 7-0, Holmgren is one of the best rim-protecting prospects in recent memory and has the touch and ball-handling ability to suggest he can develop into some type of a versatile, offensive weapon. At just 195 lbs, his frame is undoubtedly his biggest concern.
Houston Rockets | Paolo Banchero (PF, Duke, Fr.)
Houston will also be pleased if Duke's Paolo Banchero is on the board at three. Banchero perhaps projects to be the draft's best pure scorer, as evidenced by the three-level scoring ability he showed in his one year at Duke. His size, handle, and vision will put him in a position to excel immediately in the NBA, however, his defence needs a tonne of work.
Sacramento Kings | Keegan Murray (PF, Iowa, So.)
Many view this pick as somewhat of a keystone pick in which Sacramento could dictate much of the lottery and several trade discussions pending on which prospect they land on. Iowa's Keegan Murray projects as an ideal frontcourt partner for deadline acquisition Domantas Sabonis, however, they will certainly be listening to trade offers for the pick.
Detroit Pistons | Jaden Ivey (SG, Purdue, So.)
Many view Purdue's Jaden Ivey as the draft's fourth most enticing prospect but his level of apathy surrounding a potential union with Sacramento and fit concerns may pave the way for an Ivey-Cunningham backcourt in Detroit. At 6-4, Ivey is best described as a combo guard with a deadly array of moves inside the arc but has strides to make defensively and as a passer.
Indiana Pacers | Dyson Daniels (SG, G-League Ignite, 2003)
Australian guard Dyson Daniels has shot up the boards and will draw consideration from a number of mid-lottery teams. Indiana will value his vision, ball-handling, and elite defence, which should allow him to slot in seamlessly alongside point guard Tyrese Haliburton. The 19-year-old will need to improve as a shooter by some margin to reach his true ceiling.
Portland Trail Blazers | Shaedon Sharpe (SG, Kentucky, Fr.)
Some will argue Kentucky's Shaedon Sharpe is the most intriguing prospect in the draft. Sharpe elected to sit out his freshman year at Kentucky but made a name for himself as a high schooler in Arizona. If his incredible shot-making, electric speed, and leaping ability can turn Damian Lillard's head, Portland may bite the bullet and bank on Sharpe's high ceiling should they keep this pick.
New Orleans Pelicans (via LA Lakers) | Bennedict Mathurin (SG, Arizona, So.)
Whilst it is likely they continue to field calls for this pick, Arizona's Bennedict Mathurin firms as an ideal target for a Pelicans team looking to build on a successful season. At 6-6, Mathurin is a good shooter off both the catch and the bounce and has the size and toughness to blossom into a good NBA defender.
San Antonio Spurs | Johnny Davis (SG, Wisconsin, So.)
San Antonio are not in the position to be passing on who they deem is the best player available with the ninth pick. Wisconsin's Johnny Davis is one of the draft's most adept mid-range specialists who also proved himself as a gritty defender. His lack of athleticism and three-point shooting ability may prevent him from going higher.
Washington Wizards | A.J. Griffin (SF, Duke, Fr.)
The Wizards have been seemingly stuck in a state of flux in recent years and will need to nail this pick whether Bradley Beal is a part of their long-term plan or not. Duke's A.J. Griffin is a skilled shot creator and has all the physical tools to become a strong NBA defender. Lower leg injuries, however, have been a bother for him thus far in his young career.
---
---
New York Knicks | Jeremy Sochan (PF, Baylor, Fr.)
There is widespread belief that the Knicks will send this pick elsewhere, however, if they are to keep it, Baylor's Jeremy Sochan will be one of the more attractive names on the board. He is one of the draft's most versatile defenders and has shown promise as a playmaker. At 6-9, he has smooth shooting mechanics that are yet to produce desired results from deep.
Oklahoma City Thunder (via LA Clippers) | Jalen Duren (C, Memphis, Fr.)
Oklahoma City own four picks in this year's draft and are expected to be active in the trade market. Assuming they take Holmgren at two, the Thunder will still be eager to add the best available player. Memphis' Jalen Duren projects as a strong rim protector with enough versatility and athleticism to switch onto the perimeter and finish around the rim.
Charlotte Hornets | Mark Williams (C, Duke, So.)
Duke's Mark Williams makes almost too much sense for a Charlotte team in desperate need of an interior presence to play alongside LaMelo Ball and Miles Bridges. At 7-0 with a 7-7 wingspan, Williams was one of the country's premier rim protectors and was adept at catching and finishing in the paint.
Cleveland Cavaliers | Ousmane Dieng (SF, NZ Breakers, 2003)
Interest in French wing Ousmane Dieng has proven fickle, however, there is reason to suggest that Cleveland could be interested in the 19-year-old. At 6-10, Dieng has shown upside as a ball-handler, a passer, and a versatile defender. In his lone season in NBL, Dieng was raw and struggled as a shooter, but his ceiling may entice a late-lottery team.
Charlotte Hornets (via New Orleans) | Ochai Agbaji (SG, Kansas, Sr.)
Charlotte are not expected to hang on to both of their first rounders, but Kansas' Ochai Agbaji will be a popular name around this slot. The 22-year-old proved to be a capable perimeter defender throughout his four seasons at Kansas and took major strides as a three-point shooter and a secondary ball-handler as a senior.
Atlanta Hawks | Tari Eason (PF, LSU, So.)
Atlanta are expected to target a high-level defender with their first round pick and LSU'S Tari Eason will be a key name on their board. Eason used his combination of size, energy, and smarts to develop into a pesky and versatile defender at LSU, whilst making improvements as a shooter and ball-handler. He lacks some polish but may prove a steal at #16.
Houston Rockets (via Brooklyn) | TyTy Washington, Jr. (PG, Kentucky, Fr.)
Houston are still very much in the talent accumulation stage of their rebuild and will eye the player they deem best available with this pick. Kentucky's TyTy Washington, Jr. is a talented lead guard with a skilful mid-range game and is a decent defender as a small, unathletic guard. His ceiling will be dictated by the leaps he makes as a three-point shooter.
Chicago Bulls | E.J. Liddell (PF, Ohio State, Jr.)
Chicago will likely be eager to add a ready-made NBA contributor and Ohio State's E.J. Liddell fits the profile. Liddell is a strong and versatile defender who should have no issues slotting in alongside a number of the Bulls' pieces. At 6-7, he has made improvements as a shooter and has shown flashes as a passer.
Minnesota Timberwolves | Jalen Williams (SF, Santa Clara, Jr.)
Minnesota will be hoping to build on their second playoff appearance since 2004 and will be eyeing players who compliment Karl-Anthony Towns and Anthony Edwards. Santa Clara's Jalen Williams shot up the boards throughout the season and made leaps as a ball-handler, shooter, and defender. The athleticism may not be there, but the effort generally was.
San Antonio Spurs (via Toronto) | Malaki Branham (SG, Ohio State, Fr.)
At #20, San Antonio may be drawn to the one-on-one scoring talent and defensive upside of Ohio State's Malaki Branham. There are still questions over his three-point shooting and playmaking chops, but his strong frame and long arms coupled with his energy should guarantee him a spot in the mid to late first round.
---
---
Denver Nuggets | MarJon Beauchamp (SG, G-League Ignite, 2001)
With Jamal Murray and Michael Porter, Jr. set to return for Denver next season, the Nuggets should be paying some attention to defensive upside and off-ball awareness of MarJon Beauchamp, who could excel playing next to Nikola Jokić. In the G-League, Beauchamp showed scoring promise both on- and off-ball but the three-point shooting did not translate.
Memphis Grizzlies (via Utah) | Dalen Terry (SG, Arizona, So.)
Memphis have nailed some of their non-lottery picks in recent years and are reportedly high on Arizona's Dalen Terry. The 19-year-old's defence and ball-handling skills will impress a number of teams around this spot and, although he is an unproven shooter, he projects as strong enough in that department to demand respect from opponents.
Philadelphia 76ers | Blake Wesley (SG, Notre Dame, Fr.)
After receiving a green room invite, many are expecting Notre Dame's Blake Wesley to be drafted in the first round and Philadelphia may be a team interested. Wesley's combination of scoring and playmaking nous coupled with a level of athleticism and willingness to defend should make him an ideal fit for a 76ers team looking for rotation pieces.
Milwaukee Bucks | Jake LaRavia (SF, Wake Forest, Jr.)
Milwaukee will be interested in wing insurance and players that can excel alongside Giannis Antetokounmpo. Wake Forest's Jake LaRavia projects as an NBA-ready wing with some shooting and defensive chops who could prove a savvy fit within Milwaukee's system. The athleticism and scoring tact may be missing but there is enough to like for the Bucks.
San Antonio Spurs (via Boston) | Nikola Jović (SF, KK Mega Basket, 2003)
Serbian wing Nikola Jović is expected to draw first round interest and San Antonio will look at him if he is available this late. At 6-10, Jović has showcased a level of shot-creation and playmaking ability that will fascinate coaches and has the tools to become a versatile defender. The production has not been there, but his long-term upside could be tantalising.
Houston Rockets (via Dallas) | Jaden Hardy (SG, G-League Ignite, 2002)
Houston are in a position to take somewhat of a flier with their third first round pick and Jaden Hardy may interest them. A top recruit, Hardy struggled this past season in the G-League but is a talented isolation scorer and ball-handler. His fundamentals did not make for pretty viewing, but the untapped scoring potential will turn some heads this late.
Miami Heat | Kennedy Chandler (PG, Tennessee, Fr.)
Given Kyle Lowry's age and Victor Oladipo's pending free agency, Miami may be on the lookout for backcourt reinforcements. Tennessee's Kennedy Chandler is a savvy offence initiator with the shooting touch and energy to entice Miami. At 6-0, his lack of size limits his defensive upside and scoring ability, but he proved a reliable point guard at Tennessee.
Golden State Warriors | Ismael Kamagate (C, Paris Basketball, 2001)
Fresh off a title, the Warriors' scouting department will be in search of a malleable prospect to add to their core of young guys. French big Ismael Kamagate offers an athletic frame and interior presence that Golden State may be drawn to. At 21, Kamagate is still raw but possesses the skills and size to develop into an effective rim-running big.
Memphis Grizzlies | Christian Braun (SG, Kansas, Jr.)
There appears to be a strong chance that Memphis trade one of their first round picks, however, Kansas' Christian Braun firms as a strong candidate for a late first round slot thanks to his shooting upside, athleticism, and improving off-ball defence. At 6-7, he is more of a pure shooter than a scorer but has the tools to earn NBA minutes next season.
Denver Nuggets (via Phoenix) | Bryce McGowens (SG, Nebraska, Fr.)
If Denver hang onto this pick, Nebraska's Bryce McGowens may be a name circled on their board. At 6-7 with long arms, McGowens is adept at getting to the basket and has the tools to develop into a good shooter. At this stage, he is an inconsistent shooter and poor defender, but his scoring knack and athleticism will help him draw first round consideration.
---
Fill In The Form Below To Receive Our NBA News & Tips Via Email!