January 29, 2022, Saturday
'About f**king time': Ricciardo pulls off McLaren miracle in Monza to silence F1 doubters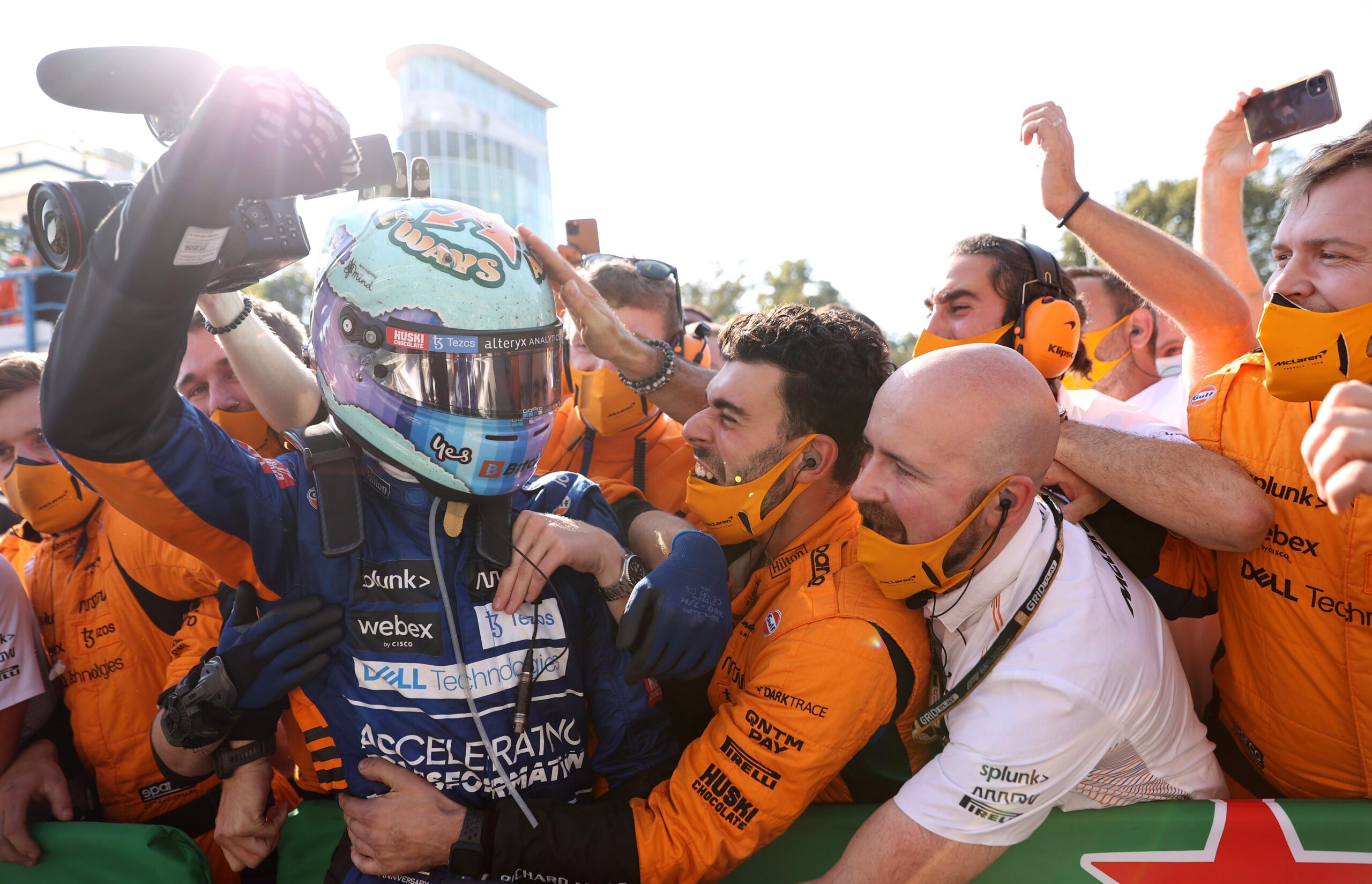 A voice rings out over the McLaren radio in Monza: "Deep down, I knew this was gonna come. For anyone who thought I left, I never left. I just moved aside for a while."
---
Those were the words Daniel Ricciardo had for his Formula 1 doubters as he charged over the Monza finish line on Sunday afternoon, staging an incredible — and slightly unbelievable — McLaren 1-2 at the Italian Grand Prix alongside young teammate Lando Norris.
The Aussie race winner had more to say after too: "About f**king time."
"To be honest even if we got the start it was never a guarantee we'd lead the whole race, but was able to hold first out front (in) the first stint," the McLaren star continued in his post-race interview. "There was safety cars, there was this and that but to lead literally from start to finish, I don't think any of us expected that.
"There was something in me on Friday," he added. "I knew something good was to come."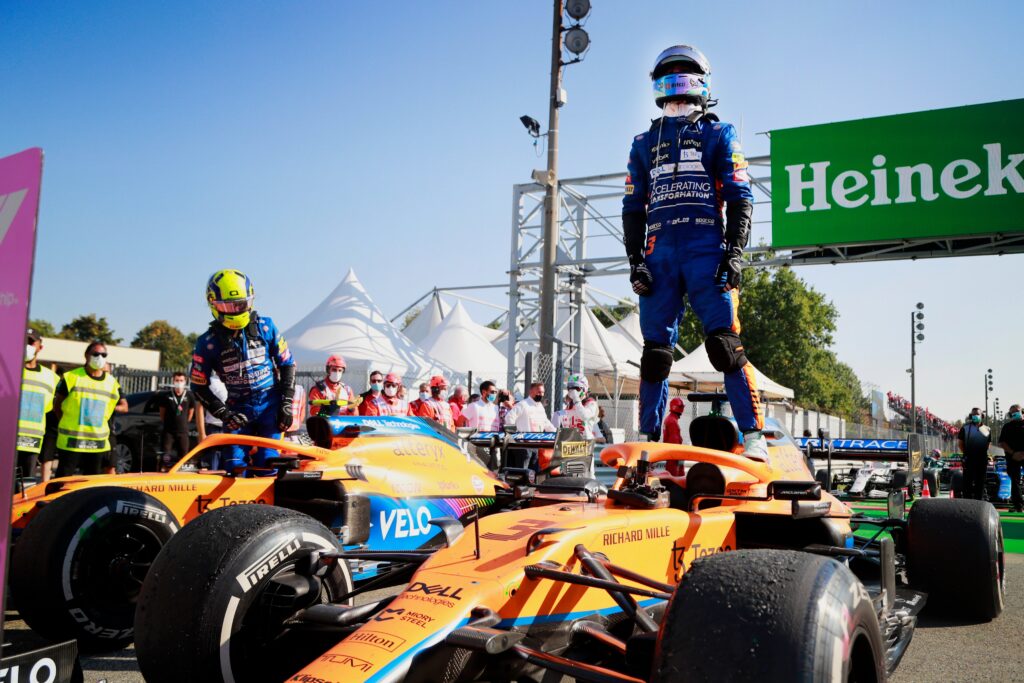 Danny Ric may be claiming he "knew" something was coming, but there weren't many in the Formula 1 world still on the Australian's side after a whimpering start to his McLaren career.
Not that they were baying for his head, or anything dramatic like that. His last win had come in 2018, however, and his Renault stint had put a damper on the Honey Badger hype. Like Fernando Alonso in France's racing team, or Sebastian Vettel in the Aston Martin, it seemed we'd see the best of Danny Ric, with those days now trailing out behind us.
Not so, Ricciardo himself said with his actions in Italy this weekend.
There was a little outside help; Max Verstappen mounting Lewis Hamilton's Mercedes to rule them both out of the race was a big boost for the McLaren 1-2. Valtteri Bottas starting from 20th wasn't bad either.
Sergio Perez, who ended 5th off the back of a five-second time penalty, just never seemed able to catch the Papayas in front of him. Defending against Bottas and the Ferrari duo Charles Leclerc and Carlos Sainz didn't help his cause.
But, at the end of the day, Danny Ric had to drive the drive too, and the Aussie certainly did that, and more. He even managed to clock up fastest lap in the final go-around.
---
---
"I'll be honest, I don't think it's actually sunk in yet," he said after the race.
"It's actually probably the first time I've been overwhelmed by winning. I think as well because it's been like over three years or something. "I just know that no one would have predicted this to happen this year, especially after the first half of the year.
"It's easy to lose confidence and kind of lose your way.
Ricciardo continued on: "I think that's just where perspective and everything comes to fruition and just knowing deep within yourself that it can happen and just never doubt yourself."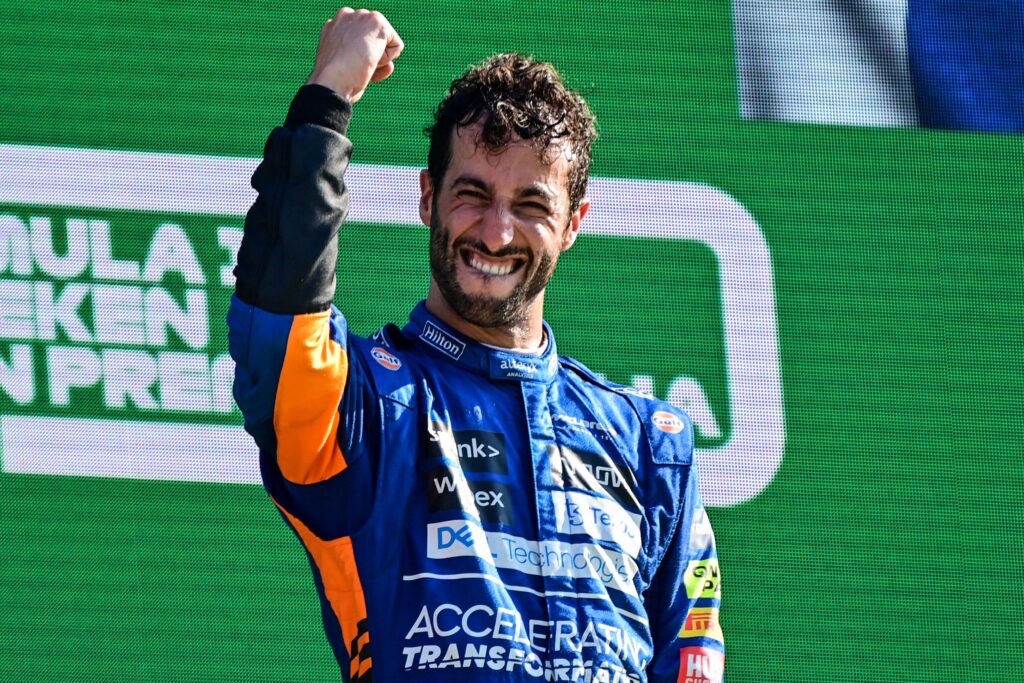 "I think if you truly love something and believe in it, then never doubt yourself. Some of the speed bumps along the way make moments like this so much sweeter.
"I'm just grateful I still have a chip on my shoulder. I don't know, I'm just feeling everything right now. I'm not just saying it today because I'm here soaking in the glory, at times it's been the most challenging year for me, not that I've shied away from that.
"If anything, I've enjoyed the adversity and the feelings that I've had internally because it's kind of made me understand who I am a bit more as a person and a competitor.
"I definitely embraced it, but for sure there's definitely been some low points."
---
---
The Perth star was on the verge of tears after his race win, especially during the Australian national anthem. He choked back his emotions then, and again speaking to F1 media after the victory.
"To top it all off, not seeing mum and dad for freaking over a year [has made racing hard]," he said. I'm very close to family, I'm a very affectionate person and sometimes there's nothing you want more than just a cuddle from mum and dad and a little pad on the back.
"That's made the hard days harder but I think it also helped me get to this point."
---
Fill In The Form To Get Our F1 News Straight To Your Email For FREE!