Abu Dhabi Grand Prix Review: What The Drivers Said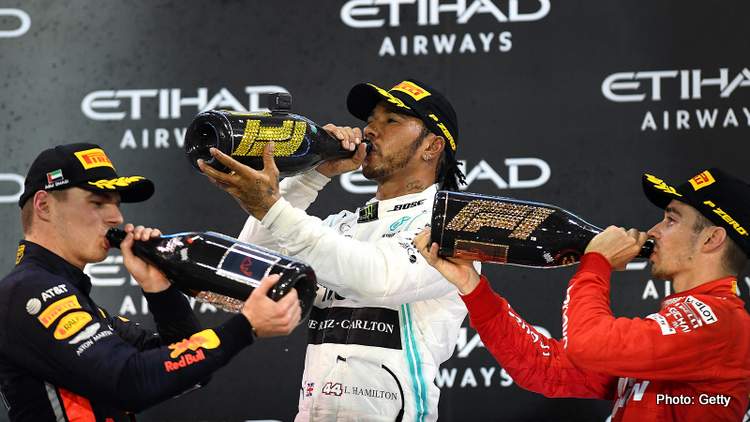 Lewis Hamilton capped off an amazing season with a dominant win after leading from start to finish in the Abu Dhabi Grand Prix. Here's a look at what the top 10 drivers said.
---
Lewis Hamilton – 1st
"What a way to end the season! As a team, as a whole, we've been very strong this weekend and Valtteri did a great job today as well. I'm just so grateful for everyone's continued hard work and dedication this year, we continue to raise the bar together. The support has been unbelievable, I'm completely overwhelmed, so a big, big thank you to everyone at the track but also back home who supports me. Team LH is such a cool, positive movement, I really appreciate it. This has probably been the biggest year of growth for us as a team, so I hope that that will put us in a good position for a new challenge next year.
---
---
Max Verstappen – 2nd
"Of course I'm very happy to finish the season with a podium and to be third in the championship ahead of both Ferraris is also a good achievement. On this track today Mercedes and Lewis were just a bit too quick but as a Team we had a good strategy, good pit stops and the car was working really well so second place is a good result on this track. The pace was good and overall we were quite a bit faster than the other guys which is a nice feeling. Looking back my highlight of the season was Austria. To take the first victory for Honda in the V6 era was very emotional and as a Team to win at our home track again in front of so many Dutch fans was a great feeling. It's been a good season and the Team never stopped pushing. Honda also made some great improvements so we can be very happy with our first season together. As a Team we want to move forward next year and fight for the title.
---
Charles Leclerc – 3rd
"I would never have imagined my first season with Ferrari like this. In terms of satisfaction, as a driver, it is great to have had the chance to end the year with a few poles and wins in the bag. On the other hand, you also always strive for more, and there is always something that you can do better. Overall, I think that it was a positive season for me. I learned a lot and am thankful to the whole team for all of their support and hard work.
It was not an easy race today. Starting from P3, I knew that I would have to win to get back the third place in the Drivers' championship, so I gave it my all. Unfortunately, it didn't work out today. We will have to spend some time working on our race pace this winter. We have been very strong in qualifying this year, but have room for improvement in our long run performance.
---
Valteri Bottas – 4th
"This is a nice way to end the season. It was a good race for me, I had a lot of fun out there overtaking the others. I don't think I could have extracted any more from the car today. It was pretty close in the end, but it wasn't quite enough to overtake Charles for a spot on the podium. The beginning was a bit unfortunate because DRS was disabled for a while which made charging through the field difficult. But I still managed to gain some place while also extending my stint on the Mediums which put me in a good position overall. This has been my best season so far, I'm in a much better position compared to last year, so I'm looking forward to attack again in 2020."
---
---
Sebastian Vettel – 5th
"At the start I didn't have anywhere to go and then, the fact the DRS didn't work didn't help, because that was when I had an advantage with the tyres over Max (Verstappen), which then faded later on in the stint. After the first pitstop I wasn't very competitive and so we pitted again. In that moment we lost two places and I was only able to recover one of them, because today Mercedes was simply too fast.
All in all we didn't have the year that we were hoping for. The reasons are clear and lessons have been learned so now we just have to take them on board.
I think as a team we must grow, but I have to say that this year has not been ideal from my side, even if I don't think it was as bad as it looks. There were many small things that contributed to what maybe didn't look like a great picture in the end.
---
Alexander Albon – 6th
"The race didn't turn out quite how we wanted but we will have a look at it. We pitted early to try and undercut Seb but it didn't work and then we got stuck behind a train of traffic without DRS. That made for a long second stint and the tyres just didn't last until the end and Seb cleared a lot of cars quicker than we probably expected. It's one of those things but looking back over the season I can be happy. I know there's some work to do and areas I have to improve but it's my rookie year so that's always going to be the case. I feel like the racing has been good, the pace still needs work, but that will come with experience. We're testing next week so we'll continue the hard work and come back stronger next year. It's nice to spend the winter knowing where I'll be racing next year so I can focus on the job in hand. I'm really enjoying working with the Team so I can't wait for 2020."
---
Sergio Perez – 7th
"The first part of my race was a bit messy. I got a big hit from Gasly into Turn 1, which meant that I lost a position to Magnussen. Because the DRS wasn't enabled at the start, we lost a bit of time behind him, but I managed to overtake even without DRS. After a long first stint, we had to push hard to catch up to the midfield group. We had a very strong end to the race and my final lap overtake on Norris in Turn 11 was one of the best of my career. The six points we scored means that I have finished inside the top 10 in the Drivers' Championship and I'm pleased we could do that. I cannot wait to start next season already."
---
---
Lando Norris – 8th
"Pretty much a good race having made a decent start. I struggled a bit and made a mistake at the end of my Soft stint, then had a big lock-up, so had to box earlier than we wanted to. But in general I felt like I did a good job with my tyre management.
"Good battling, good overtakes when I needed to do them. The only other mistake I made in the whole race was being overtaken at the end by Perez. In fairness, he did me fair and square but I'm gutted because that was a crucial overtake.
"It's been a long season and overall I'm happy. We made some really good improvements and I've enjoyed it a lot. As a team, we've done an excellent job and I'm already really look forward to next season. Thanks to the entire team for making my rookie F1 season so cool!"
---
Daniil Kvyat – 9th
"Today was a nice way to finish the season. That first stint on the Base tyre was probably the best stint of my life, I pushed like there was no tomorrow! Every lap I was quicker than the cars around me and I had a great feeling with the car. It worked out exactly as we had planned it, our strategy was fantastic and we had a good setup for the race. Maybe we sacrificed Qualifying a bit yesterday but we managed to put everything together today. I felt I left something on the table in the last couple of races, so I wanted to close the season with a really good race, to finish the year the way I did is a great feeling."
---
Carlos Sainz – 10th
"Very happy! The target this weekend was to finish P6 in the Drivers' Championship and we made it happen! It wasn't an easy race, with a lot of traffic in all the stints and having to start with the Soft [compound]. We went for the two stops knowing it was going to put me in a delicate position to make it to the top 10, but also knowing it was my only chance.
"I managed to catch Hulkenberg right at the end and pulled off an overtake, on the last lap, that I will not forget! I'm very happy with my season and extremely grateful to every single member of the team. Thank you!"
---