FREE: Belmont Selections: Saturday 6th August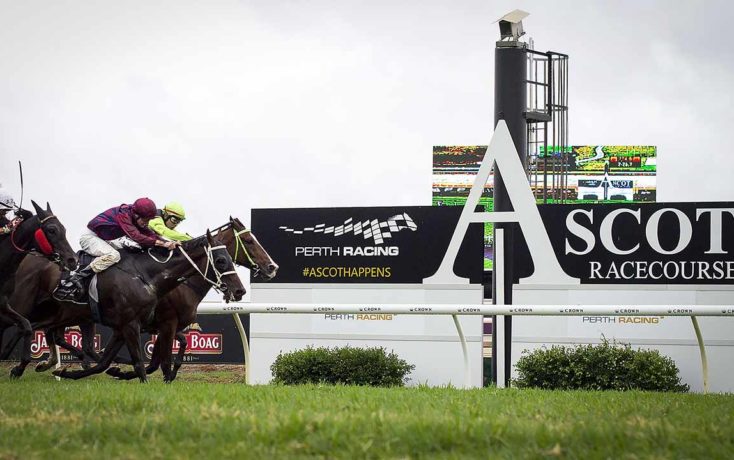 With the remarkably bad weather we have been experiencing over here in the West (with numerous abandoned meetings etc etc.), a monster 12 race card awaits us at Belmont today in some much more favourable conditions. Still on a Heavy 8, but the rail returns to the true which should be a relatively well cured pad.
---
Race 1 – 9:59AM FURPHY HANDICAP (1000 METRES)
3. Work In Progress – 2. Mocha Dream – 9. Universal Flair – 6. Invincible Ruby
The first of the races held over from Wednesday's abandoned meeting, looks a nice assortment of horses with a number of these showing ability at the trials.
Work In Progress is a talented filly for Danny Morton, coming through what I believe to be a strong form reference behind very nice type Bustler. Loomed the winner there but was just beaten by a smart one. Maps a treat here from barrier 4, able to finally draw an alley for the first time in her short career, looks awfully hard to beat.
Mocha Dream is a raw, long-striding type for Adam Durrant that comes through what I think will prove a strong trial reference behind Azena. Had to look for a run between horses there and really liked the way he extended late in one of the fastest trials of the morning. Paul Harvey takes the ride, drawn a nice alley for his first trip to the races, I think there looks to be an engine there and a strong performance would not surprise.
Universal Flair is very speedy, not disgraced in strong races last time in, while Invincible Ruby's recent trial win very good, Johnston Porter takes over, looks to also have ability.
View TOPSPORT Racing Markets Here!
---
Race 2 – 10:34AM PERTH RACING CLUB MEMBERSHIP HANDICAP (1650 METRES)
1. Etomorp – 5. Eldorado River – 3. Buckland – 10. Inahappydaze
In a real field of battlers, Etomorp brings by far the most upside. He looks progressive, thought the maiden win at Pinjarra in heavy conditions was really good and can likely position up much closer here from a better draw. $2.60 my bet price.
Eldorado River is racing well and will need a 10/10 from Taj from that gate, if he can get her in then she can provide some stiff opposition.
---
Race 3 – 11:09AM CROWN PERTH HANDICAP (1400 METRES)
1. Keep Attacking – 2. She's A Sweet Deel – 6. Story Book – 3. Lord Augustus
Keep Attacking
Has to go on top here from the draw for me. Was very impressive last start, looks a real push button sprinter with lots of upside and the 2nd horse behind him last start Dorado then came out and won in Saturday grade last week, which is a strong indicator. He has tactical speed and maps an absolute treat from that gate. Chris Parnham gets a great pick up ride opportunity from Jade McNaught.
1.5 Units WIN
She's A Sweet Deel will be popular I imagine but just maps to get so far off them from barrier 11. 2/2 2nd up and 2/2 on Heavy tracks will certainly draw punters in, and no doubt she can win here and will be charging late, but she does seem to hit a flat spot in her races, will be spotting a horse with plenty of ability a big start.
View TOPSPORT Racing Markets Here!
---
---
Race 4 – 11:44AM FREE ENTRY TO BELMONT PARK HANDICAP (1600 METRES)
3. Brave Dream – 2. No Apology – 1. Bad Wolf – 6. Westriver Miracle
Brave Dream
Brave Dream and No Apology met 4 weeks back on a very wet track, with No Apology getting the better of her there by a quarter of a length. Meeting at set weights again here, I really think the mare gets a lot in her favour to square the ledger here. Clint Johnston Porter hops aboard for Taj Dyson, the smaller field suits, she steps back up to what I feel is her best trip at the mile. No Apology was off the 2 day spin-a-round last time they met, he's a noted back—up specialist and is now 3 weeks between runs, I don't think she will get a better opportunity to finally break through this preparation, Brave Dream for me looks one of the better bets on the program. Very keen.
4 Units WIN
View TOPSPORT Racing Markets Here!
---
Race 5 – 12:23PM AMELIA PARK HANDICAP (2200 METRES)
7. The Velvet Queen – 4. Bold Success – 1. Reliable Star – 5. Crescent City
The Velvet Queen for me is racing like she is looking for this trip. Last weekend's effort was her 2nd run in 8 weeks, got a mile off them from the widest gate and thought she was very strong through the line considering the conditions and where she got to in the run. Backs up here off the 7 days on the minimum, out to the staying journey in a small field where Chris should be able to keep her in striking distance, to me she's crying out for this trip and gets a great opportunity to win again against a field of stayers who have all met their mark. Bar Plates come off, which is another positive, she gets through the conditions, I'm $2.90 and am pretty keen on her chances here. Just not at the price, pray for a drift.
Hardest to beat rock hard fit Bold Success from the breeze sitting outside a weak leader. Not sure the month between runs works in his favour here however.
View TOPSPORT Racing Markets Here!
---
Race 6 – 1:03PM BERNARD COUCH MEMORIAL PLATE (1200 METRES)
7. Fly Away Home – 6. Uncle Gerard – 8. Mia Gusto – 9. Jeanella
Wide open race for the new season 3 year olds, really yuck from a speed map perspective and thought it was difficult to generate any real angles I wanted to follow here.
Mia Gusto was impressive winning midweek last start, has an impressive turn of foot but was certainly on the right part of the track there on the day. Gets a very long way back here from the gate she has drawn.
Uncle Gerard comes through that same race and never travelled as he refused to settle, still let down nicely to run 2nd despite using up plenty of energy mid-race, if he can jump and settle more prominently from that good draw then he can certainly makes his presence felt, he's raw but I think he's a nice horse.
Jeanella goes well, can posi up closer from that barrier potentially, attacked the line last start,  while Invisible String has put 2 in a line to begin his career in form reference races I certainly don't want to be following, think he gets that first blemish here.
Fly Away Home is over my price at $12, got going around them a mile out last start in that race won by Mia Gusto and had no right to be still be as strong at the finish as he was given the run he had in transit. Draws a nice gate here, can grab that one out one back box seat in the run and Chris Parnham sticks, over the odds but this is a race that doesn't interest me greatly.
---
Race 7 – 1:43PM TABTOUCH WESTSPEED PLATINUM HANDICAP (1000 METRES)
8. Skipping Digits – 3. Forest War – 1. Glasgow Girl – 4. Storm Commander
Terribly difficult 1000m scamper to decipher here, but what cannot be denied is that there is plenty of speed engaged. They will be strung out and they will be humming along in this.
Sockoff is your likely leader here off a dreadful fresh run, she's only ever won up the Pinjarra straight but does love it wet, I'm still happy to take her on around a bend.
Born To Rule's trial was nowhere near as good as her trial before last preparation's fresh flop. She maps to stalk the leader but gut feel says she may not be all that genuine, surprised to see CJP opt for her over a horse I feel has way more upside in Skipping Digits
Skipping Digits is very lightly raced, loved the recent trial and although not beating much, his runs in Geraldton to date have been impressive. Taj on from a wide draw makes things tough, would have loved to have seen Clint booked here, most likely the horse I want to be following out of this event.
Requisition maps a treat but doesn't win out of turn and seems to lose his edge on these wetter tracks, while Storm Commander is another I have trust issues with, comes through most likely the strongest form but can also be gutless when he wants to be, the wheels looked to be spinning last weekend in the conditions and feel he is much more effective on top of the ground.
Glasgow Girl was a bizarre run last start. In standard fashion was slow to leave the machines, but Vic was hellbent on dropping her out and riding her upside down. She flashed home late into 4th, regardless of the ride it was a big run and the wild betting drift was interesting given how well the market seemed to know how she was going to run her race. Looks a tough map again from the gate, but she is low flying and even if she punches through to sit 3 deep here, she can win.
View TOPSPORT Racing Markets Here!
---
Race 8 – 2:19PM CONGRATULATIONS LAQDAR RAMOLY – LEADING APPRENTICE 21/22 (1400 METRES)
1. Phanta – 7. Blow Me Out – 8. Regal Magic – 5. Blazing Away
I just love the way Phanta is racing at the moment for the Gangemi's. He comes through a very strong win last start over this trip, was 3L faster than average 66+ grade and how well has that form stacked up? Ginger Flyer belted them last weekend while Flying Missile also come out and won last Wednesday. Maps for another relatively easy lead here, loves the wet, kicks on the bend and gee he looks hard to run down once again here for me. Would love to see some $3.00+ to really have a crack, should be approaching his peak here 3rd run for the prep.
Regal Magic was a monster run that absolutely nobody missed last start. No denying how good it was, but it is interesting to note that those who settled in the first 4 in running there crossed the line as the last 4, they really folded up in front and set it up for the backmarkers. On the minimum, flops out the back here for Holly and this is deeper, respecting but can take her on at that current quote.
Blazing Away was great fresh, certainly not without claims again with Harvey jumping back aboard, while Blow Me Out was one of the runs of the day behind Flying Missile last start against the track pattern, my query with that being whether maybe the track had evened out by that stage of the day? Regardless gets a 2.5kg swing on the favourite for being beaten 3L the last time they met and a much better map.
View TOPSPORT Racing Markets Here!
---
Race 9 – 3:00PM CONGRATULATIONS CHRIS PARNHAM – LEADING JOCKEY 21/22 (1400 METRES)
1. Little Flirt – 4. Costa Del Santo – 5. Success Play – 2. Kohli
I do like a couple here in race 9, focusing particularly on the top half of the field.
Found it tough to split Little Flirt and Costa Del Santo in my market, but loved both their last start efforts in similar conditions to what we are going to see on Saturday.
Little Flirt was terrific in this grade from an awful draw last start, drew 13 of 13 and was a big effort to get as close as she did from where she settled. Draws barrier 3 here, drops 1.5kgs after the claim for Louis and races really well with her runs spaced, getting here almost a month between runs. She's an absolute swimmer, doesn't have to get so far back from the draw and finds a really nice race for her.
1.5 Units WIN
Costa Del Santo hit the line like a freight train at Pinjarra behind a promising young horse in Oly's Choice from the widest gate. He was never on the track there and really looked to handle the Heavy going better than most of the horses on the day. Chris Parnham takes the ride, up in trip, down 3kgs at the weights, ticks a lot of boxes for a horse that has performed in this and higher grade previously.
0.5 Units WIN
Slight lean for me to Little Flirt, ideal scenario we are able to back both late for a collect but they look the two for me here. Back and save.
Race 10 – 3:40PM CONGRATULATIONS ADAM DURRANT – LEADING TRAINER 21/22 (1600 METRES)
2. Axel R Eight – 6. Zero Consequence – 1. Catalpa – 8. Secret Statue
Catalpa is really well in here, loses Harvey for Taj but after the claim actually drops in grade and drops 2kgs at the weights having won last start in 3yo company. In saying that, was entirely on the right part of the track that day and it took every inch of Paul Harvey's vigour to lift him over the line there, I think the Pont hopping off is a big loss. Does map a treat once again here from barrier 3, is a deserving favourite and am still umming and ahhing over what a suitable bet price for him should be, difficult runner to line up
Axel R Eight is one I really didn't expect to find here to justify a speculative play on, but he's in a new yard for Ash Maley, thought the recent trial in what has proven to be a strong little trial form reference was super and maps to roll to the top for Knuckey here with next to no other tactical speed engaged. 1st up last prep was beaten in a photo finish over the mile in a similar race and the Gingerbread Man crop generally get through the wet quite well, I think he can run a very cheeky race on debut for the new yard at a big quote. Monitor the double figures late.
Mahaleo is underrated, really like the horse but always seems to find trouble, loses Chris Parnham and has a very sticky draw to contend with from barrier 9, at the current price is unders.
Race 11 – 4:15PM JOCKEY CELEBRATION DAY STAKES (1400 METRES)
3. The Spruiker – 8. Ginger Flyer – 9. Savage One – 6. Nowhiteflag
Nowhiteflag did it the way he does it best last Saturday. Went 6L faster then 72+ average to the 600m and just ran them into the ground, it was a demolition. The 1400m is a different kettle of fish, while the loss of McGruddy who this horse just absolutely goes for is a huge loss. 8 starts without McGruddy aboard for 2 wins and 2 placings. J Brown on, out to the 1400m, does he pop? I think he does and wanted to sting him further in my market but couldn't get him any longer than the $6 I have him marked as his win last Saturday simply rated far too well.
Savage One is ever consistent, I don't think he will be as suited to the breeze as he would be to leading, the current price for me is certainly unders and am taking him on
Ginger Flyer was beaten 1.5L over this trip 1st up by a rock-hard race fit Savage One. She put them to the sword last week, backs up off the 7 days and maps for a rinse and repeat run stalking the leading pairs every move. She meets Savage One on far better terms here and think she can turn the tables, marked a $4.00 favourite in my market, going from strength to strength, loves the conditions and just so consistent.
You can also never rule out The Spruiker. Never looked a happy horse in running in the Bolton under Knuckey and only really warmed to the task very late. The step up to the 1400m 3rd up here is a big tick, McGruddy back on a bigger tick and is 2/2 on Heavy and 3/3 at the track and distance. Huge respect but he does have a tricky map from the draw with the speed drawn underneath to contend with.
At current prices, leaning to The Spruiker, but this is a terrific race.
Race 12 – 4:50PM CROWN TOWERS HANDICAP (1300 METRES)
4. Hibiscus Lady – 1. False Statement – 6. Seduce Me – 5. Cold Shizzle
Really difficult race to end a marathon card, will be interesting to see how the track is playing by this stage of the day with 11 races run and won.
For the first time all prep I think this map looks really favourable for Hibiscus Lady.
Thought she was terrific last start when drawn 11 of 11, never on the track behind Let's Galahvant but still kept coming late to run the 2nd best late splits of that event despite the torrid run throughout. Brown has handed up before on her this prep and it cost her the race, feel with the lack of tactical speed engaged here he won't make the same mistake again. She looks ready to break through and she gets through the conditions, each way all day.
False Statement is always a chance in these races if everything goes right. Was the subject of some very healthy betting support last start potentially due to the track pattern on the day and the barrier he drew?
The Fugazi is on the never again last after I backed up the truck at the $5.50 llast start, just horrible. Best form is well and truly good enough but a perennial bridesmaid. Winner on a soft 7, drawn a nice gate for an economical run, I have to keep him safe but I won't be backing him.
Cold Shizzle did some real work early finding a spot at a real break neck tempo last start in higher grade, still travelled into the race on the corner nicely before peaking on her run. Beat home Multinational and False Statement the start prior, just feel she could be a bit of a battler.
---
Staking Plan
Race 3 Keep Attacking 1.5 Units WIN
Race 4 Brave Dream 4 Units WIN
Race 9 Little Flirt 1.5 Units WIN/Costa Del Santo 0.5 Units WIN
7.5 Units Staked.
View TOPSPORT Racing Markets Here!
---
Fill In The Form Below T0 Receive Our Tips Straight To Your Email Each Week
For FREE!