Ascot Selections & Staking Plan: Saturday 28th January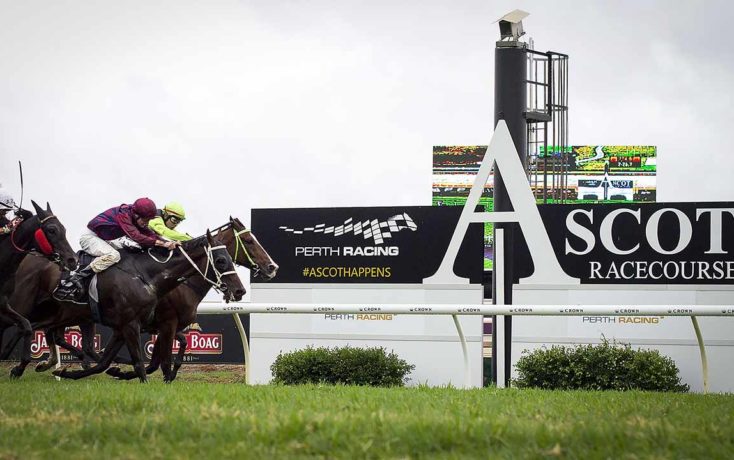 Been a busy week on the WA racing front (with abandoned meetings from last week and big cards with big fields, along with Monday's "Saturday" Ascot meeting). The forecast for Saturday is was 39 degrees has since dropped to 37, hopefully stays that way as it will be called off if it hits 40. Breeders Classic Day at Pinjarra Sunday also preludes into the Magic Millions Race day there next Saturday also to look forward to. Rail out 6m with easterlys that swing west in the early afternoon so with the late start it shouldn't be a problem. 
---
Race 1 – 2:28PM SEACORP PLATE (1000 METRES)
6. My Baby Blue Jean – 2. Beads – 1. He's A Sizzler – 3. Policiere
Race 2 – 3:05PM TABTOUCH – WESTSPEED PLATINUM HANDICAP (1000 METRES)
2. Alien From Mars – 1. Express Time – 3. Requisition – 4. Halatorion
Alien From Mars
Usually traditionally weak races these Westspeed Platinum's and although this isn't exactly strong, I'm keen to have something on Alien From Mars. Last prep went around fresh no trial in a CL3 at Northam in a similarly small field, was able to settle at the back not too far off them and let rip with that big turn of foot he possesses down the centre to win. He's run a sub 11 second L200 and they broke 58 seconds there, that's very fast time and I think the small, 7 horse field suits him really well and although there isn't much speed engaged outside the toppy who has to lug 61kgs, if he can stay in touch with them and not get too far back, I think he's more than capable of running past these and am happy to invest at around that sort of 5-6$ mark.
1 Unit WIN
Race 3 – 3:40PM MAGIC MILLIONS PLATE (1000 METRES)
4. Hang Glider – 6. Playhouse Patron – 11. Work In Progress – 1. Galaxy Affair
Race 4 – 4:20PM KAREN HAYNES 50TH BIRTHDAY HANDICAP (1400 METRES)
3. Trade War – 2. Phanta – 1. Kendel's Mee Dad – 4. Dipara
Trade War
Thought Trade War was huge last start behind Cheval De Vaga. Got a long way back as expected and just didn't have anything to take him into the race, Chris had to pull out around some tiring horses a long way from home to get him into the race and CDV got this lovely run cuddled up behind the speed and was off and gone with too much work to do at the business end. The issue is the set up again here worries me again, with the main danger up in front leading and dictating. If Chris can get on the back of a horse like Dipara, who more than likely will be able to cart him up to them on straightening, then I'd be chips in, but it's a big if. Going to be a lot of roadblocks.
Units TBA
Phanta
The danger who is going to have the big head start on straightening, out in front leading and controlling. 3rd start for the Gangemi's, led last start over the 1300m at Pinjarra at a very solid tempo (3L faster than average for the class) and was only run down very late by a good horse in Eeyore Wayz. What works in her favour here is the roadblocks behind her that are going to be in Trade War's way that he's going to have to get around. Any lean on the track pattern on the day will be crucial here.
Units TBA
Race 5 – 4:53PM HAPPY 80TH BIRTHDAY MARGIE HANDICAP (1600 METRES)
1. Sentimental Queen – 10. Overthought – 4. Fashion Queen – 5. Sluice Box
Sentimental Queen
Was a horse I wanted to follow anywhere she went next start off that 1st up run. Comes out of a very strong 1400m contest fresh behind Billy Ain't Silly where she absorbed a strong tempo and still hit the line, despite obviously having improvement to come in her conditioning, really nicely. Run under the belt will no doubt have brought her on, she's drawn awkward on paper which is the slight query but with the lack of early speed engaged, I think (and also hope) Keshaw is aggressive early with her because she's actually a strong beginner to find a spot on-speed or just in behind with cover. If he can get her across without having her parked deep, I think they're going to have plenty of problems holding her out.
3.5 Units WIN
Overthought
Am also going to throw one up here at a big price, think you can shop 20/1 around with some places and that's Overthought. 1st up this prep this mare really caught my eye in the yard and thought to myself she would run far better than her 100/1 price suggested and that she did. Hit the line really nicely to finish under 2L off some genuinely good, potentially even black-type horse in Billy Ain't Silly, the race rated very well and think that form will definitely hold up, in saying that she's also matched motors with Sentimental Queen for the majority of the straight there. The map here is the key, and with the lack of early speed engaged she may end up in front by default or just in behind whoever decides to lead with what potentially looks a really messy set-up in behind them. If it does get really messy, although it may still be one run too early and short of her best trip, I am really keen she is in for the best prep of her career off that 1st up run and am more than happy to be invested at around that $20 quote and even more so keen at $4 to run a hole.
1 Unit WIN/3 Units PLACE
Race 6 – 5:26PM BELHUS RACING STABLES HANDICAP (1600 METRES)
8. Cheval De Vaga – 10. Ginger Baker – 3. Bruce Almighty – 6. Chili Is Hot
Cheval De Vaga
Really just have to respect what Cheval De Vaga has been doing don't we. Has put 4 in a line and has done so with a sense of authority and put up some really big figures. This is a big step up in grade, but the figure he put up last start in defeating Trade War over the 1500m is superior to any of these, and he drops 5.5kgs at the weights and finds a map where Keshaw should be able to just lob him across in behind the speed with cover getting a lovely trail. I always find it a little hard piling into a horse that has put up 4 in a line because at the end of the day the bubble does have to burst at some stage, but until then, I just think this is another case of terrific placement by Meryl Hayley.
3.5 Units WIN
Ginger Baker
If the bubble is to burst on Saturday for Cheval then Ginger Baker is the other horse we can chop some out on who I think is ready to win. 60.5kgs, drew widest, caught out off the track early before making a move early to get to the breeze at the 800m, he had no right to give the kick he gave given the run he had in transit once they turned for home there while the winner had the PR of all PR's. Down 5.5kgs at the weights, maps to get the absolute run of the race, he's each way all day if you are so inclined to bet that way. I'm happy to chop out there.
1.5 Units WIN 
Race 7 – 6:00PM AMELIA PARK HANDICAP (1000 METRES)
2. Brooklyn Pier – 7. Strathmore Rose – 4. Mood Swings – 8. King's Authority
Brooklyn Pier
A hard horse to catch/follow, but this is the race that looks so perfectly suited for Brooklyn Pier to break through. The last couple of efforts when unsuited at the 1200m and trucking deep throughout have been huge, and now finds a race with a host of speed influences and a perfect map to just sit off them and stalk, peel once they straighten for him. With a host of negative gear changes on a number of other runners, think today could be the day for the Pier.
1 Unit WIN
Race 8 – 6:30PM SCENIC BLAST STAKES (1200 METRES)
5. Miss Conteki – 10. Iseered Iseered – 1. Outrageous – 11. Clairvoyance
Miss Conteki
Race 8 is the feature of the day, the Scenic Blast Stakes and I really struggle to see any reason why I would hop off the steam train that is Miss Conteki after what she has been able to do at her 2 starts this prep. She's got this incredibly ability to run closing splits that other horses just aren't capable of running, and although she does get an extra 2.5kgs and a wide draw, I have no doubt that Chris is going to have backs to follow turning for home and with Clairvoyance definitely not finding the fence out in front with Kenyluck engaged, which I think would be the key to her chances of victory in a field of this depth, I am expecting Chris to just peel her out into galloping room and let rip down the middle once again. Interestingly enough, the market did not want a bar of her before last start, drifting from $3.00 out to as much as $4.00 late so hold some of your bullets until they jump, pray the market trends in the same manner and we see a 3 next to her name.
3 Units WIN
Race 9 – 7:00PM CROWN PERTH HANDICAP (1200 METRES)
3. Double Spice – 2. The Fugazi – 1. Some Sort – 8. Agent Kensington
Double Spice
Have loved what Double Spice has been doing down in the Bay of Isles. Has always promised to be a Saturday horse in the making and the change of scenery has really taken her into her own with 2 fast, dominant wins at Esperance with Neil Dellar deciding for good reason to bring her to town. Can hold a spot here in not the strongest of 60+ events and think she can continue on her winning ways, have an opinion of this horse.
2 Units WIN
The Fugazi
Can't let him go around without saving off the back of his fresh run last prep, savaging the line behind eventual G1 winner Graceful Girl and traditionally, all the best runs in his career have been 1st up. The knock on him is how hard he is to catch and how inconsistent he can be, but with the good jock in the saddle and a race weaker than what he has been contesting, happy to be saving at $5.00 upwards.
1 Unit WIN
---
Staking Plan
Race 2 Alien From Mars 1 Unit WIN
Race 4 Trade War Units TBA/Phanta Units TBA
Race 5 Sentimental Queen 3.5 Units WIN/Overthought 1 Unit WIN/3 Units PLACE
Race 6 Cheval De Vaga 3.5 Units WIN/Ginger Baker 1.5 Units WIN
Race 7 Brooklyn Pier 1 Unit WIN
Race 8 Miss Conteki 3 Units WIN
Race 9 Double Spice 2 Units WIN/The Fugazi 1 Unit WIN
20.5 Units Staked, potential for more depending on track pattern in Race 4. Big day, lets get it.
---
Fill In The Form Below T0 Receive Our Tips Straight To Your Email Each Week
For FREE!