September 16, 2019, Monday
Opinion: Tiger Is Back And We Couldn't Be Happier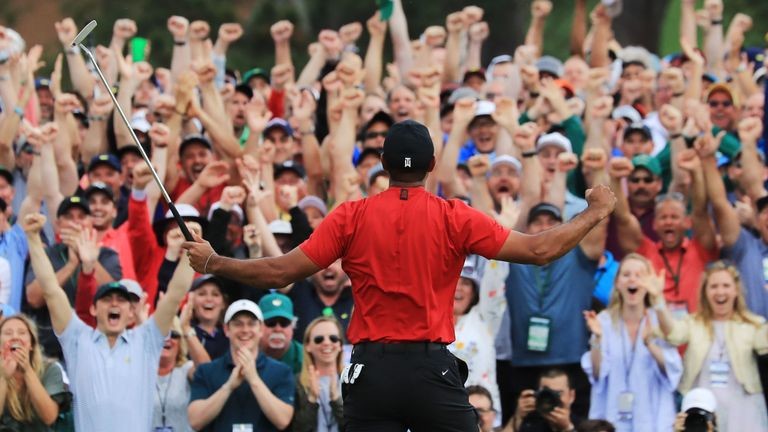 As Tiger Woods sunk his final putt to win the US Masters on Sunday golf fans all over the world rose as one as they knew the champion they once knew and loved was back.
---
It was one of the greatest comebacks in sporting history but it almost wasn't to be for the 43-year-old.
Wind back the clock to 2015 and you will see Woods struggling for form and many golf experts tipping that Woods would never return to the champion he once was.
---
@TigerWoods is back and there are many 'experts' with egg on their face. pic.twitter.com/YpYytnoMqp

— The Sporting Base (@thesportingbase) April 16, 2019
---
Greg Norman was among many experts who wrote the 2019 US Masters champion off when asked by TMZ Sports if Tiger would return to previous form he simply replied "No".
It would have been easy for Tiger to concede defeat and announce his retirement and it very nearly happened at a champions dinner two years ago when he was overheard whispering to another Masters champion, 'I'm done. I won't play golf again,'.
Despite the golfing world writing him off and the crippling back pain Tiger decided to have his fourth back surgery in a final attempt to resurrect the superstar he once was.
After a six month recovery period, Woods returned to competitive golf at the Hero World Challenge in the Bahamas. He shot rounds of 69-68-75-68 and finished tied for 9th place. His world ranking went from 1,199th to 668th, which was the biggest jump in the world rankings in his career.
On Sunday, March 11, 2018, he finished one-shot back and tied for second at the Valspar Championship in Florida, his first top-five finish on the PGA Tour since 2013. He then tied for sixth with a score of five under par at the 2018 Open Championship.
At the last major of the year, Woods finished second at the 2018 PGA Championship, two shots behind the winner Brooks Koepka. It was his best result in a major since 2009 (second at the 2009 PGA Championship) and moved up to 26th in the world rankings. His final round of 64 was his best ever final round in a major.
---
---
At this point, fans and experts could feel that there was a small chance that Tiger could be back but it was all still a dream.
Woods got back in the winner's circle for the 80th time in his PGA Tour career on September 23, 2018, when he won the season-ending Tour Championship at East Lake Golf Club for the second time, and that tournament for the third time. He shot rounds of 65-68-65-71 to win by two strokes over Billy Horschel.
Lining up for his chance to win his 5th green jacket Tiger was confident he could return to old form but the bookies had him at long odds and experts weren't convinced he could mix it with the young talent at the Masters.
Fast forward to day four on the 16th tee and Tiger had just taken the outright lead. Fans roared around the course and dreamed that they were about to witness one of the greatest comebacks in the history of sport.
Enter vintage Tiger.
Woods was able to land his shot within two feet of the hole and sink his putt for birdie which handed him a two-shot lead over Koepka.
The crowd erupted and even forced Koepka to stop and wait for the crowd to stop applauding so he could take his swing on the 17th hole.
Tiger made par on the 17th and then needed to complete the 18th in five shots or less.
His drive was pushed slightly right and with some overhanging branches and a muddy ball looking to spoil his chances, it was the experience and maturity that kicked in with Tiger electing to layup on his second shot then finishing the hole with five shots and in turn won his 5th green jacket.
---
---
"WOOOOOOO!!!" Woods screamed as he headed for the scoring room with chants of "Tiger! Tiger! Tiger" echoing as loud as any of the roars on the back nine at Augusta National.
"It's overwhelming just because of what has transpired," Woods said. "I could barely walk. Couldn't sleep. Couldn't walk. Couldn't do anything.
"To have the opportunity to come back, it's one of the biggest wins I've ever had for sure."
The raw emotion that was shown was a not only due to the excitement of overcoming all of the obstacles he had experienced in the past but also a sign of relief that he had denied the critics and doubters.
---
Father and son ➡ Father and son

This should bring a tear to your eye. pic.twitter.com/HawZBxUATb

— PGA TOUR (@PGATOUR) April 14, 2019
---
It was not only fans all over the world that were excited for Woods but also the players that had grown up following the 5-time champion.
"You want to play against the best to ever play — you want to go toe to toe with them," Koepka said.
"I enjoy the battle. I enjoy everything that goes on with it. He got the better of me this time, and it's fun and I'm sure he's ecstatic about it, but hopefully there will be more." he added.
The victory also drew the awe of US President, Donald Trump who will award Woods with the Presidential Medal Of Freedom.
---
Spoke to @TigerWoods to congratulate him on the great victory he had in yesterday's @TheMasters, & to inform him that because of his incredible Success & Comeback in Sports (Golf) and, more importantly, LIFE, I will be presenting him with the PRESIDENTIAL MEDAL OF FREEDOM!

— Donald J. Trump (@realDonaldTrump) April 15, 2019
---
We will now have to wait for the P.G.A Championship in May to see if Tiger will continue his resurgence but one thing is for sure…
Tiger is back and we couldn't be happier.
---