October 6, 2022, Thursday
Daniil Medvedev wins 2020 Rolex Paris Masters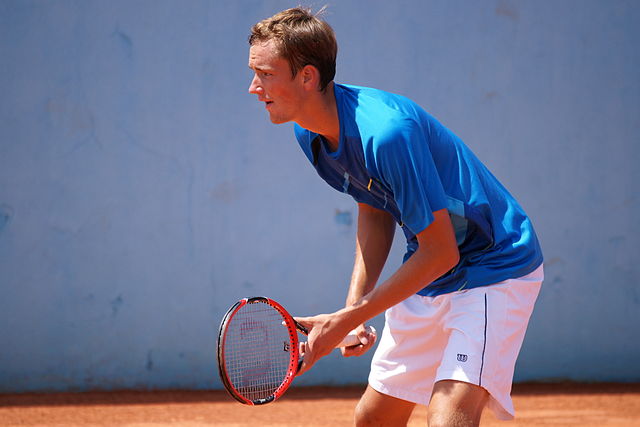 Daniil Medvedev of Moscow, Russia has won the 2020 Rolex Paris Masters. On Sunday, he defeated Alexander Zverev of Germany 5-7, 6-4, 6-1. Medvedev was seeded third in the tournament and Zverev was seeded fourth.
There were two major reasons why Medvedev was victorious. The first reason was Medvedev's serve. Medvedev had 14 aces, compared to Zverev's 11. The second reason came down to break points. Medvedev won four games while not serving, while Zverev only won once.
This was Medvedev's third ATP Masters 1000 series title and his first victory of 2020. Medvedev's previous ATP Masters 1000 series victories came at the 2019 Cincinnati Masters and the 2019 Shanghai Masters. In last year's final in China, Medvedev beat Zverev quite handily 6-4, 6-1.
Medvedev has won eight ATP titles now overall. His other five wins came at the 2018 Sydney International, the 2018 Winston-Salem Open, the 2018 Japan Open, the 2019 Sofia Open, and the 2019 St. Petersburg Open. The 2020 Sofia Open begins on Monday from Bulgaria.
In the Rolex Masters Series this past week, Medvedev got a bye to the second round. He then beat South African two-time grand slam finalist Kevin Anderson 6-6 (Anderson pulled out due to injury), 16th seed Alex de Minaur of Australia 5-7, 6-2, 6-2 in the third round, 2020 French Open semifinalist and sixth seed Diego Schwartzman of Argentina 6-3, 6-1 in the quarterfinals, and then the 10th seed, and 2016 Wimbledon finalist Milos Raonic of Canada, 6-4, 7-6 in the semifinals.
---
---
Medvedev, who was the 2019 U.S. Open finalist, becomes the fourth Russian to win the Paris Masters. Marat Safin won three times in 2000, 2002, and 2004. Nikolay Davydenko won in 2006, and Karen Khachanov won in 2018.
---
 Fill In The Form Below To Receive Our NBA News Straight To Your Email For FREE!