2019 Formula 1 Driver Salaries – Who Are This Year's Top Earners?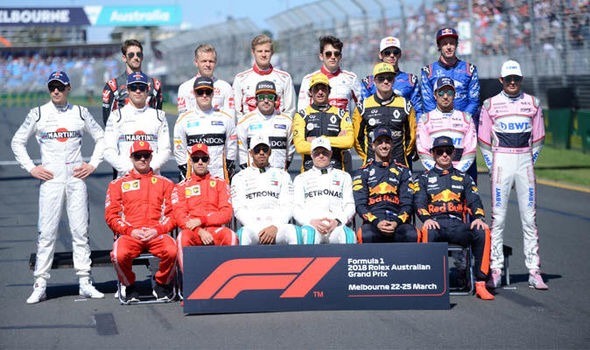 Driving an F1 race car can be a stressful and demanding job but in some cases, the pay packet can be astronomical and we're going to tell how much each driver is getting paid in 2019.
---
20. Alexander Albon
Team: Toro Rosso
Age: 23
Race Wins: 0
Podiums: 0
---
Biography
Born in London but racing under the flag of Thailand, Alexander Albon's first word was in fact Italian – and that word was Ferrari.
Idolising Michael Schumacher and dreaming of one-day racing in Formula 1, Albon gets his wish with another team from Italy. After a patient wait for his big break, Albon will do his talking on track with Toro Rosso in 2019.
He joins George Russell and Lando Norris in graduating straight from the FIA Formula 2 Championship into F1's big league. Despite being great pals with Russell, Albon left the friendship trackside as he took the 2018 title fight right down to the wire.
A stylish over-taker with a championship mentality, Albon was unlucky to miss out on the crown. Charles Leclerc – who pipped him to the 2016 GP3 title – also rates Albon as a top guy and a top-class driver.
2019 Salary: $170,000
---
---
19. George Russell
Team: Williams
Age: 21
Race Wins: 0
Podiums: 0
---
Biography
He's the driver with the motto: "If in doubt, go flat out".
A brilliant baseline speed has served George Russell well as he totted up the titles on his way to Formula 1. The Briton stormed to the 2017 GP3 crown and delivered the 2018 Formula 2 crown under immense pressure.
A refusal to cede ground to his rivals – and commitment to a tricky pass – underpins Russell's winning mentality.
Spotting his potential, world champions Mercedes swooped to sign him up to their junior programme in 2017 when Russell already had a DTM deal on the table. The Briton banked more experience with practice sessions with Force India and tests for the Silver Arrows.
Next comes a debut F1 season for Williams, who have identified Russell as a hard worker and tenacious talent. The Briton joins the returning Robert Kubica for 2019 in a dream pairing for a young gun and is determined to push his seasoned teammate to the max.
2019 Salary: $180,000
---

---
18. Antonio Giovinazzi
Team: Sauber
Age: 26
Race Wins: 0
Podiums: 0
---
Biography
He's the Italian steed with speed from the stable of the Prancing Horse. Antonio Giovinazzi flies the flag for Italy as the motorsport mad nation champs at the bit for its next F1 star.
The pilota from Puglia can punch his way through the pack and pull off a plucky pass. He showcased this natural racing acumen during a blistering 2016 GP2 campaign where he finished a close runner-up to team mate Pierre Gasly.
Giovinazzi concedes he went from hero to zero after two races as a stand-in for Sauber in 2017 when a brilliantly composed F1 debut in Melbourne was followed by two shunts in Shanghai. But a stint as Ferrari reserve gave him time to re-group and reflect ahead of his first full season in 2019, where he's paired alongside Kimi Raikkonen at Alfa Romeo Sauber.
2019 Salary: $230,000
---

---
17. Lando Norris
Team: McLaren
Age: 20
Race Wins: 0
Podiums: 0
---
Biography
McLaren had the British teenager on their books for two years before fast-tracking him into F1's galaxy of stars in 2019. Norris is an exciting talent, proving to be a firecracker in his junior career with a penchant for pole positions and wheel-to-wheel tussles.
Championships and titles have come easily and often with accolades attached, including becoming the youngest winner of the competitive Formula 3 European series at age 17. An outing in the Daytona 24 Hours saw him turn on the pace in changeable conditions and impress his illustrious team mate Fernando Alonso.
2019 Salary: $260,000
---

---
16. Daniil Kvyat

Team: Toro Rosso
Age: 25
Race Wins: 0
Podiums: 2
---
Biography
He's the comeback kid with a capital K.
Proving even 'torpedoes' can make U-turns, Daniil Kvyat makes a surprise return for a third spell with Toro Rosso in 2019.
His intrinsic speed and ability to adapt to circuit conditions make him a valuable asset – and he's already a proven podium contender.
The rangy Russia arrived in Formula 1 with an impervious poker face and set about his business as a cool and confident racer.
But after being dropped by Red Bull, Kvyat plunged into a downward spiral and lost confidence.
That disappointment was shaken off with a year as Ferrari's development driver and a little time away from the Red Bull family has seen Kvyat mellow and mature.
2019 Salary: $300,000
---

---
15. Robert Kubica
Team: Williams
Age: 35
Race Wins: 1
Podiums: 12
---
Biography
It is eight years since Robert Kubica – once rated as a future F1 world champion – suffered multiple injuries in a rallying crash and his hopes of fulfilling that potential faded. His return for Williams, in 2019, ranks among the sport's most inspiring and unlikely comebacks.
The fact that Kubica himself never gave up hope illuminates the unshakable determination that also drives him on track. Kubica is a racer's racer. His commitment to competition all consuming – that's why he went to race rally cars on his weekends off.
Poland's first F1 driver had blistering natural speed and racing intelligence to rival his peers Lewis Hamilton and Fernando Alonso. But this is a new era for Kubica, who is now competing against next generation stars and old rivals that have gone on to greatness.
The question marks over his physical abilities have been ironed out with impressive pace and mileage in a rigorous rehabilitation programme with Williams – but wrinkles of doubt remain.
Only the full season ahead will tell if Kubica, still carrying the scars of his injuries, can hustle his way through the pack and perform his old trick of eking performance out of the car beyond its capabilities.
2019 Salary: $570,000
---
---
14. Kevin Magnussen
Team: Haas
Age: 27
Race Wins: 0
Podiums: 1
---
Biography
He may be a second-generation F1 driver – following his father Jan onto the grid – but Magnussen's idols are from the 'golden era' of Grand Prix racing when the likes of Juan Manuel Fangio and Stirling Moss risked it all for the love of the sport.
The Roskilde racer's own prowess was proven on debut for McLaren, who guided him through the junior ranks, when he cruised into the top-three at the Australian Grand Prix, becoming the first Dane to claim a podium in F1.
2019 Salary: $1,200,000
---
---
13. Lance Stroll
Team: Racing Point
Age: 21
Race Wins: 0
Podiums: 1
---
Biography
There is no such thing as too much too soon for Stroll, a teenage sensation with a wet weather predilection. One of the cool kids on the grid, Stroll was unveiled shortly after his 18th birthday by Williams – before he finished high school and got his road licence.
Stroll meant business in his debut 2017 season, setting records on the way. An opportunistic racer he bounded onto the podium in Baku, the youngest rookie to do so. As the son of a wealthy entrepreneur, Stroll is used to a champagne lifestyle but now he knows the fizz tastes all the sweeter on the rostrum. Then in Monza he mastered the downpours to become the youngest driver in history to line up on the front row.
2019 Salary: $1,200,000
---

---
12. Pierre Gasly
Team: Red Bull
Age: 23
Race Wins: 0
Podiums: 0
---
Biography
The flying Frenchman was called up to make his 2017 debut in Malaysia in place of Daniil Kvyat and, after proving his mettle, he was named as Toro Rosso driver the following year.  But just 12 races into his fledgling career, Gasly was called off the bench again – this time to replace Red Bull big gun Daniel Ricciardo.
Gasly seems to have a knack of being in the right place at the right time – a quality that's equally handy on track. A series of impressive 2018 performances for Toro Rosso – including a brilliant fourth place in Bahrain – show exciting promise for what he might do with the 'A' team in 2019.
2019 Salary: $1,400,000
---

---
11. Romain Grosjean
Team: Haas
Age: 34
Race Wins: 0
Podiums: 10
---
Biography
High-speed haute cuisine is on the menu in the Grosjean household, where head chef Romain is also a racing star.
Quick and with a natural feel for braking and balance, Grosjean has the right ingredients to cook up a storm on track. Tussling and hustling at the front of the pack, the French racer claimed a series of impressive podiums for Renault before moving to spearhead the Haas team.
Like the best chefs, the Geneva-born driver occasionally breaks a few eggs.  Renault handed Grosjean his debut halfway through the 2009 season, but a mix of inexperience and enthusiasm saw him move back to the subs bench before making his F1 return in 2012. A one-race ban after triggering a pile-up in Spa seemed to be the final arc of the learning curve for Grosjean.
2019 Salary: $1,800,000
---

---
10. Sergio Perez
Team: Racing Point
Age: 29
Race Wins: 0
Podiums: 8
---
Biography
Perez's reputation in F1 has been built on opposite approaches to Grand Prix racing. On the one hand, he is a punchy combatant who wrestles his way through the pack and into the points. Never afraid to add a bit of spice to his on-track encounters, even his team mates don't always escape the Mexican's heat.
Then on the other hand, Perez is a smooth operator, a master at managing tyres to eke out extra performance and give him the upper hand on strategy. A firm favourite on the grid after spells with Sauber and Force India, Perez has matured into an analytical racer and team leader.
A proud countryman, the Guadalajara gunslinger has amassed more points than any other Mexican in the history of F1. But Perez is yet to match his hero Pedro Rodriguez and take the chequered flag in first. After a spell with McLaren and links to Ferrari, Perez's hopes of driving for a winning team rest with Racing Point for 2019.
2019 Salary: $3,500,000
---
---
9. Charles Leclerc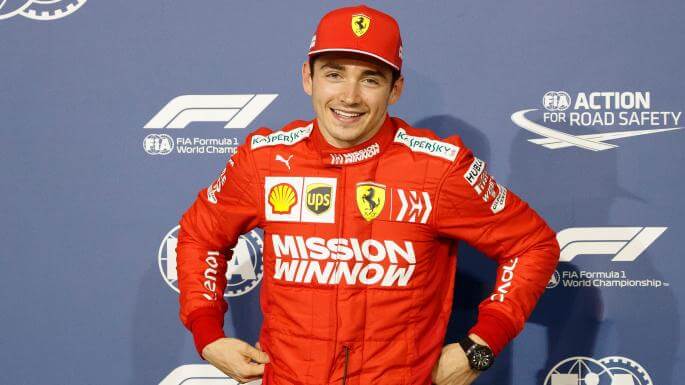 Team: Ferrari
Age: 22
Race Wins: 0
Podiums: 1
---
Biography
Practically peerless on his way to the GP3 and Formula 2 crowns, he showcased a dazzling array of skills from scorching pole positions, commanding victories – even when his car caught fire twice at Silverstone – to an ability to muscle his way through the pack. Winning back-to-back championships also taught Leclerc how to handle pressure, another useful tool in the big pond of Formula 1 racing.
Leclerc may have quit school early, but he looks every inch the complete driver. World champions Lewis Hamilton and Sebastian Vettel have even gone on record to say Leclerc is the real deal – and it's not often they agree on anything…
Stepping up to F1 in 2018, Leclerc showed flashes of ballistic pace on Saturdays and racing brilliance on Sundays, dragging the Sauber beyond its limits – and earning himself a money-can't-buy race seat at Ferrari for 2019, stepping into the shoes of the Scuderia's last world champion, Kimi Raikkonen.
2019 Salary: $3,500,000
---

---
8. Carlos Sainz
Team: McLaren
Age: 25
Race Wins: 0
Podiums: 0
---
Biography
Entering F1's Bull Ring paired alongside Max Verstappen at Toro Rosso in 2015, Sainz quickly showed his fighting spirit. A tenacious racer, Sainz puts the car on the edge as he hustles his way through the pack. No wonder he's earned the nickname Chilli.
But the Spaniard is intelligent as well as instinctive, thinking his way through a race and into the points. This calm temperament follows him off track where he remains unfazed by the pressures of forging a Grand Prix career with a famous name.
Sainz is the son of double World Rally champion, also his namesake, and has brought some of Dad's driving skills to the F1 circuit – junior loves a delicious dose of drift for one.
After following in his famous father's tyre tracks, Sainz now has big racing boots to fill at McLaren where he replaces his childhood hero Fernando Alonso in 2019.
2019 Salary: $4,000,000
---
---
7. Nico Hulkenberg
Team: Renault
Age: 32
Race Wins: 0
Podiums: 0
---
Biography
He's the Superhero with the talent to become a racing superstar – if only he could get to flex his muscles with a top team. F1's 'Hulk' has shown incredible strength and stamina as a midfield marauder for Williams, Force India, Sauber and Renault during a career spanning back to 2010.
In that rookie season, Hulkenberg mastered changing track conditions to take a brilliant pole position in Brazil, showing he had brains as well as brawn. Since then his ability to consistently hoover up the points has made him a highly valued team player. In 2015, his reputation grew once more when, on a weekend away from his day job, he won the classic Le Mans 24 Hours race for Porsche at the first time of asking.
2019 Salary: $4,500,000
---
---
6. Kimi Raikkonen
Team: Sauber
Age: 40
Race Wins: 21
Podiums: 103
---
Biography
Raikkonen has a cult status in F1 like no other driver of his generation, but if you ask him why he just shrugs.
Maybe it's because of the rugged, raw talent that inspired Sauber to give him his debut in 2001 – and re-sign him for 2019. Or the fast and fearless racing that led to memorable McLaren wins. Or the never-say-die attitude that clinched the 2007 world title for Ferrari by a single point. Or maybe it's because this is the 'Iceman' who jumped straight into a Jacuzzi on his yacht after retiring in Monaco and who enjoyed an ice cream when a soggy Malaysian GP was red-flagged but still live.
2019 Salary: $4,500,000
---

---
5. Valtteri Bottas
Team: Mercedes
Age: 30
Race Wins: 4
Podiums: 32
---
Biography
Bottas explains that if you can drive on the frozen roads of his homeland then you can drive anywhere. Then there's the Finnish mentality –reserved, diligent and calm the fast lane of F1 doesn't faze him.
Making his F1 debut with Williams in 2013, Bottas soon became part of the family. Points and podiums followed with the reliable racer even amassing the most points without a win, a record he resented but that showcased his ability. The fact the Finn was such a points machine saw him suddenly promoted to the most coveted seat in F1 – Nico Rosberg's vacant championship-winning seat at Mercedes.
Bottas blossomed at the Silver Arrows in 2017, unleashing his pace to clock up personal pole positions and victories as well as a team championship for the famous Mercedes marque alongside Lewis Hamilton. He even tied with Hamilton and Sebastian Vettel with 13 podiums.
2019 Salary: $8,500,000
---

---
4. Max Verstappen
Team: Red Bull
Age: 22
Race Wins: 5
Podiums: 23
---
Biography
Arriving as Formula 1's youngest ever competitor at just 17 years old, Verstappen pushed his car, his rivals and the sport's record books to the limit. The baby-faced Dutchman with the heart of a lion took the Toro Rosso – and then the Red Bull – by the horns with his instinctive racing style.
F1's youngest points scorer soon became its youngest race winner – at the age of 18 years and 228 days – with an opportunistic but controlled drive on debut for Red Bull in Barcelona. A true wheel-to-wheel racer, another stunning drive in Brazil from the back of the pack to the podium on a treacherous wet track kept the plaudits coming.
2019 Salary: $13,500,000
---

---
3. Daniel Ricciardo
Team: Renault
Age: 30
Race Wins: 7
Podiums: 29
---
Biography
The Australian combines all-out speed with impressive race craft. Never afraid to push to the limits if it means pulling off a pass, Ricciardo is a proven race-winner for Red Bull, capable of consistently finishing at the business end of the championship table.
A regular podium-finisher, Ricciardo has christened the steps around the world with a dousing of Aussie culture – the 'Shoey' – as he quaffed champagne from a soggy racing boot. Yes it's goofy, but the trademark celebration illustrates why he is loved for his sense of humour but never underestimated on track.
2019 Salary: $17,000,000
---
---
2. Sebastian Vettel
Team: Ferrari
Age: 32
Race Wins: 52
Podiums: 111
---
Biography
Vettel's trademark is pure pace – and of course his one-finger victory salute. In the chase to the chequered flag, he likes to lead from the front and just like his hero, Michael Schumacher, Vettel has settled in as a race-winning leader at Ferrari.
Since his move to Maranello, Vettel's rivalry with Lewis Hamilton has intensified. Opposites off track – Hamilton leading a glamorous public life while Vettel is a private family man – the duo are evenly matched on Sundays as they bid not just for more world titles, but to be hailed the best of their generation.
2019 Salary: $45,000,000
---
---
1. Lewis Hamilton
 Team: Mercedes
Age: 34
Race Wins: 74
Podiums: 136
---
Biography
Could he be the G.O.A.T? Few would deny that he's in the conversation – and what's more he's got there his way, twinning his relentless speed with a refusal to conform to stereotypes for how a racing driver should think, dress or behave.
Respect is hard earned in F1, but Hamilton has it from every one of his peers. Why? Because they know that whatever the track, whatever the conditions, whatever the situation, when his visor goes down and the lights go out, it's Hammertime.
2019 Salary: $57,000,000
---

---
Mercedes and associates will be dishing out a staggering $57-million for Hamilton's services, with Vettel reportedly banking $12-million less but will still take home $45-million.
To put that into perspective: the combined salaries of the rest of the 18 drivers amounts to about $65-million.
Third on the list, thanks to his move from Red Bull to Renault is Ricciardo whose salary has jumped to $17-million, a tad more than his former teammate Max Verstappen will earn. The Dutchman is fourth on the list.
Who do you think is under or overpaid? Let us know in the comments below.