Basketball Hall of Fame Center Bob Lanier dies at age of 73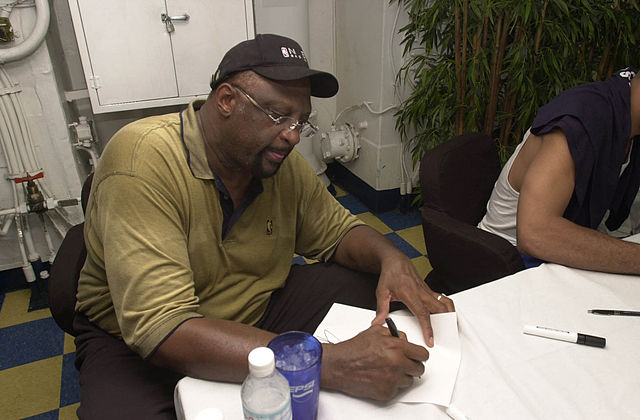 Basketball Hall of Famer Bob Lanier of Buffalo, New York, passed away at the age of 73 on Tuesday. The veteran center, who was the first overall pick by the Detroit Pistons in the 1970 NBA Draft, had been suffering from bladder cancer as of 2019 according to Noah Trister of the Associated Press. 
Lanier played 14 seasons in the NBA from 1970 to 1984 with the Detroit Pistons and the Milwaukee Bucks. He was with the Pistons from 1970 to 1980, and with the Bucks from 1980 to 1984.
In 959 games, Lanier averaged 20.1 points, 10.1 rebounds, 3.1 assists, and had a field goal percentage of .514, and a free throw percentage of .767. Lanier had a career-high 25.7 points per game with the Pistons in 1971-72. That was the first year that Lanier was selected as a NBA All-Star. He was also selected while representing the Pistons in 1972-73, 1973-74, 1974-75, 1976-77, 1977-78, and 1978-79. Lanier's final season as an All-Star was with the Bucks in 1981-82.
---
---
Lanier's most memorable NBA All-Star Game came in 1974 when he was named the most valuable player. While representing the Western Conference, he scored a game-high 24 points in a 134-123 win over the Eastern Conference at the Seattle Center Coliseum in Seattle, Washington. Lanier also added a double-double as he had 10 rebounds. Remember at the time, the Pistons were in the Western Conference from 1970 to 1978. Then they moved to the Eastern Conference.
Lanier was traded from the Pistons to the Bucks for Kent Benson and Larry Drew on February 4, 1980. He was inducted into the Naismith Memorial Basketball Hall of Fame in 1992.
The Bucks are still in the 2022 NBA Playoffs. They lead the Boston Celtics three games to two in the Eastern Conference semifinals, following a dramatic 110-107 victory on Wednesday.
---
Fill In The Form Below To Receive Our NBA News Straight To Your Email For FREE!